NEXT STORY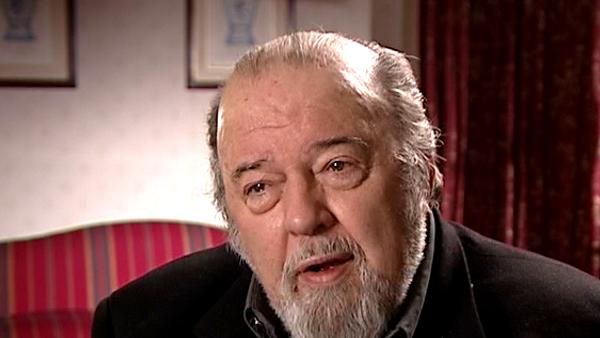 My ideal theatre company
The great adventure of the Royal Shakespeare Company
Peter Hall
Theatre director
1
2
3
4
1959, I... was the 100th anniversary season of… of Stratford, and all the stars were rolled out and… and I did Coriolanus with Olivier and Edith Evans, and I did the Midsummer Night's Dream with Charles Laughton. And then, in 1960, I started the great adventure of the… the RSC [Royal Shakespeare Company]. And I suppose, you know, looking back on it, the company was called all sorts of things: post-Brechtian, very left-wing, dragging kings down so that they looked like ordinary men, you know, a new form of design without anything pictorial, very rough and textured, all sorts… but the one thing that almost nobody commented on or saw or understood, was that we were all speaking it in the same way, and we all knew the clues that Shakespeare puts in his verse which says: this is when you pause, this is when you go fast, this is when you go slow, this is when you come in on cue, this word you accent, you do not accent this. I mean, it's all there like a score, if you know how to read it.
[Q] Yes, it sounded wonderful. Although it was very rhythmic, it sounded completely naturalistic.
Well, yes, it sounds...
[Q] It sounded modern.
But it sounds naturalistic because you can understand it. I mean, you know, Shakespeare writes in lines, iambic pentameters, hideous phrase, but… ba-bum, ba-bum, ba-bum, ba-bum, ba-bum, and if you listen to ordinary speech, it's, in English… about five beats is about what each hunk of conversation comes out as. And if you listen to French, it's six beats, so it's perhaps no accident that the alexandrine in French classical drama is six beats and the iambic five beats is ours. But why did he bother? Because it's easier to write prose than iambic pentameters and he… he did it so that the audience were not overwhelmed with information. If you say, 'If music be the food of love play on give me excess of it that surfeiting the appetite may sicken and so die', the audience say: 'I'm sorry, I don't know what you're talking about'. But if you say, 'If music be the food of love, play on. Give me excess of it, that surfeiting, the appetite may sicken and so die', you've delivered three lines of blank verse and you can understand each line. It's a… it's a communication device primarily, and that's what we were doing. We were playing it trippingly on the tongue, which is what Hamlet begs the actors to do, but we were playing it in lines.
[Q] But it was a revolution. A true revolution, I thought because I… I had heard an awful lot of the old Shakespeare with, you know, the way you were talking about it done by Byam Shaw, and the change was amazing.
But it was interesting, it's interesting...
[Q] That's much, much quicker.
Looking at the… well, that is absolutely true, I mean, plays that lasted... actually we would… we would take 25-30 minutes off a play's running time, not by cutting it, but by speaking it trippingly and by keeping it witty and… and understandable. The other interesting thing was that, you know, by the time I left the RSC which was in '68, we could do a Shakespeare play in about a week to 10 days less rehearsal, because everybody knew what they were looking for, what they were doing. I mean, that is if we had enough of the team in it, you know, but I mean actors like Ian Holm were there on and off of 10 years. I mean I… I found very early on that the only way to create a company is not by imprisoning them with tight contracts, but by allowing them to go away. If they can go away for six months, they come back, because home is then the Royal Shakespeare Company. And I… I mean the only... I've had lots of failures and made lots of mistakes, I would, but the… but the only thing I really regret is leaving the RSC when I did. I mean I had to because I was sick of it...
[Q] I wrote to you and begged you not to.
I know, I do remember you did.
[Q] You took no notice.
I took no notice, but what I should have done is said, 'Look, I've been doing this for 10 years, I… I need a year off, then I'll come back'. That's what I should have done.
British-born theatre director, Sir Peter Hall (1930-2017), ran the Arts Theatre where, in 1955, he directed the English-language premiere of 'Waiting for Godot' by Samuel Beckett. He also founded the Royal Shakespeare Company when he was only 29, and directed the National Theatre from 1973 to 1988. He was at the Shakespeare Memorial Theatre in Stratford-on-Avon for two season from 1957-1959. He also directed 'Akenfield' for London Weekend Television and ran the Peter Hall Company, which has 40 productions worldwide to its name. In 1963, he was appointed Commander of the Order of the British Empire (CBE) and in 1977 was knighted for his contribution to the theatre. In 1999, he was also honoured with a Laurence Olivier Award.
Title: The great adventure of the Royal Shakespeare Company
Listeners: John Goodwin
Head of Press at the National Theatre (1974-1988), and earlier at the RSC (1960-1974), John Goodwin is the author of a best-selling paperback, A short Guide to Shakespeare's Plays, and co-author of Trader Faulkner's one-man show, Losing My Marbles. He is also editor of the play, Sappho, based on Alphonse Daudet's novel, and editor of a number of successful books, among them, Peter Hall's Diaries, and, British Theatre Design - the modern age.
Tags: 1959, Coriolanus, Midsummer Night's Dream, 1960, Royal Shakespeare Company, 1968, RSC, Edith Evans, Laurence Olivier, Charles Laughton, William Shakespeare, Ian Holm
Duration: 4 minutes, 44 seconds
Date story recorded: February 2006
Date story went live: 24 January 2008