NEXT STORY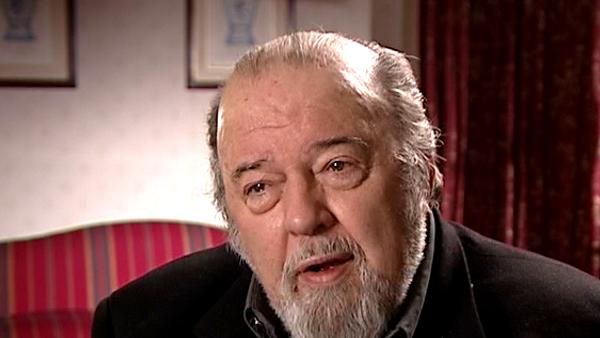 'I still don't know why an actor accepts a part'
Peter Hall
Theatre director
1
2
3
4
Everybody always says that companies are… are not what English actors do, but my experience is that they… they don't do them because there isn't enough money to pay them properly and they're making a sacrifice to work in the theatre. I mean, I don't think the public realise at this moment that a great big actor – I won't mention any names – gets £700 a week at the National [Theatre], and they would earn £7000 a week in the West End, and, you know, the government's view of that is, 'Yes, well, of course, I mean there's the prestige of the National, so –' and you say, 'Well, yes, would you… would you take that kind of salary drop?' So the theatre is sustained in this country very much by people who long and love to do it and are prepared to give things up. There was a moment in the '60s when Olivier started the National and I was doing the RSC [Royal Shakespeare Company], when the wage structure was not munificent, but it was sensible, so that people could actually, you know, bring up their children and look after themselves reasonably and not have to say, 'I must go and do a television series' or, 'I must go and do a voice-over' or, 'I must go and do an advert' or, 'I can't pay my bills'. But that's been eroded, largely through Thatcherism and the… and the gradual dissolution of… of proper subsidised culture, in… in my view. But in those days, certainly, you know, people were under three-year contract and actors like Ian Holm, David Warner and all that band, they were under three years and at the end of those first three years, many of them signed on for another three years, but it was because they had security, artistic and economic, but they could go away if they felt claustrophobic or… it seemed to me, the beginnings of something. The… the problem, I think, of the… of the RSC and of the National, to this day, is that both of them are much too big. I mean, a… a real company, what I'm talking about, is about 30 strong in actors and the support system is not more numerical than the actors, and the bureaucracy now, in order to keep things tidy with the Arts Council and with the government, is enormous, absolutely enormous, you know, and the amount of people you have to employ to raise money costs a very great deal of money. So, it… it's all changed, but I… I still believe that it will regain itself and that, you know, if you… if you look at the moments that inform the theatre, when Olivier started the National, for three or four years he had a company. Same thing again. When Complicité first started, it was a company but companies get diluted and… and there's no particular reason why they shouldn't be, but they should regain and remake. They are the way. I'm… I'm convinced of that. And one of the problems of the National Theatre is that it has three auditoria: the big Olivier, the proscenium Lyttelton and the studio Cottesloe, whose… the auditoria have totally different aesthetics and to do, you know, a play in one does not mean it can be done in the other. And therefore it's very difficult to know should you have a company in the Olivier, a company in the Littelton, a company… I mean, the nearest I got when I was running the National Theatre I thought to what it ought to be is to have four or five companies, each headed by, you know, in the… in the… in that case, it was Ian McKellen, Alan Ayckbourn and David Hare that were, they each had a group of actors, and they each did a play for each theatre. That started to mean something, but it didn't mean The National Theatre. It meant the National Theatre was a sort of Harrods that had all these various wonderful companies inside it which is… which is fine, but I suppose in my paradise I would be in a smallish theatre with 30 actors and four or five plays a year to do. I'd like to do at least three of them and the other two would be people who would aesthetically have a relationship with me.
[Q] There's a difficulty of holding... holding actors together in a company, isn't there? Now, much, much more severe than there used to be?
I think it's more severe now but I think it's largely economic. The money has got much worse, you know, and you really can't expect an… an actor living in London with children at school, can't move lock stock and barrel down to Stratford so he has to have digs in Stratford, which he pays for at a very high rate. It... it doesn't add up very easily.
British-born theatre director, Sir Peter Hall (1930-2017), ran the Arts Theatre where, in 1955, he directed the English-language premiere of 'Waiting for Godot' by Samuel Beckett. He also founded the Royal Shakespeare Company when he was only 29, and directed the National Theatre from 1973 to 1988. He was at the Shakespeare Memorial Theatre in Stratford-on-Avon for two season from 1957-1959. He also directed 'Akenfield' for London Weekend Television and ran the Peter Hall Company, which has 40 productions worldwide to its name. In 1963, he was appointed Commander of the Order of the British Empire (CBE) and in 1977 was knighted for his contribution to the theatre. In 1999, he was also honoured with a Laurence Olivier Award.
Title: My ideal theatre company
Listeners: John Goodwin
Head of Press at the National Theatre (1974-1988), and earlier at the RSC (1960-1974), John Goodwin is the author of a best-selling paperback, A short Guide to Shakespeare's Plays, and co-author of Trader Faulkner's one-man show, Losing My Marbles. He is also editor of the play, Sappho, based on Alphonse Daudet's novel, and editor of a number of successful books, among them, Peter Hall's Diaries, and, British Theatre Design - the modern age.
Tags: RSC, Royal Shakespeare Company, The National Theatre, West End, 1960s, Laurence Olivier, Arts Council, Complicite, Lyttelton Theatre, Harrods, London, Stratford-upon-Avon, Ian Holm, David Warner, Ian McKellen, Alan Ayckbourn, David Hare
Duration: 5 minutes, 17 seconds
Date story recorded: February 2006
Date story went live: 24 January 2008