NEXT STORY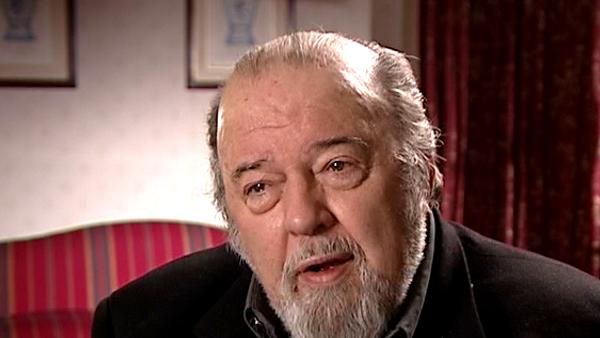 Nobody wanted the National Theatre
Leaving the Royal Shakespeare Company
Peter Hall
Theatre director
1
2
3
4
When I left the RSC [Royal Shakespeare Company] in… in '68, I was looking towards film, television and opera, you know, just to sort of widen myself a bit. I, as I've said, I… I regret leaving the RSC in retrospect. I was right to go. I remember George Devine saying to me at the Court in the mid '60s, he said, 'It's wonderful what you're doing at Stratford, but make me a promise. When you feel the walls coming in on you, just get out, don't hang around, just get out' and I… I said: 'Are you serious?' And he said, 'Yes, I am serious. I've seen theatre kill too many people'; and of course he didn't get out himself. Two years later he was dead from a massive heart attack with the walls coming in on him. Well, in '68 I felt the walls coming in on me so I got out in six weeks and suggested Trevor Nunn, who was happily there and eager to go, and he took it over and did it brilliantly. I should, I think, as I said, said I've… I've had it, 'Can I have a year's sabbatical? I've been doing it for 10 years nearly, and then come back' but I didn't. And one of the things that happened to me as a consequence, was that Colin Davis was just going to Covent Garden, replacing Georg Solti, and Colin asked me if I would join him at the Royal Opera and the Board's brief to us was that they wanted us to do to Covent Garden what, they said, I had done to Stratford, revitalise it in some way. And our proposal was that we would have a very small group of absolutely top-quality international singers, somewhat young, but I mean, we were talking about Kiri Te Kanawa and Tom Allen, Ileana Cotrubas. I mean not… not nothings, and that we would do all our new work with this group who would be with us at Covent Garden like for four or five months each year, and then when the productions were revived, then the stars, the Domingos and so on and so on could come with their own costumes and not rehearse very much and… and give that side of the audience their satisfaction, but that the… again, it's the company, I suppose. And they thought that was a wonderful idea and I spent 18 months trying to get it together, and they were so nervous about it that every time I tried to settle something, they prevaricated, so in the end I resigned because it just wasn't working. And we weren't getting any nearer our… our scheme. And I happened to be at a performance at Glyndebourne a few weeks after I'd resigned, though it was still confidential that I was going, and there was Arnold Goodman, the, the Chairman of the Arts Council, and he said: 'Oh, hello, how're things going at Covent Garden?' And I said, 'Well, not very well actually. I mean, confidentially, I… I've just resigned' and he said, 'Marvellous, you should never have gone there in the first place, you know, you're… you're theatre, not opera' and I said, 'Well, I'd like to be opera as well'. He said: 'No, no, no. Are you free for lunch on Tuesday week?' And I said: 'Yes'. He said, 'Well, come round to the apartment for lunch'. So I went round to the apartment and he said to me: 'Do you know Max Rayne? He's just been appointed Chairman of the National Theatre'. So I said: 'No, how do you do?' We sat down, had dinner – lunch – the three of us, and they said: 'Olivier's very ill and we don't know how long he can continue. Would you be interested in helping out and taking over?' And I said, 'Only if Olivier is informed' and they said, 'We can't inform him yet' and it… it then all stopped for 9 months until they actually did inform Larry, but there are two things… it's boring, but there's a myth that I left Covent Garden in order to go to the National. Absolutely wrong; and… and there's a myth that I somehow engineered to get in there, the whole Larry thing was extremely complex and, hardly bears going into. I mean when he… when he was actually told that I would… would take the job, he sent me one of his Olivier telegrams about that thick, you know, 'Dear boy, I never dared to hope that you would come and help me in this way. It's absolutely superb. Come round for champagne at one'. So I went round and we had champagne and the next day Olivier was saying to the assembled National Theatre Company with Tynan at his side: 'I knew nothing about this. This is a man from the opposition, the Royal Shakespeare Company, and I'm very upset'. And that was the little nest I had to look after. It was not a pleasant two years. I… I loved Olivier and I also found him to be extremely changeable and disloyal, and I… I tried to look after him and failed, but I tried to get him to open the magnificent South Bank but he wouldn't. He thought, I think, he wanted to preserve his resentment, and his resentment actually was that the Board hadn't told him about me early enough, and I think that's true – they should have told him. But it wasn't for me to tell him.
[Q] But he was a sick man.
He was a very sick man and he wasn't just king of our theatre, he was emperor, he was God, he was it, and, you know, as I'm now aged 75 I start to realise what it must mean to be told that you can't do your job any more.
[Q] Especially to a man like him.
Hmm?
[Q] Especially to a man like him.
To a man like him who was comprehensive, who ate the world.
British-born theatre director, Sir Peter Hall (1930-2017), ran the Arts Theatre where, in 1955, he directed the English-language premiere of 'Waiting for Godot' by Samuel Beckett. He also founded the Royal Shakespeare Company when he was only 29, and directed the National Theatre from 1973 to 1988. He was at the Shakespeare Memorial Theatre in Stratford-on-Avon for two season from 1957-1959. He also directed 'Akenfield' for London Weekend Television and ran the Peter Hall Company, which has 40 productions worldwide to its name. In 1963, he was appointed Commander of the Order of the British Empire (CBE) and in 1977 was knighted for his contribution to the theatre. In 1999, he was also honoured with a Laurence Olivier Award.
Title: Leaving the Royal Shakespeare Company
Listeners: John Goodwin
Head of Press at the National Theatre (1974-1988), and earlier at the RSC (1960-1974), John Goodwin is the author of a best-selling paperback, A short Guide to Shakespeare's Plays, and co-author of Trader Faulkner's one-man show, Losing My Marbles. He is also editor of the play, Sappho, based on Alphonse Daudet's novel, and editor of a number of successful books, among them, Peter Hall's Diaries, and, British Theatre Design - the modern age.
Tags: RSC, Royal Shakespeare Company, 1968, Royal Court Theatre, Stratford-upon-Avon, Covent Garden, Royal Opera House, Arts Council, National Theatre, South Bank, George Devine, Trevor Nunn, Colin Davis, Georg Solti, Kiri Te Kanawa, Tom Allen, Ileana Cotrubas, Arnold Goodman, Max Rayne, Laurence Olivier, Kenneth Tynan
Duration: 6 minutes, 20 seconds
Date story recorded: February 2006
Date story went live: 24 January 2008