NEXT STORY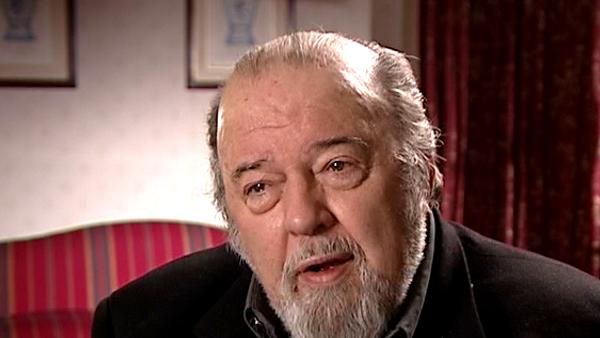 Opening the National Theatre
Nobody wanted the National Theatre
Peter Hall
Theatre director
1
2
3
4
I'm very proud of what we all did at the National in… in moving it to the South Bank and, you know, it certainly wasn't – why should it be – wasn't appreciated that we'd been dealing with the… the Old Vic doing four or at most, five productions a year with a small company of actors, 35–40 at the most. And suddenly we were running three theatres, doing 18–20 productions a year and with the… with the staff, well, certainly over a 100 actors and a… and a staff of five or six hundred to boot. I mean it was a huge…
[Q] You never knew how much it was going to cost?
Nobody knew, I mean, one of my favourite stories about the National Theatre is… is, an early Board meeting when we'd just moved in, and it was, of course, about three-and-a-half years late, because there are two kinds of time as we all know, there is time and there's builders' time. Anyway, there we all were. And the first thing on the agenda was to sign the lease, and the lease was a fully repairing lease, you know, meeting all sorts of liabilities, and the Chairman Max Rayne said: 'We're not signing this. We haven't got any money for the upkeep of the… of the National Theatre. Who does it belong to?' And there was a lot of head scratching, and they said: 'Well, it… it doesn't belong to the Greater London Council. They've given the site. It doesn't belong to the South Bank Board because they built it, but they have no funds. It doesn't belong to the Arts Council and it doesn't belong to the Minister of the Department of Culture'. So Max said: 'Well, when you've decided who it belongs to, we'll consider signing a lease if you give us enough money for the upkeep of the building and if you don't it can remain as it is'. So for about the next year, nobody owned the National Theatre but we were busily playing in it. One of the most dizzy effects of bureaucracy. I mean, I think what… what was very interesting about the whole opening of the National Theatre was the profession that was against it because it was scared. You know, there was that celebrated letter in The Times got up by Oscar Lowenstein of the Royal Court, signed by everybody including some very great luminaries in the future of the National Theatre like Richard Eyre, saying that the National Theatre was going to wreck the theatre because it was going to take away all talent, all resources and ruin the regional theatre, which was, you know, such palpable rubbish; anyway, there it was, profession against it, media against it because it's more fun. I mean, anything new has to be, you know…
[Q] And extremely expensive.
And extremely expensive and art… and art, you know – Philistines, step this way! It was… the government was against it because of finance, the Arts Council was against it because it thought it would take resources that they would like to spend. When the Arts Council was saying to the regions, 'We can't give you extra money because we've got the National Theatre coming' and they were saying to us, 'We can't give you more money because we've got to look after the regions' you know – standard negotiating ploy. So nobody wanted the National Theatre at all except the public. From day one they came into that building and they said, 'Ah, we like this place', and there's no question if that hadn't been so – and that's a tribute to Denys Lasdun, the architect – if that hadn't been so, we wouldn't have survived.
British-born theatre director, Sir Peter Hall (1930-2017), ran the Arts Theatre where, in 1955, he directed the English-language premiere of 'Waiting for Godot' by Samuel Beckett. He also founded the Royal Shakespeare Company when he was only 29, and directed the National Theatre from 1973 to 1988. He was at the Shakespeare Memorial Theatre in Stratford-on-Avon for two season from 1957-1959. He also directed 'Akenfield' for London Weekend Television and ran the Peter Hall Company, which has 40 productions worldwide to its name. In 1963, he was appointed Commander of the Order of the British Empire (CBE) and in 1977 was knighted for his contribution to the theatre. In 1999, he was also honoured with a Laurence Olivier Award.
Title: Nobody wanted the National Theatre
Listeners: John Goodwin
Head of Press at the National Theatre (1974-1988), and earlier at the RSC (1960-1974), John Goodwin is the author of a best-selling paperback, A short Guide to Shakespeare's Plays, and co-author of Trader Faulkner's one-man show, Losing My Marbles. He is also editor of the play, Sappho, based on Alphonse Daudet's novel, and editor of a number of successful books, among them, Peter Hall's Diaries, and, British Theatre Design - the modern age.
Tags: National Theatre, South Bank, The Old Vic, Greater London Council, Arts Council, Department of Culture, The Times, Royal Court Theatre, Max Rayne, Oscar Lowenstein, Richard Eyre, Denys Lasdun
Duration: 3 minutes, 51 seconds
Date story recorded: February 2006
Date story went live: 24 January 2008