NEXT STORY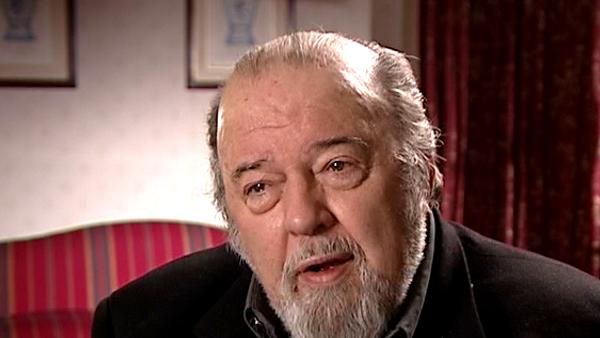 The role of a theatre director
My experience with 'The Ring'
Peter Hall
Theatre director
1
2
3
4
One of the joys of working in opera for me is just being inside the music and, you know, I'm fortunate in this respect. I… I don't mean that I'm… I'm tremendously sophisticated musically but I… I can certainly read a score up to… up to Verdi, yeah. In Strauss, Salome, I start getting it quite difficult, Schoenberg I get very difficult, Tippett – quite lucid at times but, I mean, it's just the fact that you… you think of the thing as a series of notes, not as a series of words. That's the mistake that… that I think many theatre directors coming into opera make. They think that what is said is what is important, whereas primarily what is important is what is heard or what the sound is and, of course, if you talk to a singer, you know, if they come in, you say, 'You come in that door, you look across at him and you look away', they'll… they'll do it, but they'll… they'll do it as an imitation, whereas if you say, 'Hold it on him 'til the A flat and then… then look away', they're easy. That's their world, so it's… it's very useful to… to live in the music from that point of view and, I mean, I have done a… a quite a lot of operas that I'm proud of.
[Q] Do you want to talk about The Ring?
Yes, I want to talk about The Ring because I spent three-and-a-half years learning it and… and did it the first year and it wasn't very successful, the second year it was moderately successful, the third year it was very successful, the fourth year it was epic and the fifth year was, why are they taking it off? But that's pretty much the way it always happens at… at Bayreuth because you've got this insane thing that because the old man in 1876 did the entire Ring at once, they must always do it at once. I mean, when Solti asked me to do it, I said, 'We've got to do it two one year and two the next' and he said, 'Oh, absolutely' and Wolfgang Wagner wouldn't have it. He said, 'No, no, the house, we always do da-da, da-da' and he wouldn't budge and Solti finally said to me, 'Oh, come on, let's do it' and we did it, but it was killing, the most killing experience. I mean, three sessions of work a day from April until the end of July absolutely flat out all the time. Wonderful to be in that house because it's an extraordinary theatre, an extraordinary place, but it was a bit like going through a war. I can't say I enjoyed it until afterwards. And I'm very, very, very sad that having learned it and having lots of ideas about it – because it doesn't leave you – that I've never been able to do it again. I would love to have. I mean, conductors always do their repertoire more than once but, I mean, I've done Figaro and I've done Giovanni and I've done several operas many, many times, but as far as The Ring is concerned, that was it. And there aren't very many places that do The Ring, let's face it, so I don't think that will cross my path again.
British-born theatre director, Sir Peter Hall (1930-2017), ran the Arts Theatre where, in 1955, he directed the English-language premiere of 'Waiting for Godot' by Samuel Beckett. He also founded the Royal Shakespeare Company when he was only 29, and directed the National Theatre from 1973 to 1988. He was at the Shakespeare Memorial Theatre in Stratford-on-Avon for two season from 1957-1959. He also directed 'Akenfield' for London Weekend Television and ran the Peter Hall Company, which has 40 productions worldwide to its name. In 1963, he was appointed Commander of the Order of the British Empire (CBE) and in 1977 was knighted for his contribution to the theatre. In 1999, he was also honoured with a Laurence Olivier Award.
Title: My experience with 'The Ring'
Listeners: John Goodwin
Head of Press at the National Theatre (1974-1988), and earlier at the RSC (1960-1974), John Goodwin is the author of a best-selling paperback, A short Guide to Shakespeare's Plays, and co-author of Trader Faulkner's one-man show, Losing My Marbles. He is also editor of the play, Sappho, based on Alphonse Daudet's novel, and editor of a number of successful books, among them, Peter Hall's Diaries, and, British Theatre Design - the modern age.
Tags: The Ring, 1876, The Marriage of Figaro, Don Giovanni, Giuseppe Verdi, Salome, Arnold Schoenberg, Richard Strauss, Michael Tippett, Richard Wagner, Georg Solti, Wolfgang Wagner
Duration: 3 minutes, 36 seconds
Date story recorded: February 2006
Date story went live: 24 January 2008