NEXT STORY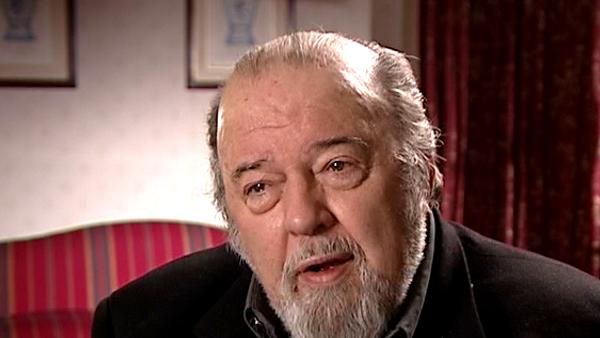 Being a divided Wagnerian
Directing a play more than once
Peter Hall
Theatre director
1
2
3
4
It's very interesting this question of, you know... why do you go back on things? I've done a lot of plays more than once. I've done four Hamlets, four Twelfth Nights, three or four Tempests... and I don't honestly remember what I did before. People always say to me, and how is it different? And I say I've absolutely no idea how it's different. I'm different; it's a different time, different place, different audience...
[Q] Different actors.
Yes, different actors. All I can do is set off on the journey again in order to try and make this play live in some sort as the author intended. Very dangerous that, because we all hide behind 'as the author intended' when we don't actually know what the author intended. I mean, you can interpret it in many, many ways but I... I think to set about doing a classic play on the basis that I have my interpretation of it, is totally wrong and phoney and false and ridiculous, finally. I mean... you can't do a play so that it speaks for itself. No play speaks for itself, but you do know the parameters within which the man worked. I... I'll give you an example. I'm at the moment... deep in Measure for Measure, which I am about to do. I did it once in America but I've never done it in this country and I happened... just before Christmas in New York where I was working, to go into an exhibition of Egon Schiele's work – the Austrian painter – and I love his work and I love Klimt's work — that whole period — and I suddenly thought, yeah, this... this is a way in... this is the way in for Measure for Measure... Vienna, Freud, Jung, all that, sexually obsessed, sewers, all, you know, and I've spent five, six weeks really on this looking at Schiele, thinking about it, and this week I realised I was imposing something on the piece because Measure for Measure has a very simple antecedent. James I was a new king and he'd written a book about kingship and how a king should behave. He was very shy. He didn't like public... speaking. He didn't like public appearances. On December 26th 1604 Shakespeare presented Measure for Measure at Whitehall Palace to the King for its first performance. It's about a duke who doesn't like crowds who is very nervous, very anxious about his record as a ruler and who leaves in order to let somebody else get their hands dirty so he can watch because he feels he should be an Angelo and he then watches what Angelo's doing and he gets actually hooked into power. He could stop all those people's sufferings like that, just take the cowl of his hood off as a monk. Now this has got nothing to do with Schiele, nothing to do with Vienna, nothing to do... so out it all went. Yesterday it was all chucked out. Everything. No, trust the tale, not your fantasies.
British-born theatre director, Sir Peter Hall (1930-2017), ran the Arts Theatre where, in 1955, he directed the English-language premiere of 'Waiting for Godot' by Samuel Beckett. He also founded the Royal Shakespeare Company when he was only 29, and directed the National Theatre from 1973 to 1988. He was at the Shakespeare Memorial Theatre in Stratford-on-Avon for two season from 1957-1959. He also directed 'Akenfield' for London Weekend Television and ran the Peter Hall Company, which has 40 productions worldwide to its name. In 1963, he was appointed Commander of the Order of the British Empire (CBE) and in 1977 was knighted for his contribution to the theatre. In 1999, he was also honoured with a Laurence Olivier Award.
Title: Directing a play more than once
Listeners: John Goodwin
Head of Press at the National Theatre (1974-1988), and earlier at the RSC (1960-1974), John Goodwin is the author of a best-selling paperback, A short Guide to Shakespeare's Plays, and co-author of Trader Faulkner's one-man show, Losing My Marbles. He is also editor of the play, Sappho, based on Alphonse Daudet's novel, and editor of a number of successful books, among them, Peter Hall's Diaries, and, British Theatre Design - the modern age.
Tags: Hamlet, Twelfth Night, The Tempest, Measure for Measure, USA: New York, Vienna, 1604, Palace of Whitehall, Egon Schiele, Gustav Klimt, Sigmund Freud, Carl Jung, James I, William Shakespeare, Angelo
Duration: 3 minutes, 29 seconds
Date story recorded: February 2006
Date story went live: 24 January 2008