NEXT STORY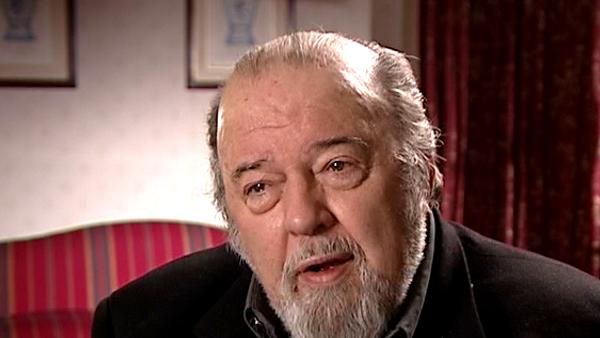 'You're absolutely mad, but I'll back you'
Trying to create a company
Peter Hall
Theatre director
1
2
3
4
One of the fascinating things about the theatre, I think, worldwide, is that practically every advance, every development of any importance has come out of a company situation. If you look at Stanislavsky's work with Chekhov and the Muscovite's Theatre, Brecht's work with the Berliner Ensemble, Jean-Louis Barrault's company, Jean Vilar's company, everybody – and I hope to say now, perhaps in small print, Peter Hall's Royal Shakespeare Company – for a certain time made advances, made new kinds of drama because of the company. Now, what is it about a company? Well, it's a group of actors that stay together long enough to know not only how they like each other, but how they dislike each other. I mean, there is a real living quality. I… I think why I do what I do is because, I mean, it's… it's not for success – I'm not quite sure what success is because it's… has many hues – it's not for money, it's not for publicity. It's because if you have the right group, the right ensemble, the right company, you achieve a creativity and a sharing with you, with everybody, which makes you think this is how a good family ought to be. This is how a good tribe ought to be, a good country, a good democracy, a good world, indeed, and you actually come out of rehearsal better than you went in, having done work which is better than you are, and that… that also goes for the… for the… the actors as well. So from the very first stirrings of my ambition, I knew about that and wanted to somehow subscribe to that and I saw it happening with Gielgud and Ashcroft at the Haymarket as a boy, and Olivier and… and Richardson and Guinness and Leighton, at… at the Old Vic which was then at… at the New Theatre. So although I was at this tiny theatre, The Arts, even then I started to try and make a group of actors linked together and I got quite a number of very talented people: Ronnie Barker, for heaven's sake, John Schlesinger, both gone now, alas. They were with me at The Arts. And although one couldn't actually form a company that had any longevity at The Arts for economic reasons, because you couldn't pay people enough – you know, it was £8 per week and luncheon vouchers – I was trying to get a group together, so when I went to Stratford for the first time in 1956 to do Love's Labours Lost I was rather appalled by what I found, because there were three kinds of actors at Stratford at that moment: there were the old guard who were very Irvingesque and very rotund and round and slow spoken and musical; there were the fellows who'd been brought up on Coward and Rattigan and they… they threw it all away and didn't want to say a line of poetry, so it sounded like a line of poetry, good heavens, no; and there were the new lot coming out of drama school in droves, saying, 'I'm from Manchester and I don't care who knows it and that's the way I'm going to speak'. And one was trying to take these three people – lots of people – and make them coalesce into a Shakespearian company who at least sounded as if they were on the same planet. And it was almost impossible.
British-born theatre director, Sir Peter Hall (1930-2017), ran the Arts Theatre where, in 1955, he directed the English-language premiere of 'Waiting for Godot' by Samuel Beckett. He also founded the Royal Shakespeare Company when he was only 29, and directed the National Theatre from 1973 to 1988. He was at the Shakespeare Memorial Theatre in Stratford-on-Avon for two season from 1957-1959. He also directed 'Akenfield' for London Weekend Television and ran the Peter Hall Company, which has 40 productions worldwide to its name. In 1963, he was appointed Commander of the Order of the British Empire (CBE) and in 1977 was knighted for his contribution to the theatre. In 1999, he was also honoured with a Laurence Olivier Award.
Title: Trying to create a company
Listeners: John Goodwin
Head of Press at the National Theatre (1974-1988), and earlier at the RSC (1960-1974), John Goodwin is the author of a best-selling paperback, A short Guide to Shakespeare's Plays, and co-author of Trader Faulkner's one-man show, Losing My Marbles. He is also editor of the play, Sappho, based on Alphonse Daudet's novel, and editor of a number of successful books, among them, Peter Hall's Diaries, and, British Theatre Design - the modern age.
Tags: Berliner Ensemble, Royal Shakespeare Company, Theatre Royal Haymarket, The Old Vic, New Theatre, Arts Theatre, Stratford-upon-Avon, Love's Labour's Lost, Konstantin Stanislavsky, Anton Chekhov, Bertolt Brecht, Jean-Louis Barrault, Jean Vilar, Peggy Ashcroft, John Gielgud, Laurence Olivier, Frank Leighton, Ronnie Barker, John Schlesinger, Noel Coward, Terence Rattigan
Duration: 3 minutes, 50 seconds
Date story recorded: February 2006
Date story went live: 24 January 2008