NEXT STORY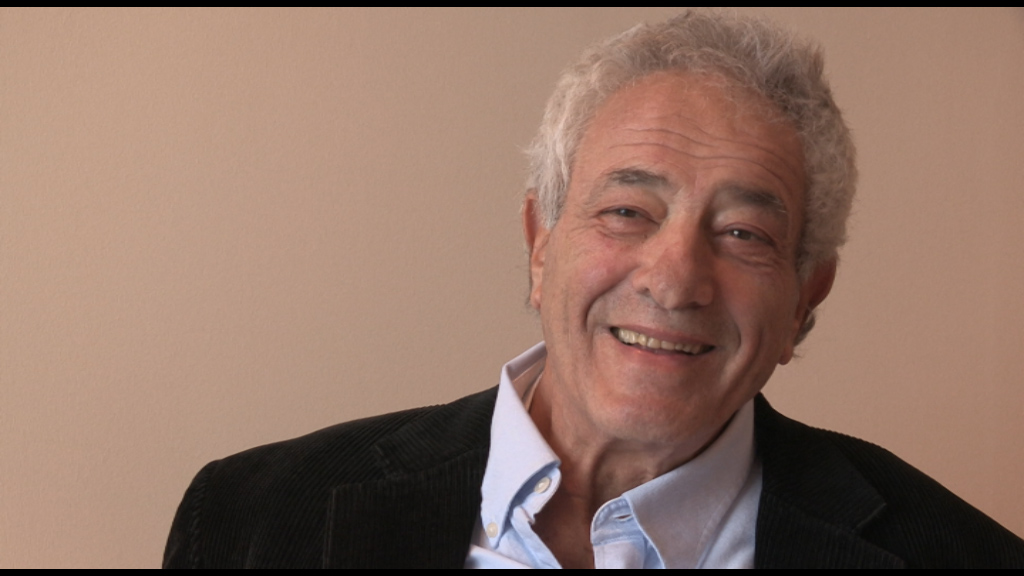 Why we need to speak about genocide
The vulgarity of the Holocaust
1
2
3
4
5
...
10
There are… I don't know what the proportions are, but perhaps one out of five New Yorkers, I don't know the proportions, are Jewish, so one doesn't feel very special in respect of that. One is part of a large minority. And the majority was not particularly what are called WASPS, they were also the minority because there were a lot of Italian Americans, there were a lot of Irish Americans, a lot of blacks, later on a lot of Hispanics. So probably one of the larger minorities were Jews. Perhaps they were a majority, I don't know, but there was nothing very special about it.
However, I was aware, because so many of my relatives perished in the Holocaust, since we came from Germany, and I knew the stories of my uncles and aunts and cousins, not cousins – well, I guess second cousins or third cousins. I knew about a great-uncle who at 95 was taken to Auschwitz to be murdered. At 95, he could hardly walk to get into the truck that took him there, that took him to the train station and… I knew all these stories, and I knew the stories of all different parts of the family who perished. I knew of parts of the family who escaped to Brazil, others who escaped to England, others who escaped to Switzerland, others who escaped to all sorts of places where… Jews were glad to get a visa anywhere, it didn't really matter, you had to get out.
And I think the German Jews were actually fortunate for two reasons. They were very assimilated into German life, and they were not poor. I mean, obviously some were poor, but they were middle class or better, and educated, and many of them spoke foreign languages. They were to the West, so about half of the German Jews escaped, some of them to have horrible lives wherever they were exiled to, others to successfully make new lives. The other half perished. But the Eastern European Jews, where could they escape to? They would have escaped to Germany, because they were coming from the East, and trying to get out West.
So the famous and horrific number, or the notorious number of six million Jews who died, who were killed, or who perished, they were mostly Eastern European Jews, and I was, to your question, I was aware of that much more than my friends were, my American friends, some of whom were Jewish, some of whom were not Jewish. The full awareness of the Holocaust was not in 1945, when I was nine years old; it came out in the years after that. American soldiers who had visited the camps, 'visited' is hardly the right word, stumbled upon or entered in or liberated the camps. The Diary of Anne Frank was turned down by publishers almost everywhere, including England, for quite a few years before it was finally published by a very small, and I think, Jewish publishing company. It did not become famous, because people didn't really, almost believe the horror of the Holocaust. It was almost inconceivable that a modern industrial nation, which was Germany, even during wartime, would practise genocide of this sort, the industrialisation of death.
I was aware of this, so in answer to your question, it was not being Jewish, as an anomaly in New York, that was not where it was. It was being Jewish at all, as being some special person who people had tried to kill, just for what they believed or what they were born into or whatever it was. It was a kind of monstrosity that had happened, that the knowledge of it, for all of us in the West – Christian, Jewish, whatever – kept growing, with more and more literature being published about it, more and more photographs that were made of it. Then there was the significant horror of Holocaust denial, which goes on to this day, which Deborah Lipstadt wrote a great book about, which Penguin published. People who, including the last president, or whatever title he had, of Iran, who claimed that it was all a hoax or a fraud or something like that.
That was a kind of vulgarity that not only had this happened, but that it would be denied that it had ever happened, and that people would seriously discuss this, so that the discussion itself became a vulgarity. Because if you discuss it and you are a sane, liberal person, you say well, perhaps this and perhaps that and you argue it. There are hundreds of thousands of photographs and German – the Germans are always very great at documentation – documents showing that this had all happened. The camps were still there for anyone to visit, there were perhaps not millions of survivors but there were thousands of survivors who could testify. So I was aware more of the Holocaust than I was of being Jewish and what that meant. Religiously, my parents weren't religious, we were like most Christians, most Christians today in the secular world celebrate birth, death, perhaps a confirmation, perhaps Christmas and perhaps Easter, that's about it. For most.
Well, the Jews are… most modern Jews are basically secular, whatever they ascribe to, they do Yom Kippur and Rosh Hashanah and there's birth and there's death and there's bar mitzvah and so on, which they have now extended to women, because sometimes at least, modern religion, we have to accept the fact that half the population are female. This was not the significant thing for me, it was that I was a member of a minority worldwide that someone had tried to kill everybody. It's incredible to me to this day.
Peter Mayer (1936-2018) was an American independent publisher who was president of The Overlook Press/Peter Mayer Publishers, Inc, a New York-based publishing company he founded with his father in 1971. At the time of Overlook's founding, Mayer was head of Avon Books, a large New York-based paperback publisher. There, he successfully launched the trade paperback as a viable alternative to mass market and hardcover formats. From 1978 to 1996 he was CEO of Penguin Books, where he introduced a flexible style in editorial, marketing, and production. More recently, Mayer had financially revived both Ardis, a publisher of Russian literature in English, and Duckworth, an independent publishing house in the UK.
Title: The vulgarity of the Holocaust
Listeners: Christopher Sykes
Christopher Sykes is an independent documentary producer who has made a number of films about science and scientists for BBC TV, Channel Four, and PBS.
Tags: Diary of Anne Frank, Deborah Lipstadt
Duration: 7 minutes, 55 seconds
Date story recorded: September 2014-January 2015
Date story went live: 12 November 2015