NEXT STORY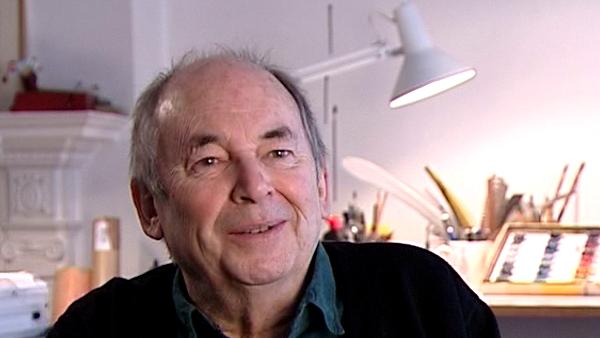 A visit to France and art books
National service: illustrating my first book
1
2
3
4
5
...
7
I taught English of sorts to enlisted boys in Aldershot, which was rather like being at Dotheboys Hall or something like that. It was very strange, and every now and then they'd all run away at once. But generally not with sufficient planning, so that they went in their gym kit or something like that, and the soldiers had to go out and collect them all up. But towards the end, I did one or two drawings for a magazine called The Soldier… and they weren't very good, but what was interesting that I was asked to illustrate, or re-illustrate a book for teaching illiterate soldiers to read, and it was called either English Parade, or English On Parade, I can't remember. And it had been revised, and it needed new illustrations. And I did that at Eltham Palace, which was the headquarters of the Education Corps, which meant I could live at home, for three weeks. But you had to… it was very interesting, because you had to go and draw… I mean you went every day, to report, and drew from nine to five, or whatever it was, you know, and I think the officer who revised this book got paid. I didn't get paid, but I was allowed to live at home, and not wearing boots… you didn't have to wear boots, but you went in uniform, to Eltham Palace, and drew. And then you'd show these drawings to a lieutenant colonel, I think it was, in the Education Corps, who looked at them to see if they were all right, and they were generally you know, Bob sits on his kit, you know, and things like that, you know, sort of simple things. But it was… I mean that was the wonderful part of the apprenticeship in a way, because you know, you'd go and sort of stand in front of the desk and show him these drawings. And he'd go, 'Oh yes, very good Sergeant Blake, I think the grass looks a little bit long in this one'. So, because he was looking at it from a military point of view, so you had to sort of… the grass had to be cut properly. Or, 'I think the creases in their trousers should be a bit better than that'. And because you can't, you know, you can't actually cut the grass in a drawing; you just have to do it again. But it was very good, really, and I could claim it was the first book I'd illustrated. It was the first sequence of drawings I'd done. Sadly there… they already had a drawing on the cover, from somebody who'd worked in very much the same vein as I did, and they kept that, so I didn't get the chance to do the cover, but I did about 20 or 30 drawings inside, so that was good training, really. And you know, it was good practice in dealing with editors and things of that kind. And then after that I actually did quite a bit of drawing being in Aldershot was very boring, actually, once you'd got used to it. But I mean you were introduced to a different way of life and a different set of people. And a different language, you know, that you weren't familiar with, but I think I did a certain amount of drawing there, and I also I drew I think it was Lieutenant Harland as well, I did one or two drawings of him, which it was a mistake to leave on the desk, I think, but he was a nice man, and it was perfectly alright. After after that I went… I think after I was demobilised, after two years I went to France for the first time, I think it was then, to see a friend, in Bordeaux.
Quentin Blake, well loved British writer and illustrator, is perhaps best known for bringing Roald Dahl's characters to life with his vibrant illustrations, and for becoming the first ever UK Children's Laureate. He has also written and illustrated his own books including Mr Magnolia which won the Kate Greenaway Medal.
Title: National service: illustrating my first book
Listeners: Ghislaine Kenyon
Ghislaine Kenyon is a freelance arts education consultant. She previously worked in gallery education including as Head of Learning at the Joint Education Department at Somerset House and Deputy Head of Education at the National Gallery's Education Department. As well as directing the programme for schools there, she curated exhibitions such as the highly successful Tell Me a Picture with Quentin Blake, with whom she also co-curated an exhibition at the Petit Palais in Paris in 2005. At the National Gallery she was responsible for many initiatives such as Take Art, a programme working with 14 London hospitals, and the national Take One Picture scheme with primary schools. She has also put on several series of exhibition-related concerts. Ghislaine writes, broadcasts and lectures on the arts, arts education and the movement for arts in health. She is also a Board Member of the Museum of Illustration, the Handel House Museum and the Britten-Pears Foundation.
Tags: Aldershot, Dotheboys Hall, The Soldier, New English Parade, Eltham Palace, the Royal Army Education Corps, Bordeaux
Duration: 4 minutes, 22 seconds
Date story recorded: January 2006
Date story went live: 24 January 2008