NEXT STORY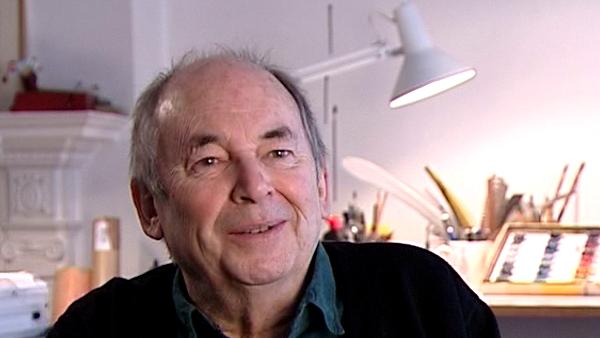 Teacher training in London and turning down a job at Punch
Reading English at Downing College, Cambridge
1
2
3
4
5
...
7
I was at Downing for three years, reading English, under Leavis and… in fact I think I was much more… Downing was a very sort of serious… or English at Downing was very serious, and… I felt rather inhibited by it all. I felt… I valued it, and I thought a lot of Leavis, I don't think he was what I would think of as a good teacher, because he was so self-centred, really, I mean on his own ideas, I mean you know, he had that funny way of talking… you know, sort of the… he said, 'Well, the critical… position… this is so, is it not?' You know, but I mean you could be there in a tutorial, or I mean a supervision, which he was so good, 'This is so, is it not? Well it is'. So he told a rather a kind of… I mean, he was interested in you if you were really a very brilliant student, who was going to follow on. And… another headmaster from Chislehurst and Sidcup Grammar School was actually spending some time in Cambridge, and spoke to Leavis, and said, had he noticed me? 'Yes, he is here somewhere'. But that was… I was… I think I was rather inhibited about… so that drawing in Punch, which was what I was doing, seemed a sort of slightly unsavoury activity, that you… sort of like something you did in private, that you weren't supposed to tell anybody about, and... but I'd been approached… I'd been contacted before I went up, by Nick Tomalin, who was Editor of Granta, which was… a student magazine in those days. It was before the title had been taken off and applied to books. And I didn't quite know what to do about that. In a way I was drawing for Punch anyway, and it was stupid of me in a way, because it… a magazine like that, would give you all kinds of opportunities of things that you could do, and I think I sort of got the wrong idea, because I was drawing for Punch, I... it wasn't the thing to do, and also I was… I didn't quite know what to do with these smart boys from the other end of town, you know, who'd been to public schools and things. And I didn't… and I felt rather inhibited about that. In the end I think I… art directed one issue, I think, or maybe two, but I wished I'd done more, but I didn't do a great deal about drawing, when I was at Cambridge, I was rather serious. I suppose I was serious about my studies, although I'd... I'm sure I wasted a lot of time. And I liked being at Cambridge, and eventually I started going… I think I went to some life classes at… Cambridge Art School [sic]. Sort of one afternoon a week, or something like that, because I really didn't… you know I hadn't had any kind of training in in how to draw, and I didn't know anything about drawing the human figure. And so I… that was something I had to do later, and I couldn't do much about it then, or I didn't do much about it then.
Quentin Blake, well loved British writer and illustrator, is perhaps best known for bringing Roald Dahl's characters to life with his vibrant illustrations, and for becoming the first ever UK Children's Laureate. He has also written and illustrated his own books including Mr Magnolia which won the Kate Greenaway Medal.
Title: Reading English at Downing College, Cambridge
Listeners: Ghislaine Kenyon
Ghislaine Kenyon is a freelance arts education consultant. She previously worked in gallery education including as Head of Learning at the Joint Education Department at Somerset House and Deputy Head of Education at the National Gallery's Education Department. As well as directing the programme for schools there, she curated exhibitions such as the highly successful Tell Me a Picture with Quentin Blake, with whom she also co-curated an exhibition at the Petit Palais in Paris in 2005. At the National Gallery she was responsible for many initiatives such as Take Art, a programme working with 14 London hospitals, and the national Take One Picture scheme with primary schools. She has also put on several series of exhibition-related concerts. Ghislaine writes, broadcasts and lectures on the arts, arts education and the movement for arts in health. She is also a Board Member of the Museum of Illustration, the Handel House Museum and the Britten-Pears Foundation.
Tags: Downing College, Cambridge University, Chislehurst and Sidcup Grammar School, Cambridge, Punch, Granta, Cambridge School of Art, Nicholas Tomalin
Duration: 3 minutes, 25 seconds
Date story recorded: January 2006
Date story went live: 24 January 2008