NEXT STORY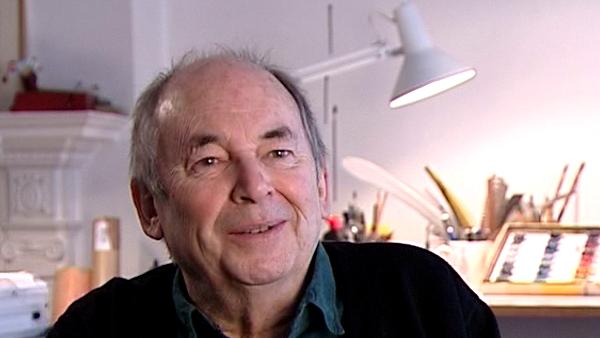 Brian Robb: life classes at Chelsea College of Art
Teacher training in London and turning down a job at Punch
1
2
3
4
5
...
7
When I'd taken my degree, I came to London University Institute of Education to do a teacher training year, because I thought you couldn't… I mean I… knew about being an artist, you know, and I… but I didn't think you could earn a living doing that. I didn't know many people who… who did, or hardly anybody. So, I came to the Institute of Education, and I did English teaching there, and it was… in some ways a bit of a disappointment, and it really was because they were… the English department there was very good. It was Jimmy Britton, and Frank Whitehead, and Nancy Martin, people who were well known in education and… associated with them was… Harold Rosen, whose son, Michael Rosen I did a lot of work with, you know, I still do… later on… but… they were… proposing ideas, which I'd already been introduced to in Cambridge, so all I could do was agree with them in a sense… so I didn't… there wasn't sort of… it was… frustrating for me, and I… also I was living at home, and commuting to the university and so on. So that was… that was kind of disappointing in a way, and I don't think I was very good at… at teaching practice. But… one thing, which I… now remember, was actually during that course… I was written to or rung up by… I suppose the Art Editor of Punch, offering me the job of Assistant Art Editor, and… I don't know how you come to those decisions, really, and I thought I… this was during the course, and… for some reason or another, I mean, whatever the… my thoughts were, I turned it down. I thought it… it wasn't what I wanted to do. I think I… partly thought that Punch was a bit old-fashioned, or not very artistic, or something, I don't know, or… even though they'd been very nice to me, and I… because I can remember that… that I did that, the next day I had an attack of nerves and went to a phone box in London, and rang up, and said, 'What would happen if I made myself available?' And… they said, 'Oh no, we've already appointed somebody else, the next in line'. And… but it was right, really, and I… it was funny that I… it wasn't that the, sort of, teacher training course was so attractive, but I somehow knew that I couldn't give it up then and go and do this other thing, so I must have had some idea of something else I was going to do. And when I finished the teacher training, you… you were, I think because you were financially… assisted in some way, I think you… you were supposed to go and teach, but I went and taught part-time, and… just a… a little bit. I did a bit of teaching at Croydon Art School [sic] and I did a bit of teaching at the French lycée [sic], where my friend, John Newman was a full-time teacher of English, and… but I mean a few hours a week… but the problem I had then was that, you know, up to then I could send drawings in to a magazine, you know, and say, 'Would you buy this or not?' And they bought it or not, sent it back. Mostly Punch, but one or two other things as well. But I couldn't really ask for commissions, because I… because… you know, they might… it might have been… the next day might have been the exams, or something, you know, at least I didn't feel I could. And I just didn't know enough about drawing, so I went round looking for somewhere where I could go and draw.
Quentin Blake, well loved British writer and illustrator, is perhaps best known for bringing Roald Dahl's characters to life with his vibrant illustrations, and for becoming the first ever UK Children's Laureate. He has also written and illustrated his own books including Mr Magnolia which won the Kate Greenaway Medal.
Title: Teacher training in London and turning down a job at "Punch"
Listeners: Ghislaine Kenyon
Ghislaine Kenyon is a freelance arts education consultant. She previously worked in gallery education including as Head of Learning at the Joint Education Department at Somerset House and Deputy Head of Education at the National Gallery's Education Department. As well as directing the programme for schools there, she curated exhibitions such as the highly successful Tell Me a Picture with Quentin Blake, with whom she also co-curated an exhibition at the Petit Palais in Paris in 2005. At the National Gallery she was responsible for many initiatives such as Take Art, a programme working with 14 London hospitals, and the national Take One Picture scheme with primary schools. She has also put on several series of exhibition-related concerts. Ghislaine writes, broadcasts and lectures on the arts, arts education and the movement for arts in health. She is also a Board Member of the Museum of Illustration, the Handel House Museum and the Britten-Pears Foundation.
Tags: Institute of Education, London University, Cambridge, Punch, London, Croydon College, Jimmy Britton, Frank Whitehead, Nancy Martin, Harold Rosen, Michael Rosen
Duration: 3 minutes, 52 seconds
Date story recorded: January 2006
Date story went live: 24 January 2008