NEXT STORY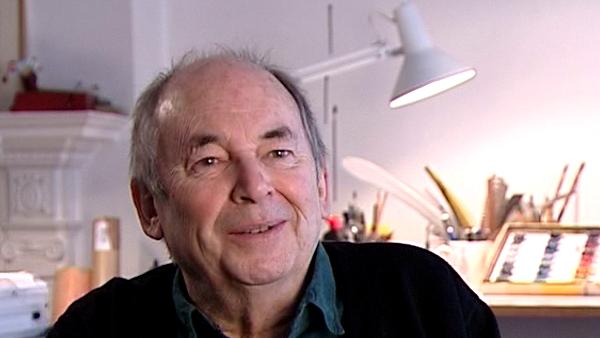 Rectors at the Royal College of Art
How I came to run the graphic art department
1
2
3
4
5
...
7
I've talked about Stan Simmons who taught me when I was at school in the sixth form. One of the things that he could do, and which I think is one of the things that a teacher can do, is to actually tell the student what they've done because they're very often… they sometimes know instinctively what things they want to do, but they can get sidetracked, they can get shunted into a siding, they can get into some track where they're trying to do something which is not really what they're good at. And to be able… sometimes they've got two or three things going in a picture which are incompatible really, you know, kind of thing.
So that telling people what they've done is quite interesting and, of course, being enthusiastic about it is another. That again, I think, is a thing that I found rather difficult to get hold of because I mean I believe very much in being enthusiastic about things but, at that level, you tend to take it for granted that it's going to be good and you talk about the things that perhaps aren't quite as good as they were. So, I think that's the thing that I also had to learn. Brian Robb was very good at that in a in a slightly old-fashioned gentlemanly way. He was able to say, 'You are to be congratulated', and, you know, it took me a long to… to cook up some version of that. The other thing… well I think the… benefits I had from it: one enormous benefit was that because I went to university and didn't go to an art school except only as a part-time student, I didn't really have any contemporaries to talk to about what I was doing, only just one or two people. But most of these people, they were in their 20s and I was in my 30s to begin with, so… a lot them became my friends, they're still my friends now. So I sort of accumulated an art friendship, really by teaching there but also, in a sense, slightly having a sort of student career there as well by meeting these people. So a lot of my friends are people that I met at the RCA and taught at the RCA and subsequently perhaps taught with. But it's quite nice because they're all younger than I am which is and so that was very interesting. I think also I was very timid when I when I first went there and some people who knew me then will be pleased to tell you that. But I did get a bit more confidence both in talking about things and… eventually I took over the department when Brian Robb retired and that was the thing that… it was interesting from a teaching point of view because it… I took to that quite happily. It was, in fact… Brian was quite ill or in fact he was being ill by proxy, as it were, because his wife was extremely ill and I more or less ran the department for about three years before he retired. And when he retired it was… I'd been there for, I mean in a way, too long already – it was about 13 years, I think. But it was a question of whether I didn't want to work for somebody else because he was an ideal person to work for, so I either wanted to run it or leave. And… Dick Guyatt who was running the whole graphic design department, said would I like to run it. So I thought, well, I must try this and so I took that on and I did it for seven years until it was… everything was getting, sort of, too much for me. But that was a very enjoyable experience and it… but it did mean that I was in touch, not only with a range of illustration students, but a range of graphic design students and, beyond that, the whole range of students at the RCA. So it gave one a very, sort of, broad view of things.
Quentin Blake, well loved British writer and illustrator, is perhaps best known for bringing Roald Dahl's characters to life with his vibrant illustrations, and for becoming the first ever UK Children's Laureate. He has also written and illustrated his own books including Mr Magnolia which won the Kate Greenaway Medal.
Title: How I came to run the graphic art department
Listeners: Ghislaine Kenyon
Ghislaine Kenyon is a freelance arts education consultant. She previously worked in gallery education including as Head of Learning at the Joint Education Department at Somerset House and Deputy Head of Education at the National Gallery's Education Department. As well as directing the programme for schools there, she curated exhibitions such as the highly successful Tell Me a Picture with Quentin Blake, with whom she also co-curated an exhibition at the Petit Palais in Paris in 2005. At the National Gallery she was responsible for many initiatives such as Take Art, a programme working with 14 London hospitals, and the national Take One Picture scheme with primary schools. She has also put on several series of exhibition-related concerts. Ghislaine writes, broadcasts and lectures on the arts, arts education and the movement for arts in health. She is also a Board Member of the Museum of Illustration, the Handel House Museum and the Britten-Pears Foundation.
Tags: the Royal College of Art, Stanley Simmonds, Brian Robb
Duration: 4 minutes, 28 seconds
Date story recorded: January 2006
Date story went live: 24 January 2008