NEXT STORY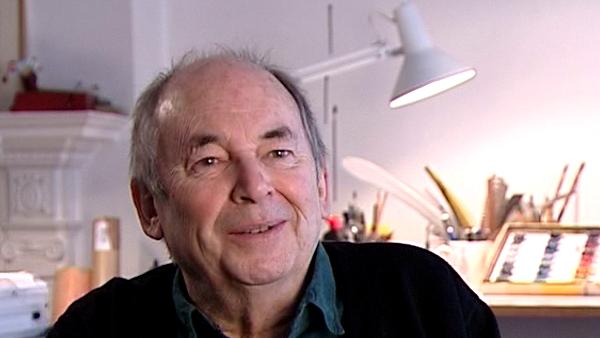 Drawing caricatures of my headmaster
Memories of early life and secondary school
1
2
3
4
5
...
7
I was born in Sidcup, which is London suburbia, it was perfect suburbia, with semi-detached pebble dashed houses, and in 1932 when I went to school, to the Church of England school at the end of the road, and I think I must have drawn then, quite a lot, and I think there are only one or two of those drawings, but I know that by the time I went to the secondary school, when I was 11, I could draw then. I mean, I think I could draw quite well, as it were, and I also, the other thing I was thinking about was… the only, every now and then people say, 'What books did you have as a child? Were you influenced by them?' And I think they expect you to be influenced by other illustrators, but at that time they were a fairly random collection of books, and there weren't all the picture books that there are now, and I can remember some of the drawings, but I can remember… as a sort of marker, I can remember I was given Chicks Own Annual, for 1937, on December the 16th 1936, which was when I was four, and… from my parents, and that was a sort of children's comic that had animals dressed up as people, particularly the chicks, which were referred to in the title, and… I can't remember learning to read at all. I mean that's something that, I must have been able to read that. The words were divided in half with hyphens, you know, to make it easier. Whether that system works or not, I don't know. But I can remember the drawings, in fact, when I say I can remember them, I still have the book as a matter of fact, but what was interesting to me about it was that I think I'm right in saying that I thought then that some of those drawings were better than others. And actually the ones that told the story on the front about the chicks in this sort of school, with… Mrs Duck, who ran it, and things of that kind; they were quite robust, and other of the drawings in the comic, in this annual, were rather sort of… wimpish, I think. And I think I still think the same, so I'm not sure that my taste has changed much, but I can remember that. And I and I remember it when I look at it, so I hope that's correct, but… I didn't get very conscious of drawing, I don't think… until a bit later on, although when I went to secondary school, which was Chislehurst and Sidcup Grammar School for Boys [sic] I know that I did a drawing which was there there was a school magazine of a fairly conventional kind, but I did a drawing when I got there, called After the Game which was a drawing of some boys in the changing room after a football match, and it was a very strange choice of subject, because… I hated football, and cricket and all games, as a matter of fact, and why I chose to draw that I can't imagine. I suppose because it was a new experience, I'd never played football before, and I didn't know what football boots were, and so on. So, and that was quite a sort of formal drawing. But mostly that wasn't what I did… and I think one of the… secondary school, grammar school, for me, was… it was practically the only sort of cultural… I mean, source of cultural input, I think… I got more or less everything from there, and I think that's maybe one reason why I've been, I suppose, interested in teaching ever since, because that was… that was a source of where everything came from, and there I was taught English very well by a man called JH Walsh, who also wrote poetry and I… there was a school magazine, which I wrote for, and did what now seem to be rather terrible drawings for, and there was a school play that I, that we used to do Shakespeare, which was a very good thing. Shakespeare was organised by the Headmaster, who was called McGregor-Williams, who was a bizarre character, rather like the sort of retired colonel, or something like that. He was full of… himself, shall we say, but he thought you should do Shakespeare, which was a redeeming feature.
Quentin Blake, well loved British writer and illustrator, is perhaps best known for bringing Roald Dahl's characters to life with his vibrant illustrations, and for becoming the first ever UK Children's Laureate. He has also written and illustrated his own books including Mr Magnolia which won the Kate Greenaway Medal.
Title: Memories of early life and secondary school
Listeners: Ghislaine Kenyon
Ghislaine Kenyon is a freelance arts education consultant. She previously worked in gallery education including as Head of Learning at the Joint Education Department at Somerset House and Deputy Head of Education at the National Gallery's Education Department. As well as directing the programme for schools there, she curated exhibitions such as the highly successful Tell Me a Picture with Quentin Blake, with whom she also co-curated an exhibition at the Petit Palais in Paris in 2005. At the National Gallery she was responsible for many initiatives such as Take Art, a programme working with 14 London hospitals, and the national Take One Picture scheme with primary schools. She has also put on several series of exhibition-related concerts. Ghislaine writes, broadcasts and lectures on the arts, arts education and the movement for arts in health. She is also a Board Member of the Museum of Illustration, the Handel House Museum and the Britten-Pears Foundation.
Tags: Sidcup, London, Chicks Own Annual, Chislehurst and Sidcup Grammar School, After the Game, William Shakespeare, JH Walsh
Duration: 5 minutes, 28 seconds
Date story recorded: January 2006
Date story went live: 24 January 2008