NEXT STORY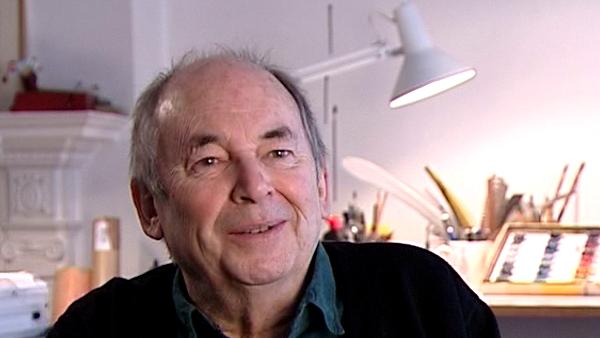 Former students from the Royal College of Art and working methods
Teaching at the Royal College of Art (Part 4)
1
2
3
4
5
...
7
Because I was there for quite a time I… I lived through a number of rectors of the… when I first went there it was Robin Darwin, who I… I didn't know at all, I mean, he was too… was too much of a distant figure. But he was very gruff and authoritative and… interesting in that way. And I think he did good things for the college. And I think perhaps the college was not… they didn't always appoint the best people as… as rector, I don't think. It… always interesting people, and people of quality, but it's very difficult to know what that job is, I think… and of course their… their great piece of enterprise was… was appointing Jocelyn Stevens who I… which I think was a result of… John Hedgecoe, who was Professor of Photography, I think knew him from when they both… when… when Jocelyn owned and edited Queen. And… I think it was he who… who promoted him… promoted the idea of Jocelyn, because it was… I mean he did arrive with a crash, it's… it's true, and… got rid of a lot of people and there was a lot of… angst and… things of that nature. I think, curiously, he… he… I was hoping he'd bring a lot more money to our department, which he… which he never did, but he did… he did seem to… take some interest in it and in fact, I think, perhaps just because we weren't important enough, but… Alistair Grant, who was Head of Print Making, and I, I think were the only two people who were not replaced at some time during Jocelyn's… so, I kind of… survived… Jocelyn alright. In fact, when Herbert Spencer, who was then Head of Graphic Design… he seemed to… was moved off, I think, and for about a year I actually ran the graphic design department. And I think they would have offered me that job if I'd… if I'd wanted it. Again, that was very interesting too. I went and… I had to go and talk to absolutely everybody… I mean all the tutors and the… and the, sort of, local heads of department and so on, about what we were going to do and… and keep… hold that together, you know, because there was… there was a possibility of… well, there was tension, you know. I mean, different people had interests… wanted their… their bit of it to survive in such and such a way or they had ambitions for it. And that was a very interesting exercise… and, you know, you… you found yourself doing those things that you read about in the… if you read anything about management, you know, I mean the first thing you do is to… is to move the furniture in the… in the professor's office. And… I mean, in my case, I moved it back against the wall and came out in front of it because otherwise I know, if you went in previously to see the professor, he was there beyond the desk to talk to. And… all that was… was very interesting but I… I didn't want to go on doing it. In fact, at one point, I accepted to be a chairman of a faculty which was a mistake and as soon as I got there, I realised I couldn't do it and I had to go and say to… Jocelyn that it was… I'd got that wrong, I could… I couldn't cope with it. And I… it was an interview… John Hedgecoe was there as well and… that was when I, sort of, started to withdraw a bit from the college… because I remember I was saying I… I just, you know, I couldn't… I didn't think I could… I could do it. And I remember Jocelyn saying, 'Well, you realise this alters your whole relationship with the college'. And I… I think he was saying, you know, we will give you the sack or something like that. So I agreed with him… and I said, 'No, I think you're right, it does'. And… then he realised he hadn't got any more cards left and I mean, at the end of the… of the meeting, we decided that probably Dan Fern was the person to do it and he… he took it over and did it brilliantly and has done it ever since. But… but we parted… friends. It was very nice… because… Jocelyn… when I left I… I sort of tapered off; I did two days a week the next year and one after that. But… when… when I left… Jocelyn, shortly before he left, appointed two visiting professors… there are a lot now, I think, but… and one was Eduardo Paolozzi and… and one was me. And I'm… so I'm… I'm technically a visiting professor, but I... He wrote a very nice letter which said, you know, that you're now visiting professor please come as often as you can, which is… which has been a very nice relationship because it means I… I wasn't… I left but I wasn't expelled from the building and I still know people there and I still go in from time to time. And… it isn't very often that I go but I suppose I go every term and so I stay in touch and I know the… the people there. What is also very nice for me is that I work for Brian Robb and we… got Dan Fern to come in as another part-time… tutor and then eventually he took over from me. And the… the shape and the organisation of it has changed but… one can't officially hand something on like that. But… by coincidence, it does… it does feel rather like a family business which we were running. What will happen next, of course, who knows?
Quentin Blake, well loved British writer and illustrator, is perhaps best known for bringing Roald Dahl's characters to life with his vibrant illustrations, and for becoming the first ever UK Children's Laureate. He has also written and illustrated his own books including Mr Magnolia which won the Kate Greenaway Medal.
Title: Teaching at the Royal College of Art (Part 4)
Listeners: Ghislaine Kenyon
Ghislaine Kenyon is a freelance arts education consultant. She previously worked in gallery education including as Head of Learning at the Joint Education Department at Somerset House and Deputy Head of Education at the National Gallery's Education Department. As well as directing the programme for schools there, she curated exhibitions such as the highly successful Tell Me a Picture with Quentin Blake, with whom she also co-curated an exhibition at the Petit Palais in Paris in 2005. At the National Gallery she was responsible for many initiatives such as Take Art, a programme working with 14 London hospitals, and the national Take One Picture scheme with primary schools. She has also put on several series of exhibition-related concerts. Ghislaine writes, broadcasts and lectures on the arts, arts education and the movement for arts in health. She is also a Board Member of the Museum of Illustration, the Handel House Museum and the Britten-Pears Foundation.
Tags: Queen magazine, the Royal College of Art, Sir Jocelyn Stevens, Sir Eduardo Paolozzi, John Hedgecoe, Brian Robb
Duration: 6 minutes, 17 seconds
Date story recorded: January 2006
Date story went live: 24 January 2008