NEXT STORY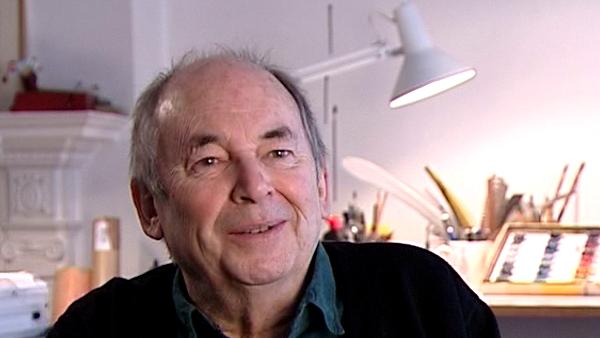 Influences: Honoré Daumier, Ronald Searle and Andrï François
Former students from the Royal College of Art and working methods
1
2
3
4
5
...
7
When I went to the college I still was because I didnt know much about art schools, I just had a little bit of experience of Chelsea, but I suppose from that and from… I mean from that inexperience and from received experience, I always assumed that students were not successful, you know, artists were hungry and so on and so on. I mean, you know, you were sort of given that idea and this is partly why I did a university education rather than starting off immediately to be some kind of an artist or illustrator. So, it took a little while to notice it but what was nice about teaching at the RCA was to see these people go off and get work and become names in the business and be successful, so to speak. Im now totally confused about, you know, over 20 years, when anybody was there so I tend to refer to one student, ex-student, in the presence of another and they have never met and dont know who Im talking about. But they went off in all different directions.
Dan Fern, who does a sort of illustration which is between that and fine art and graphics. Its a very interesting, sort of, almost abstract way of working. I mean, we worked together for a long time and hes both successful as a teacher and a professor at the RCA but also as a designer and illustrator, and now as a gallery artist as well. And… he was in that first year where I knew everybody because I saw them in their entrance exams and so on. And there were other people in that year that I still know.
Linda Kitson was in that year but she was the only woman amongst ten blokes, I think and she went on to become… I mean shes Ive known her ever since, shes my best friend, as it were, and somebody I talk to about things all the time. It was rather strange in a way that I mean they all went off to Wales one in one summer I think all that year. And they said, Oh, we dont want any women, but you can come, Linda. And so she was one woman with these ten men which was an experience that sort of strangely repeated itself when she became commissioned by the Imperial War Museum to go and draw in the Falklands. But I think she was one amongst about 3,000 soldiers there.
And I also think I got on well with a lot of people, but it was very informal and I think we moved towards making it more informal. I dont think anybody nowadays calls their tutors mister and I think there was a little bit of it when I arrived. But I mean its very nice to go to a private view or an exhibition sometimes and see how all these people are getting on. One person who was very interesting to me, Russell Mills, worked in a very precise and sometimes in quite abstract way, very interested in music and installations, and works a lot with Brian Eno and that kind of thing. And Im always, I mean, were always very pleased to see each other, but what is quite interesting is that we seem to have a great deal of affinity. Its hard to say why. I mean there was some kind of vein of humour in him… and also hes a terribly nice man. But hes one of these people who tends, pretends to be aggressive and difficult and rebellious and is a perfect gentleman actually, you know, kind of thing. But that was a sort of extreme point in which you can feel very much together with somebody and able to talk about things in a similar way, although their work is completely different.
There are some people whose work not like mine, but worked in a similar area and Emma Chichester Clark was one. And some of them have gone on to be childrens book illustrators. She didnt start off as that; she was a great book jacket artist for some years. But its hard to remember what you did or what you talked about but I mean, I can remember... surprises me Emma saying to me much later on, You told me I had to do roughs. And that was really part of it. I mean is there something that you have to explain to students because theyre so taken up with the nature of the piece of work theyve got in front of them, they tend to work terribly hard at one image. Whereas, in fact, if youre working in a book or any kind of sequence of pictures, its the sequence that matters and so you have to organise that sequence and you cant really do a book without doing working out its going to flow through and how its going to work and what the pictures are going to look like in relation to each other. Its often very hard for someone whos not used to doing that to get hold of the idea that sometimes, you know, not the maximum effort is better than the maximum effort, you know, I mean you can, occasionally you can just sort of throw things away or you can make the rhythm of the thing work. And also, I think, I mean I feel very sympathetic towards the student doing that because, even now, you know, sometimes when you when you start off a book perhaps they dont know how to do it because theyre not very familiar with their own talent and way of working. But I mean I still feel like that sometimes, I mean, because every book has a kind of no two books are the same, theres always a kind of slight change or a major change and you just feel you cant cope with that until you find your way through. You do a drawing or a bit of a drawing and oh yes, perhaps I could do it like that, maybe that would work. And so… I very much sympathise with them in that situation; how do you deal with a book? Because I still sometimes now wonder, you know, should I have taken this on and Im not quite sure. Ill see how Im going to do it. Until you actually work out how it can be done.
Quentin Blake, well loved British writer and illustrator, is perhaps best known for bringing Roald Dahl's characters to life with his vibrant illustrations, and for becoming the first ever UK Children's Laureate. He has also written and illustrated his own books including Mr Magnolia which won the Kate Greenaway Medal.
Title: Former students from the Royal College of Art and working methods
Listeners: Ghislaine Kenyon
Ghislaine Kenyon is a freelance arts education consultant. She previously worked in gallery education including as Head of Learning at the Joint Education Department at Somerset House and Deputy Head of Education at the National Gallery's Education Department. As well as directing the programme for schools there, she curated exhibitions such as the highly successful Tell Me a Picture with Quentin Blake, with whom she also co-curated an exhibition at the Petit Palais in Paris in 2005. At the National Gallery she was responsible for many initiatives such as Take Art, a programme working with 14 London hospitals, and the national Take One Picture scheme with primary schools. She has also put on several series of exhibition-related concerts. Ghislaine writes, broadcasts and lectures on the arts, arts education and the movement for arts in health. She is also a Board Member of the Museum of Illustration, the Handel House Museum and the Britten-Pears Foundation.
Tags: Chelsea, the Royal College of Art, Wales, Imperial War Museum, Falkland Islands, Dan Fern, Linda Kitson, Brian Eno, Russell Mills, Emma Chichester Clark
Duration: 7 minutes, 17 seconds
Date story recorded: January 2006
Date story went live: 24 January 2008