NEXT STORY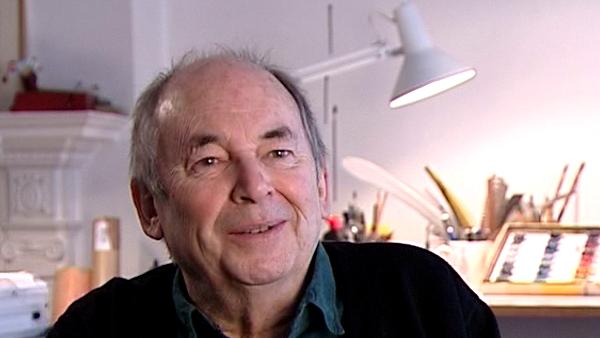 André François
Working for Punch
1
2
3
4
5
...
7
Working for Punch got more interesting as I went on, because they'd had... I got more varied things to do. Mark Boxer used to do a thing called In the City and In the Country, and this was financial notes, and notes about life in the country. And they both appeared on the same page, and were called In the City and In the Country, and for two or three years he'd been at Cambridge and edited Granta. He was a bit older than I was, and he'd established this. And you had two pictures which, sort of, matched each other, so they were a sort of visual reference to each other, so that the In the City was nothing about financial, it was about city life, and the other one was about country life. And he did that for two or three years, and then he went off to become Art Editor of the Sunday Times Colour Supplement, or something rather grand like that. And I took this on. And, that was very good for me, because I think it was ten pounds a week, or ten guineas a week, which was the sort of, you know, financial basis of keeping me going. So I knew I was going to earn that, and it was quite nice because you could do… they used to send the bit about country life, a bit of it was edited by Peter Dickinson, who became a very celebrated detective novelist and a very celebrated children's book novelist. But you'd get this bit about country life, and you'd have to draw something for that, and then get a city thing, so it would be, you know someone taking their fur coat off in the top picture, and someone shearing a sheep in the bottom picture, of something. You got a visual thing. So that went on certainly, but there were also other things, and they started having coloured covers. I think in 19… maybe 59, the first one, but they'd had the same cover, by Dickie Doyle for 150 years, every week. It's wonderful… I mean I'm a great admirer of Dickie Doyle, I mean he was really a genuine influence. He was somebody else who started drawing for Punch when he was 16, but he drew much better than I did, I mean he was a brilliant draftsman, but they'd had this very, very nice cover, but they started having one or two coloured covers for special issues. The Christmas issue, or the Easter issue, or something like that, and it ruined the whole thing, and I mean in a sense you couldn't go on having the same cover every week, if you were going to have a coloured one sometimes. And so they gradually got into having coloured covers every week, which was a lovely new job for you, and you just submitted, it was… you know, it had to have Punch, and the dog Toby in it, and you had some kind of the first one I did was of Punch as Punchinello, and the dog as Harlequin. And I mean that was you know, a very interesting… you just submitted a rough. The first one that I did, was drawn with a quill… I mean a plastic quill that you buy from Boots to clean your teeth, you know, pick your teeth with kind of thing, but quite good to draw with, and on Ingres paper, which I happened to have for some reason or another, and blackboard chalks, which were the only… normally I would be using pastels or something like that now. But I happened to have blackboard chalk, so that was was how that was done, and then I went on submitting and I did quite a lot in colour at one time or another. And what was very nice about that was you only had to get it right once, if you see what I mean, so you could use some other different way of doing things. You know, you could use pastels, or you could use water colour, or you could… I did one where I… got a lot of those little glass eyes that they put on teddy bears, and stuck them on so that they were photographed in three dimensions.
Quentin Blake, well loved British writer and illustrator, is perhaps best known for bringing Roald Dahl's characters to life with his vibrant illustrations, and for becoming the first ever UK Children's Laureate. He has also written and illustrated his own books including Mr Magnolia which won the Kate Greenaway Medal.
Title: Working for "Punch"
Listeners: Ghislaine Kenyon
Ghislaine Kenyon is a freelance arts education consultant. She previously worked in gallery education including as Head of Learning at the Joint Education Department at Somerset House and Deputy Head of Education at the National Gallery's Education Department. As well as directing the programme for schools there, she curated exhibitions such as the highly successful Tell Me a Picture with Quentin Blake, with whom she also co-curated an exhibition at the Petit Palais in Paris in 2005. At the National Gallery she was responsible for many initiatives such as Take Art, a programme working with 14 London hospitals, and the national Take One Picture scheme with primary schools. She has also put on several series of exhibition-related concerts. Ghislaine writes, broadcasts and lectures on the arts, arts education and the movement for arts in health. She is also a Board Member of the Museum of Illustration, the Handel House Museum and the Britten-Pears Foundation.
Tags: Punch, In the City and In the Country, Cambridge, Granta, The Sunday Times, Christmas, Easter, Harlequin, Punchinello, Boots, Mark Boxer, Peter Dickinson, Richard Doyle
Duration: 4 minutes, 40 seconds
Date story recorded: January 2006
Date story went live: 24 January 2008