NEXT STORY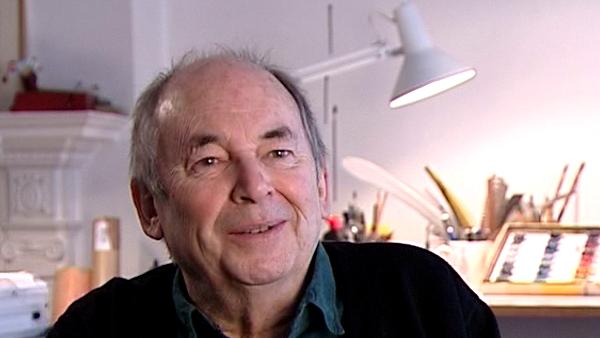 Collaborations in the '70s
1
2
3
4
5
...
7
So a lot of that magazine work was interesting, but I also wanted to do books, really, and I didn't… you know, I just wanted to be between two covers, and to arrange the way the drawings were, myself, without sort of elbowing my way through a lot of other peoples drawings and text and that sort of thing. And I didn't know how to do that, and I was quite… there seemed to be opportunities in children's books. There were other people like John Burningham and Gerald Rose, who were of my generation, and I think also were in... would have been influenced by François, in the way they did things. But I didn't… I thought I'd like to do something like that, but I didn't know how to do it, so I didn't know how you started. I had taken my portfolio to publishers once or twice, without much success, but… so I asked my friend John Yeoman, we'd been at Cambridge together, whether he could write something, that I could illustrate, and I mean he knew no more about it than I did. But he could speak Russian and French, and he delved about in European folk tales. And he actually produced one story, which I wanted to do as a picture book really, was what I was thinking of, but sent it to Faber and Faber, and they said, 'We've got a little series of books, and if you would like to do four or five more of these stories, we will put them together in a book'. So that was, you know the first publisher you'd been to offers to publish you can't say no. So we did that, and that was a book called A Drink of Water, in 1960, I think, and we did one or two more. And we've done a lot more books together… picture books and other books. But that was the first book that I did, and I think I was also… and, yes, I was also commissioned about the same time, by the Art Editor of Abelard-Schuman who I think was called Brian Payne, spontaneously through an illustrated book called Albert the Dragon. And so there were sort of two things, rather similar kind of weight of drawing, either black and white drawings, or drawings in one or two colours. And it took me a long time to get round to relatively, to the idea of doing a picture book. I think a picture book was what you had to do to get noticed, really. And so that the, I forgot the order they came in, but certainly John did one or two… one or two, I think Bears Winter House was the first one he did, and he did one called Sixes and Sevens, which was a very nice one of going along a river on a raft, taking people and things on at every stop, kind of thing. It was a sort of a cumulative sort of book. And then I did one of my own, because there were things that I wanted to draw, called Patrick. And I think that was 1968 or nine. So those were the first picture books, and I thought, when I started doing them, I thought well, I'll suppose I was, I thought I'll go on with them for two or three years, and see whether ther's, you know… I didn't know whether children would like them or not. I mean… I just thought I'll do them and see what happens. And I think I thought, I'll keep on till I'm 30, or something like that. And I mean I passed that point without noticing it, eventually, and they gradually got more… I was also, I could have been commissioned to do a book about writing for young people, and it was rather awful, really, because I thought I knew something about English teaching, and I thought this… I so disapproved of the methods put forward, that I… that was, I think, the only time, then, that I turned down a job. And I did some books as well with collections of pieces by Patrick Campbell, who wrote a lot in magazines and newspapers at that time… humorous pieces of, you know… short humorous pieces. He was a very funny man, I think, and they were gathered together in books. They started… I think they were in The Spectator originally. And then I got on to actually doing new illustrations, doing covers and new illustrations for his books. And I don't think I ever met him. I think I'd… he was on television. I think I saw him on television, but I… he was very tall and angular. And he'd been drawn by Ronald Searle, previously, as well, in the magazine Lilliput, and it was curious, it was as though I did… to me, it was as though I'd invented him. You know, I had a sort of formula for drawing Patrick Campbell, without ever having met him. It was a sort of elongated version of the people that I drew anyway.
Quentin Blake, well loved British writer and illustrator, is perhaps best known for bringing Roald Dahl's characters to life with his vibrant illustrations, and for becoming the first ever UK Children's Laureate. He has also written and illustrated his own books including Mr Magnolia which won the Kate Greenaway Medal.
Title: Moving into books
Listeners: Ghislaine Kenyon
Ghislaine Kenyon is a freelance arts education consultant. She previously worked in gallery education including as Head of Learning at the Joint Education Department at Somerset House and Deputy Head of Education at the National Gallery's Education Department. As well as directing the programme for schools there, she curated exhibitions such as the highly successful Tell Me a Picture with Quentin Blake, with whom she also co-curated an exhibition at the Petit Palais in Paris in 2005. At the National Gallery she was responsible for many initiatives such as Take Art, a programme working with 14 London hospitals, and the national Take One Picture scheme with primary schools. She has also put on several series of exhibition-related concerts. Ghislaine writes, broadcasts and lectures on the arts, arts education and the movement for arts in health. She is also a Board Member of the Museum of Illustration, the Handel House Museum and the Britten-Pears Foundation.
Tags: Faber and Faber, A Drink of Water, 1960, Abelard-Schuman, Albert the Dragon, Bear's Winter House, Sixes and Sevens, Patrick, 1968, 1969, The Spectator, Lilliput, André François, John Burningham, Gerald Rose, Patrick Campbell, Ronald Searle
Duration: 6 minutes, 2 seconds
Date story recorded: January 2006
Date story went live: 24 January 2008