NEXT STORY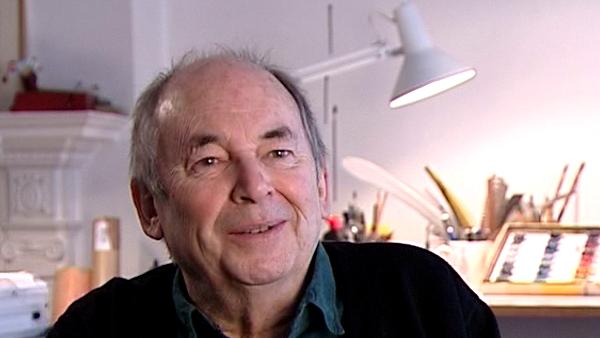 The characters in How Tom Beat Captain Najork and His Hired Sportsmen
Collaborations in the '70s
1
2
3
4
5
...
7
It was probably in the 70s, sort of mid 70s, when… there were three or four, what proved to be quite significant, collaborations, they happened then. I mean, John Yeoman and I had been working together, I had got into doing some books of my own. Even then, when I did that… that first book, picture book, I did on my own, Patrick, I… I didn't, you know… I should have been doing the next one as soon as that one was in the pipeline. I didn't know you had to do that, I was waiting for somebody to tell me I've got to do another one, you know, kind of thing. And in fact that was published by Tom Maschler at Jonathan Cape, and he's someone who's, over the years, been very good at saying, 'What about the next one?' And once we got into the habit, and when… as I gave the finished version, and the finished pictures of one to him, he would say, 'And what ideas have you got about the next one?' But… that's one of those things, you know, when there are certain questions you… you get asked, like, where do you get your ideas from? And my own ideas, that's quite a difficult question, they come from different places, and really I don't know. But the other answer is, I get them from authors, and that's one… I couldn't… I mean I could do a book of my own every year or two, but I like to work more than that, and I do three or four or five books a year, and… or I have done, and… and I couldn't do that without authors. And what is nice is the diversity of authors, and I think it was… it was sort of '73, '74, '75, '76, or around about then, that looking back I realised that some new… relationships and collaborations started. One was with Russell Hoban, and… Tom Maschler at Jonathan Cape sent me… I think he actually sent me three manuscripts… and said, 'Look at these, and see what you think about that'. And I was… you know, I admired Russell Hoban's writing already… and these were all very nice, but there was one, which was… was the one that we did called How Tom Beat Captain Najork and his Hired Sportsmen, which is a wonderful title, and I… said, 'Can I do something about this?' And I was invited to do a sample. Always a difficult thing to do, because, you know, there is a kind of… process, of… of development, where you find out what the drawings ought to look like, so… but anyway I did… I did quite a lot of samples. I really did quite a lot of drawings for it, and it was about three or four pages of typing, and it was… it seemed wonderful to me because it was… it was like, as though it was… it was the book that you wanted to illustrate, you didn't know it existed, and you could not have written it yourself. But it was like ideas that I wanted to… to draw. And… so I did these… these roughs, and sample drawings, and then there was a… you know, there was a little wait, while I found out whether… while I waited to find out whether I was going to be commissioned to do it. And… I thought, you know, I'm not sure how I can cope with this, if I'm not going to be allowed to do it. But… but I was, anyway, and… it… that was… that was fascinating, I think.
Quentin Blake, well loved British writer and illustrator, is perhaps best known for bringing Roald Dahl's characters to life with his vibrant illustrations, and for becoming the first ever UK Children's Laureate. He has also written and illustrated his own books including Mr Magnolia which won the Kate Greenaway Medal.
Title: Collaborations in the '70s
Listeners: Ghislaine Kenyon
Ghislaine Kenyon is a freelance arts education consultant. She previously worked in gallery education including as Head of Learning at the Joint Education Department at Somerset House and Deputy Head of Education at the National Gallery's Education Department. As well as directing the programme for schools there, she curated exhibitions such as the highly successful Tell Me a Picture with Quentin Blake, with whom she also co-curated an exhibition at the Petit Palais in Paris in 2005. At the National Gallery she was responsible for many initiatives such as Take Art, a programme working with 14 London hospitals, and the national Take One Picture scheme with primary schools. She has also put on several series of exhibition-related concerts. Ghislaine writes, broadcasts and lectures on the arts, arts education and the movement for arts in health. She is also a Board Member of the Museum of Illustration, the Handel House Museum and the Britten-Pears Foundation.
Tags: Patrick, Jonathan Cape, 1970s, How Tom Beat Captain Najork and his Hired Sportsmen, John Yeoman, Tom Maschler, Jonathan Cape
Duration: 3 minutes, 47 seconds
Date story recorded: January 2006
Date story went live: 24 January 2008