NEXT STORY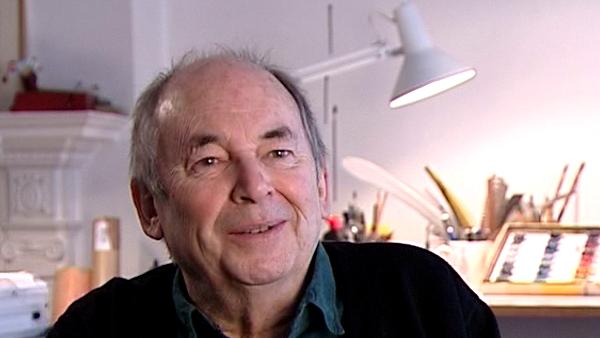 Joan Aiken and doing drawings for Jackanory
The characters in How Tom Beat Captain Najork and His Hired Sportsmen
1
2
3
4
5
...
7
It takes place next to a… a river, and it's got… well, I… it… it defies description, but it has got Aunt Fidget Wonkham-Strong in it. And it's got a wonderful beginning. It… it says Tom lived with his Aunt Fidget Wonkham-Strong… she took no nonsense from anybody where she… what was is? Where she… the flowers wilt, anyway as she passes… as she passes. And that's so nice, because there's no… she… she wore an iron hat, sorry, of course, she wore an iron hat, and took no nonsense from anybody. Just to be told that about someone, that she's the sort of… figure of discipline, of an old-fashioned kind. You know, it's a wonderful start, so you can make a, kind of, Victorian figure of her, and draw this and imagine what an iron hat is like, and draw her sort of pterodactyl like face. And… and then invent Captain Najork and his hired sportsmen, who were rowing up the river, and so on and so on, and these games which are… are described, but not described by... I mean, he… Russell writes about them as though you knew what they were, you know, about wombling, and… and sneedball, and doing these things in the mud. And… so that was a… that was a marvellous thing to do, because there was a lot… there were a lot of promptings for the illustrator to invent these people, and you could decide… it didn't tell you that it was Edwardian, but I thought that was what it… what it ought to be. And so… and that was the first of a number of books that I did with Russell. And… in fact he… he was invited to write a sequel to it, and that was called A Near Thing For Captain Najork, and I thought it was… I didn't see how he could write a sequel to it, initially, because, well, the… the original story is perfectly formed. It's a… it's a sort of educational fable, and it's got a… it's got a bit… of other books in it. It's got a little bit of, sort of, Hard Times in it, and a bit of… of Huckleberry Finn, or something like that… it's got… but it's about how people who do things spontaneously, and skillfully for that reason, are more effective than people that… people who learn things by rote. Because these… these… I mean, that's the wonderful… actually there is… I have got the postcard that… that Russell gave me, which is… there is a Victorian engraving of Captain Najork, and… it doesn't say his… you don't know… there… there are these chaps rowing, in a rowing boat, and of course it was Russell's brilliance, that he looked at that picture, and knew they were hired sportsmen, with everything that was kind of implied in that. And it's… it's a wonderful educating… it's a perfectly formed educational fable, and… and so I couldn't see, you know, how you could write another educational fable, and it was extraordinary when… when I got it, because it was… he said, 'Got it down to two pages of typing', he managed to… write an even shorter text. And, in fact what it is, is he… he wrote a sequel as farce, which is a completely different form, in… in that things happen… come together, as it were, by accident, which produce other things. And it's in that Tom, you know, invents a jam-powered frog, and they're going down the river and there was… Captain Najork's got the hired sportsman with this mobile snake, and so on, but I mean the way that things come together, is a sort of, is… is a kind… is… the structure is farce. But you could use the same people, and in fact, it was very nice, because when I… I remember saying to Russell… I didn't, you know… I thought it was… I didn't know how you could write a… a sequel, I thought it was extraordinary, and he said… he said, 'Well by then, I knew what the people looked like, which helped'. Which was very… which made one feel… it was good to be in that collaboration. And we did… we've done other books since.
Quentin Blake, well loved British writer and illustrator, is perhaps best known for bringing Roald Dahl's characters to life with his vibrant illustrations, and for becoming the first ever UK Children's Laureate. He has also written and illustrated his own books including Mr Magnolia which won the Kate Greenaway Medal.
Title: The characters in "How Tom Beat Captain Najork and His Hired Sportsmen"
Listeners: Ghislaine Kenyon
Ghislaine Kenyon is a freelance arts education consultant. She previously worked in gallery education including as Head of Learning at the Joint Education Department at Somerset House and Deputy Head of Education at the National Gallery's Education Department. As well as directing the programme for schools there, she curated exhibitions such as the highly successful Tell Me a Picture with Quentin Blake, with whom she also co-curated an exhibition at the Petit Palais in Paris in 2005. At the National Gallery she was responsible for many initiatives such as Take Art, a programme working with 14 London hospitals, and the national Take One Picture scheme with primary schools. She has also put on several series of exhibition-related concerts. Ghislaine writes, broadcasts and lectures on the arts, arts education and the movement for arts in health. She is also a Board Member of the Museum of Illustration, the Handel House Museum and the Britten-Pears Foundation.
Tags: Aunt Fidget Wonkham-Strong, How Tom Beat Captain Najork and his Hired Sportsmen, Adventures of Huckleberry Finn, Hard Times, Victorian, Russell Hoban
Duration: 4 minutes, 32 seconds
Date story recorded: January 2006
Date story went live: 24 January 2008