NEXT STORY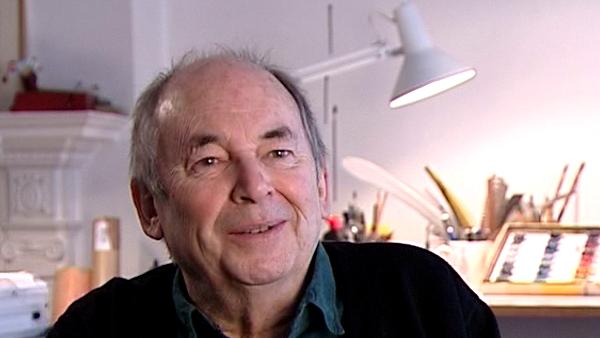 Art at school
Drawing caricatures of my headmaster
1
2
3
4
5
...
7
He was also in Shakespeare himself, and so although he was short and fattish, with a bristling moustache, and was bald, he used to take the part, for instance he… well, Sir Toby Belch he did To The Manor Born, we said, but he also took the part of Mark Antony in Julius Caesar, and that's something that I remember about drawing, because I did some drawings of him, because I had a very minor role in Julius Caesar, I in fact had two very minor roles. I never read the whole play, I don't think, I just came on and said, 'Oh Caesar', at one point, and went off again. But I did some drawings of him. He had a leopard skin. I'm not sure whether he ever meant to get that on, and a ginger wig, and boots that he couldn't quite do up at the front, you know, and I did some drawings of him, and he had a visiting French boy, it was a sort of exchange, at the time, and this French boy didn't quite realise what discretion was, and told the Headmaster that, Mac, as he was called, that I had these drawings, and I thought, oh no, I'm for it. You know, really, because they were… and I took them… I was summoned to go and show them to him, and I thought, this is dreadful. But I took the two least exaggerated, even so, and took them to him. He looked at them and he looked at them for a bit, and I thought, gosh, what's coming next? And he said, 'Yes, I think you've caught something of the vigour of the man'. I had a rather similar experience later on in the army, but I did, I had a lesson in discretion. It was a lesson in caricature as well of course. But the idea of… I see, I think now, looking back, I mean I think that the idea of a magazine, of drawing in a magazine, of writing in a magazine, of doing Shakespeare on the stage, and drawing as well, must have been, you know, part of what I turned out to do in the end.
Quentin Blake, well loved British writer and illustrator, is perhaps best known for bringing Roald Dahl's characters to life with his vibrant illustrations, and for becoming the first ever UK Children's Laureate. He has also written and illustrated his own books including Mr Magnolia which won the Kate Greenaway Medal.
Title: Drawing caricatures of my headmaster
Listeners: Ghislaine Kenyon
Ghislaine Kenyon is a freelance arts education consultant. She previously worked in gallery education including as Head of Learning at the Joint Education Department at Somerset House and Deputy Head of Education at the National Gallery's Education Department. As well as directing the programme for schools there, she curated exhibitions such as the highly successful Tell Me a Picture with Quentin Blake, with whom she also co-curated an exhibition at the Petit Palais in Paris in 2005. At the National Gallery she was responsible for many initiatives such as Take Art, a programme working with 14 London hospitals, and the national Take One Picture scheme with primary schools. She has also put on several series of exhibition-related concerts. Ghislaine writes, broadcasts and lectures on the arts, arts education and the movement for arts in health. She is also a Board Member of the Museum of Illustration, the Handel House Museum and the Britten-Pears Foundation.
Tags: Mark Antony, To The Manor Born, Julius Caesar, the British Army, William Shakespeare, Sir Toby Belch
Duration: 2 minutes, 45 seconds
Date story recorded: January 2006
Date story went live: 24 January 2008