NEXT STORY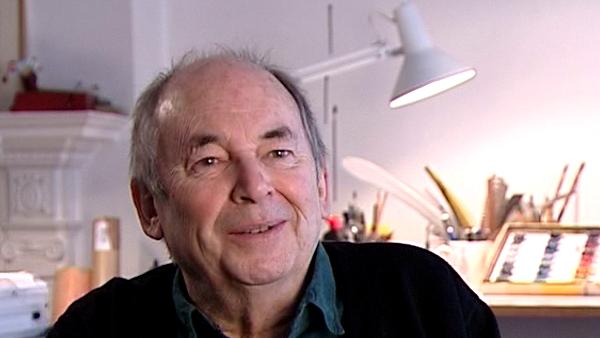 Michael Rosen
Joan Aiken and doing drawings for Jackanory
1
2
3
4
5
...
7
Joan Aiken, as well, wrote some stories about Mortimer and Arabel. Arabel is the little girl, Mortimer is her pet raven. And I think she wrote them specifically for television, for the… for the programme Jackanory, which… and on that you had a… a presenter, someone, generally a rather a good actor, who read the story, as from a book… and to camera, and occasionally you would see illustrations for it. And… and there would be say… there would be five programmes for a quarter of an hour for a week, and you'd do… 12 drawings for each day, so you were doing 60 drawings, and… I did them on… they had their… the BBC had their own artists at work on some of these stories, and they painted a whole scene, but it was interesting to me, because I knew that the camera only looked at certain parts of the picture at a time, And so you could draw it… I drew them on cream boards, because in those days, it was… you saw the pictures by the camera, looking at them. Now they're put on a rostrum, or they're done digitally but then the camera actually looked at this picture, and it could move about on the picture, so that you knew that it would look at this, and then it would look at that, so you organised the picture in a different way, so that it would gradually follow round and arrive at somebody doing something, which came as a little surprise. Or it might just have been a quick picture, where you saw one thing happening. But quite often you moved around, so you had to do quite a big picture, and moved… the camera could move around on it. And… these… stories were… were about Arabel and Mortimer the raven, and we did… we did a number of those, and lots of drawings, and it was very fascinating to me also, because you were invited, or required, to… to go to the television studio, to… to see the… the recording. And there would be Bernard Cribbins, who read most of the… Arabel's raven ones, and I… I mean, but I did other stories, and by other people, and you know, there might be… Roy Kinnear, or Kenneth Williams or one of those actors at the time. It was wonderful to see them at work, but you were there to… to… in case something didn't work in the drawing, or you had to strengthen a bit up, or you had to draw an extra bit on. Very little of that was needed, but it was very wonderful to see it, because there'd be the actor there, there'd be two or three cameras, there'd be a great studio with… hung with, you know, masses of technology, for the way of lighting for other programmes, and then a pile of these cardboard sheets with the drawings on, on a kind of music stand, and the camera would look at them for a bit, and then go back to the actor. And during that period, a man with rolled up sleeves and Fair Isle pullover would take this picture off, and… and reveal the next one underneath. It was a wonderful sort of contrast of ways of doing it, which is all… I mean that's all gone now. But it was very… it was very… I mean I enjoyed seeing the actors doing it, and Bernard Cribbins was… was particularly good. But it was… it was a… there was a kind of rhythm and sequence in it, but it was a slightly different one from a book, and Joan Aiken is… is another extraordinary writer, and then we eventually did these books. I had to re-illustrate them when they became… when they became books, because then they had to have quite small black and white drawings, but I… I felt I knew a lot about… Mortimer by the time I'd finished. And then I did one or two other books of… of Joan Aiken's as well, and later on… she'd worked a lot with Jan Pienkowski who'd done very beautiful things, where… where she'd… she invents fairy tales, and she used to invent… fairly tales with contemporary elements in them. And there was one, which for some reason or another, he couldn't do, and… and so I did it, Tom Maschler asked me to do it, which was The Winter Sleepwalker. Which was an extraordinary collection of stories, and one of the books that I most enjoyed doing, because there was a great sort of variety of mood through them… some… one or two quite serious and sinister things, and others rather lyrical stories, and… that was… and… and some very funny, so that was a… a very nice collaboration with… with Joan. And I used to go down to see her at… she lived in Petworth with her… husband was an American painter, and we used to go walk in… in Petworth Park, and… Joan was very, very sort of… small, and contained, and… very interesting to talk to, and I mean, people sometimes sort of imagine that children's writers… people who write for children are innocent and remember in their childhood, and… I… I don't know the Freudian terms, but I remember her saying once, we were walking, yes, well of course Arabel is the… no I think Mortimer… one of them… Mortimer is the ego and Arabel is the id. I may have got that the wrong way round. But… but… and I thought, ah… there's more to this than meets the eye. So that was very… good. It meant… and I did a lot of drawing for television then, and I… I even did some live drawings on television as well… stories which I wrote so that you could actually draw them while you were telling them.
Quentin Blake, well loved British writer and illustrator, is perhaps best known for bringing Roald Dahl's characters to life with his vibrant illustrations, and for becoming the first ever UK Children's Laureate. He has also written and illustrated his own books including Mr Magnolia which won the Kate Greenaway Medal.
Title: Joan Aiken and doing drawings for "Jackanory"
Listeners: Ghislaine Kenyon
Ghislaine Kenyon is a freelance arts education consultant. She previously worked in gallery education including as Head of Learning at the Joint Education Department at Somerset House and Deputy Head of Education at the National Gallery's Education Department. As well as directing the programme for schools there, she curated exhibitions such as the highly successful Tell Me a Picture with Quentin Blake, with whom she also co-curated an exhibition at the Petit Palais in Paris in 2005. At the National Gallery she was responsible for many initiatives such as Take Art, a programme working with 14 London hospitals, and the national Take One Picture scheme with primary schools. She has also put on several series of exhibition-related concerts. Ghislaine writes, broadcasts and lectures on the arts, arts education and the movement for arts in health. She is also a Board Member of the Museum of Illustration, the Handel House Museum and the Britten-Pears Foundation.
Tags: Mortimer and Arabel, Jackanory, British Broadcasting Corporation, The Winter Sleepwalker, Petworth, Joan Aiken, Bernard Cribbins, Roy Kinnear, Kenneth Williams, Jan Pienkowski, Tom Maschler
Duration: 6 minutes, 30 seconds
Date story recorded: January 2006
Date story went live: 24 January 2008