NEXT STORY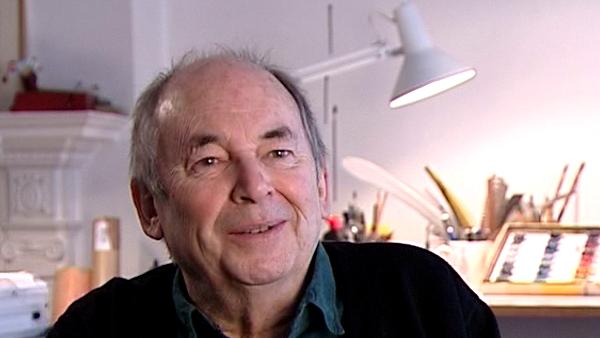 Roald Dahl and working on The Twits
Drawing a caricature of a crocodile
1
2
3
4
5
6
7
That was one aspect about it. The other thing is, which is one of the interesting things about illustration, and why it's interesting going from one author to another, and one book to another, is that… is the sort of tuning in on what this is like, and I mean the… the crocodile is a kind of… is a kind of embodiment of evil energy, as it were. It's like Richard III, or someone like that, you know kind of thing. I mean you, it's terrible, but you like to watch it. And it seemed to me that it was because there were frightening things in it, it wanted to be in a sense artificial, or heraldic, so that… and he describes how he's… you know, he's got hundreds of teeth, which rattle together and so on and so on. And it seemed to me it was like the crocodile in Punch and Judy, in a way. You know, that had… it comes out and goes like this, sort of thing. And, so it's actually a sort of caricature of a crocodile, and crocodiles actually… I mean I know that crocodile's don't actually look like that. But, so it's got teeth, which are sort of like a saw kind of set of teeth, which are there really for catching children. And they're a trap, as it were, you know, so that the… as I drew it, the crocodile sort of developed into what it is, and also the the children are are real, but it's a kind of artificial pantomime situation of a rather frightening kind. Well, I mean pantomime can be rather more frightening, and so they tend to be slightly strong, heraldic colours, as it were. Very green, or you know, some bright flowers and so on which gives the kind of mood of the book, and to do that you… well you've got to design the whole book before you start to do it. You've got to do the rough drawings of the whole book, so that you know how the text fits in, and then it's done with a pen and ink, and that pen is a rather harder pen than the… than one that I might use, say, for doing those Michael Rosen books, or another book by Dahl, perhaps, you know… so it's quite a sort of hard movement, you know… it relates to all those teeth as you drawn them. And they're quite bright, flat colours in places, and… and as I say, you have to draw the whole thing so you can fit the text in.
That again, is a nice thing about a picture book, is that you, and nice for me, is that you arrange… you in a sense design it, because you arrange where everything goes in the book, and you tell the story in that sequence. And in fact there was a thing that I was doing wrong at the beginning, which is absolutely basic, which Tom Maschler was able to point out. Because he's very good at looking at books, and seeing what works… is that I was getting the… you've got to get the suspense on one opening, and the resolution when you turn the page, so that you reach a point at which, what is going to happen? Whereas actually I was sort of giving the problem on the left-hand page, and the answer on the right. And you mustn't do that. You… you've got to have the problem on the left hand page, so that you turn the page, which is what keeps you turning the pages, because you want to see. And that goes through all picture books, or nearly all picture books. Not quite all, but it's a sort of fundamental thing. So that was that. I was a bit frightened of it to begin with, but… with… there was rather a lot of biting people went into it, but I think… I sort of tuned into it, and then… that was it as far as I knew.
Quentin Blake, well loved British writer and illustrator, is perhaps best known for bringing Roald Dahl's characters to life with his vibrant illustrations, and for becoming the first ever UK Children's Laureate. He has also written and illustrated his own books including Mr Magnolia which won the Kate Greenaway Medal.
Title: Drawing a caricature of a crocodile
Listeners: Ghislaine Kenyon
Ghislaine Kenyon is a freelance arts education consultant. She previously worked in gallery education including as Head of Learning at the Joint Education Department at Somerset House and Deputy Head of Education at the National Gallery's Education Department. As well as directing the programme for schools there, she curated exhibitions such as the highly successful Tell Me a Picture with Quentin Blake, with whom she also co-curated an exhibition at the Petit Palais in Paris in 2005. At the National Gallery she was responsible for many initiatives such as Take Art, a programme working with 14 London hospitals, and the national Take One Picture scheme with primary schools. She has also put on several series of exhibition-related concerts. Ghislaine writes, broadcasts and lectures on the arts, arts education and the movement for arts in health. She is also a Board Member of the Museum of Illustration, the Handel House Museum and the Britten-Pears Foundation.
Tags: Richard III, Punch and Judy, Roald Dahl, Michael Rosen, Tom Maschler
Duration: 4 minutes, 14 seconds
Date story recorded: January 2006
Date story went live: 24 January 2008