NEXT STORY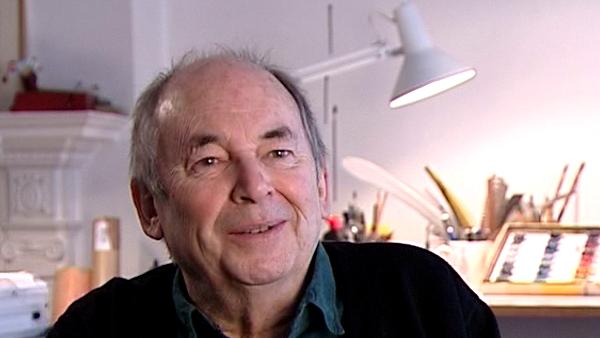 Solving the problems surrounding The BFG
Roald Dahl and working on The Twits
1
2
3
4
5
6
7
And then I was invited to do some drawings for The Twits, which was the next one that he wrote, which was sort of somewhere between a novel and a picture book. It was done in black and white, and I think I did a whole set of rough drawings, to a different format, because I thought it would be rather nice if it was a big book. Like a big black and white book. In fact I'd still rather like to do a big black and white book. I haven't done that yet it reminds me that I have to do it. Like that, but it was felt that it should be a normal sized book, which probably made sense, because then it goes into paperback and everybody can buy it. But it's quite interesting that, because it's a very black sort of book, you know, I mean it's black humour, and because the world is established, as it were, the rules are established, by these two horrible people, and it's very interesting to draw horrible people, and you know, they're sort of bristly, and one eye's you know, and so on. So that… that's all good stuff to do, and the good people are the monkeys and the birds, and so on, and it's only right at the end you discover there're actual other human beings in the world. It's quite strange that. It's… they set the tone… a lot of it is about their horribleness, and you have to find ways of showing that those things… like... that he's got a disgusting beard, Roald hated beards, and it has pieces of decaying food, you know, and sardines and cornflakes and things like that, Gorgonzola cheese. And so you think, how do you show that? So, I invented so to speak, a magnifying glass, through which you see part of the beard. So it's how do take the… how do you enlarge the text slightly, without contradicting it? And there was another bit where there's… they catch the birds, and put them into bird pie. And of course a bird pie looks like any other pie, so, you know, there was this little problem of how do you show that it's a bird pie, and you do it by having their little feet sticking out of the crust, you know, which is… I think that's a Cornish thing that you do with Stargazey Pie, you have the fish's head sticking out, but… that seemed… there were various things like that, how… there is… and you have to draw their house. I mean I drew their house, probably… eight or ten times, until it got to look enough like a concentration camp. So that it… it was working on all that kind of thing. So that was it, you know, there was… there was an element of similarity to the previous book, but it was much… darker in mood, until we survive at the end, kind of thing.
Quentin Blake, well loved British writer and illustrator, is perhaps best known for bringing Roald Dahl's characters to life with his vibrant illustrations, and for becoming the first ever UK Children's Laureate. He has also written and illustrated his own books including Mr Magnolia which won the Kate Greenaway Medal.
Title: Roald Dahl and working on "The Twits"
Listeners: Ghislaine Kenyon
Ghislaine Kenyon is a freelance arts education consultant. She previously worked in gallery education including as Head of Learning at the Joint Education Department at Somerset House and Deputy Head of Education at the National Gallery's Education Department. As well as directing the programme for schools there, she curated exhibitions such as the highly successful Tell Me a Picture with Quentin Blake, with whom she also co-curated an exhibition at the Petit Palais in Paris in 2005. At the National Gallery she was responsible for many initiatives such as Take Art, a programme working with 14 London hospitals, and the national Take One Picture scheme with primary schools. She has also put on several series of exhibition-related concerts. Ghislaine writes, broadcasts and lectures on the arts, arts education and the movement for arts in health. She is also a Board Member of the Museum of Illustration, the Handel House Museum and the Britten-Pears Foundation.
Tags: The Twits, Roald Dahl
Duration: 3 minutes, 6 seconds
Date story recorded: January 2006
Date story went live: 24 January 2008