NEXT STORY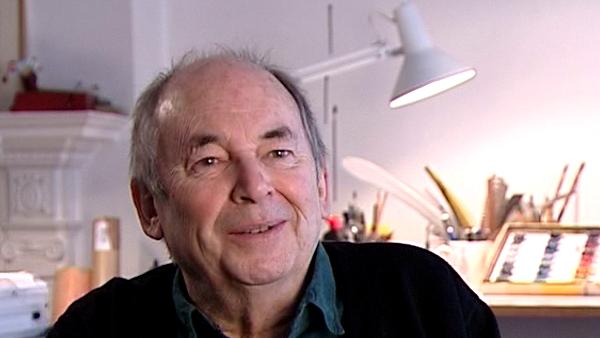 Roald Dahl and working on The BFG
Solving the problems surrounding The BFG
1
2
3
4
5
6
7
By then I was asked to do a third book, which was The BFG, and this is quite, by comparison this is… this is a novel for children. And… I was asked to do, you know, a certain number of pictures for a set fee. And I think… I don't know, I… I… whether, I still wasn't… I mean I was still meeting Roald in the publisher's office kind of thing, and I think Tom Maschler probably thought this was a, you know, not… writers don't always want pictures, you know, I mean they tolerate them, in… if they're writing a book, in which everything is done in the book. And I did… I did some sample drawings, which were approved by the author, and then I went on and did about a dozen or 15, and… they were full page drawings, and then the book was at the printers, waiting to be printed. And… and I was telephoned, and he was not happy, because Roald hadn't realised they were so few of these. And… so they said, it's at the printers already, what… what can we do? What can we do? And there are, sort of, 23 or 24 chapters in the book, and there's a space at the top, so the idea was that I could do little heading pieces, little vignettes, for the top of the chapters, and I did these 22 or 23 or 24 drawings in about three days, I think… and delivered them on Monday, I think, or something like that, and went… and I rather liked them, you know, I mean I thought they'd… they'd actually come out quite well, considering… and it was a little challenge to deal with, and I… done that. And then the next day… the next phone call, the next day, was… he's still not happy. And I think it was a misunderstanding about what was expected, and what… what he expected. So in fact what happened was that… the whole thing was pulled back from the printers, and dated back a bit, and… there were some benefits from that, I mean I'd… I'd done them with sort of thin line drawings, with a lot of shading, which I… which I quite liked, but of course they were full pages and heading pieces. If the drawings were going to be incorporated with the text, and follow it through, I couldn't use any of those. I didn't want full… I didn't need full pages, I didn't need vignettes, you couldn't, sort of, add anything else to it, so we just had to put those on one side, and I actually started again.
Quentin Blake, well loved British writer and illustrator, is perhaps best known for bringing Roald Dahl's characters to life with his vibrant illustrations, and for becoming the first ever UK Children's Laureate. He has also written and illustrated his own books including Mr Magnolia which won the Kate Greenaway Medal.
Title: Solving the problems surrounding "The BFG"
Listeners: Ghislaine Kenyon
Ghislaine Kenyon is a freelance arts education consultant. She previously worked in gallery education including as Head of Learning at the Joint Education Department at Somerset House and Deputy Head of Education at the National Gallery's Education Department. As well as directing the programme for schools there, she curated exhibitions such as the highly successful Tell Me a Picture with Quentin Blake, with whom she also co-curated an exhibition at the Petit Palais in Paris in 2005. At the National Gallery she was responsible for many initiatives such as Take Art, a programme working with 14 London hospitals, and the national Take One Picture scheme with primary schools. She has also put on several series of exhibition-related concerts. Ghislaine writes, broadcasts and lectures on the arts, arts education and the movement for arts in health. She is also a Board Member of the Museum of Illustration, the Handel House Museum and the Britten-Pears Foundation.
Tags: The BFG, Roald Dahl, Tom Maschler
Duration: 2 minutes, 50 seconds
Date story recorded: January 2006
Date story went live: 24 January 2008