NEXT STORY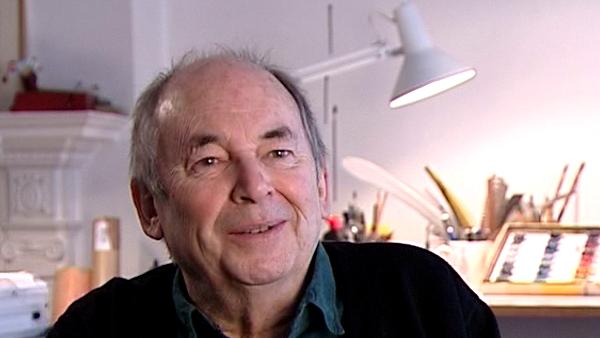 A Treasury of Roald Dahl and a book of songs and verse
Illustrating Esio Trot by Roald Dahl
1
2
3
4
5
6
7
So doing those books for Penguin Books, I… I sort of ended up having done the complete works, in fact I think I've done them all except one, which was The Minpins. And… rather later on in life Roald produced two manuscripts I think at about the same time. One was Esio Trot, which is about the man who was in love with the lady who lives in the flat underneath, who has a tortoise, and the other, The Min Pins is about a boy and about little people, who live in trees, and… and there is a sort of monster to be dealt with. And… there I wasn't asked to do The Minpins, which seemed to make sense, because I could be getting on with the other one, and it called for a lot of quite sort of detailed drawing of these small people, so that seemed to make sense and it was going to be done by Patrick Benson, who is an artist I admire very much anyway, and I know, so I thought that was very good. And actually Roald rang up at one point, he said, 'We sort of assumed you wouldn't do this, but perhaps you would?' I don't know. But anyway it was… and I said, 'No, no, I think it makes perfect good sense'. Patrick is doing The Minpins, and I'm doing Esio Trot.
And Esio Trot is… is a book that I like very much because it also has some special problems in that it almost all takes place in two rooms and on two balconies. There's a little, tiny bit extra of that. So it's like making a film in two rooms, so that you have to invent a lot of camera angles and the ways that you cut off the picture, and so on. And varying on this… it's very limited, you know, it took two people acting. There is something nice for the illustrator in it though, because there are dozens or possibly hundreds of tortoises, different sizes, which are is involved in the plot, and of course two… the first tortoise is called Alfie, or something like that. But what the illustrator can do is to draw the reactions of the tortoises, which is not written into the text at all, so that when they're being given certain things to eat, or lifted in the air, or poked through a window or something like that, or failing to get into their little hutch, you can give them expressions on their faces, so there's another little story going on, almost in the margins as it were, which is added to the story. It doesn't contradict it, it just sort of expands it a little bit in that area. It's also a book... well there are two things about it that amused me or or attract me in a way. One is that… if you went to, I suppose, somebody who is an expert in children's books, maybe an editor or a teacher, or someone of that kind, and said, do you think it's a good idea to write a book for eight-year-olds about a middle-aged man who's in love with a middle-aged lady downstairs, in a block of flats? The answer is probably no, I think. But I mean he does do it and he does get away with it. The other thing that it's since Roald Dahl had this reputation for being rather acerbic, you know, and taking a gloomy view of or a cantankerous view of things, it's a book without any baddies in it. Everybody is nice, and it was nice to see he could do that, and he could do it, and it's very nice to think that he… that he wrote it, I think.
Quentin Blake, well loved British writer and illustrator, is perhaps best known for bringing Roald Dahl's characters to life with his vibrant illustrations, and for becoming the first ever UK Children's Laureate. He has also written and illustrated his own books including Mr Magnolia which won the Kate Greenaway Medal.
Title: Illustrating "Esio Trot" by Roald Dahl
Listeners: Ghislaine Kenyon
Ghislaine Kenyon is a freelance arts education consultant. She previously worked in gallery education including as Head of Learning at the Joint Education Department at Somerset House and Deputy Head of Education at the National Gallery's Education Department. As well as directing the programme for schools there, she curated exhibitions such as the highly successful Tell Me a Picture with Quentin Blake, with whom she also co-curated an exhibition at the Petit Palais in Paris in 2005. At the National Gallery she was responsible for many initiatives such as Take Art, a programme working with 14 London hospitals, and the national Take One Picture scheme with primary schools. She has also put on several series of exhibition-related concerts. Ghislaine writes, broadcasts and lectures on the arts, arts education and the movement for arts in health. She is also a Board Member of the Museum of Illustration, the Handel House Museum and the Britten-Pears Foundation.
Tags: Penguin Books, The Minpins, Esio Trot, Roald Dahl, Patrick Benson
Duration: 3 minutes, 52 seconds
Date story recorded: January 2006
Date story went live: 24 January 2008