NEXT STORY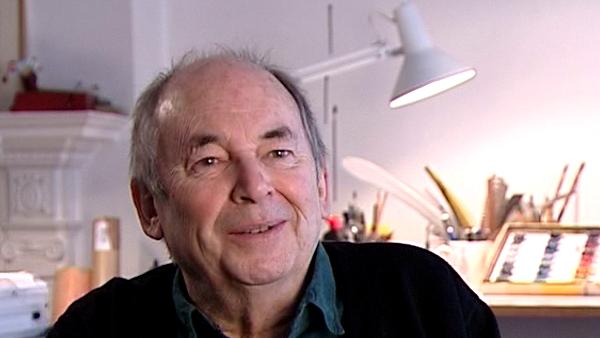 The Story of the Dancing Frog
Creating my own picture books and illustrating a book for Dr Seuss
1
...
3
4
5
6
7
I've done picture books of my own, and… I did two or three early on, which were just sort of illustrating straightforward stories in a way, little fantasy stories. And I think the fourth one, which was called Snuff, I kind of didn't know how to do it any longer. In fact, John Yeoman wrote it actually, I mean he took the premise of the characters, which I got, and wrote the plot for me, and then I sort of felt I'd sort of… I didn't know how to do it any more really. And how I got going again, was I illustrated a book for Dr Seuss, a book by Dr Seuss, called Great Day For Up. And he it was very strange, I mean it was based on his roughs, but you'd think it might be, sort of, a dreadful task to do a book from somebody else's roughs, but in fact he… it was very interesting to look closely at the way he writes a book, and the way that it works. And he was very… I mean my drawings didn't look like his, you know, I think he was… I'm not quite sure why I was asked to do it, except there were some two or three very complicated pictures at the end that he perhaps didn't want to be bothered with, or maybe he was getting on with something else. But… looking closely at that, it made me think, oh, it doesn't have to be a story. You can, you know, you can form it out of something else. And so the… I think it was the next one I did was called Mr Magnolia, and that was based on the rhymes, and parents have to read it over and over again to their children. It must drive them mad, I think. You know, these same rhymes, you know, he has only one boot on, all that sort of thing, for God's sake. But in fact you find you do tell a little story as you do it, but you don't set out from a little narrative, you set out from a set of situations or... I mean I got into it because I started off doing some drawings it was going to be for some television situation, again, where you saw the person, and then you moved out on the picture, and discovered he'd only got one boot, or he was holding something else in the other hand. And I put that together as a story, and that sort of started me off again. But it… although in fact, once having started off again, I didn't quite go on in that way, and I've done quite a few picture books since then.
Quentin Blake, well loved British writer and illustrator, is perhaps best known for bringing Roald Dahl's characters to life with his vibrant illustrations, and for becoming the first ever UK Children's Laureate. He has also written and illustrated his own books including Mr Magnolia which won the Kate Greenaway Medal.
Title: Creating my own picture books and illustrating a book for Dr Seuss
Listeners: Ghislaine Kenyon
Ghislaine Kenyon is a freelance arts education consultant. She previously worked in gallery education including as Head of Learning at the Joint Education Department at Somerset House and Deputy Head of Education at the National Gallery's Education Department. As well as directing the programme for schools there, she curated exhibitions such as the highly successful Tell Me a Picture with Quentin Blake, with whom she also co-curated an exhibition at the Petit Palais in Paris in 2005. At the National Gallery she was responsible for many initiatives such as Take Art, a programme working with 14 London hospitals, and the national Take One Picture scheme with primary schools. She has also put on several series of exhibition-related concerts. Ghislaine writes, broadcasts and lectures on the arts, arts education and the movement for arts in health. She is also a Board Member of the Museum of Illustration, the Handel House Museum and the Britten-Pears Foundation.
Tags: Snuff, Great Day For Up, Mr Magnolia, John Yeoman, Theodor Seuss Geisel, Dr Seuss
Duration: 2 minutes, 52 seconds
Date story recorded: January 2006
Date story went live: 24 January 2008