NEXT STORY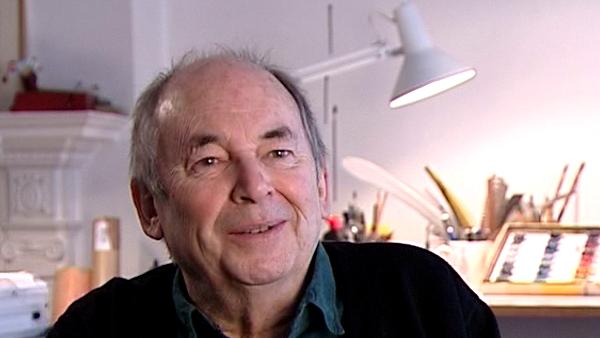 The Green Ship
Clown
1
...
3
4
5
6
7
I don't think you can… it's difficult to say, and now I will have an idea. I think you have to make a few notes, and, sort of, have an open mind, and hope that some kind of idea will turn up. And I did two… I started two books at almost the same time, and one turned out to be Clown, and the other one turned out to be The Green Ship, which are quite different, and one is about a toy that has independent life and runs about trying to find someone to rescue the… his fellow toys who are in the dustbin. And it was interesting to find that that was… that it was more serious than I thought it was going to be, in a sense. I mean it was about these people being rejected, and what you have to do in that case, and I discovered that it was a book that was… that had an urban landscape. And I mean I could have sat down and said, I must do a book with an urban landscape, because most people live in cities. But I don't think I could have done it that way round. I mean I found that I, for some reason or another, thought out of mime and clowns and things like that, there was this idea of the toy, which I invented the story to, and then again you had to... he was generally thrown somewhere, but… into the air, or through a window or something like that. So that you've got this business of designing the pages so that he was in the predicament on one page and fell out of it, or into the next predicament on the next page. And… that… I had two… in fact the book has no text, I just did it in… again, it was interesting to me to do it as telling a story entirely in pictures. The only word is the title. And it's published in some other languages, and it's published in… France, where it doesn't have to be translated, because the clown is the same word in France, conveniently. But… and I had two little reactions in France, which were quite interesting to me, one was a review on the radio, where they said, 'Each double page spread is a chapter'. And that… they were acknowledging that business that you brought it to a crisis and then you turn the page. And another French man said to me, they're sans-abri. So they were homeless people, I mean you could see that they were, sort of… and in a sense it was a kind of miniature version, which they are in that predicament.
Quentin Blake, well loved British writer and illustrator, is perhaps best known for bringing Roald Dahl's characters to life with his vibrant illustrations, and for becoming the first ever UK Children's Laureate. He has also written and illustrated his own books including Mr Magnolia which won the Kate Greenaway Medal.
Title: "Clown"
Listeners: Ghislaine Kenyon
Ghislaine Kenyon is a freelance arts education consultant. She previously worked in gallery education including as Head of Learning at the Joint Education Department at Somerset House and Deputy Head of Education at the National Gallery's Education Department. As well as directing the programme for schools there, she curated exhibitions such as the highly successful Tell Me a Picture with Quentin Blake, with whom she also co-curated an exhibition at the Petit Palais in Paris in 2005. At the National Gallery she was responsible for many initiatives such as Take Art, a programme working with 14 London hospitals, and the national Take One Picture scheme with primary schools. She has also put on several series of exhibition-related concerts. Ghislaine writes, broadcasts and lectures on the arts, arts education and the movement for arts in health. She is also a Board Member of the Museum of Illustration, the Handel House Museum and the Britten-Pears Foundation.
Tags: Clown, The Green Ship, France
Duration: 2 minutes, 46 seconds
Date story recorded: January 2006
Date story went live: 24 January 2008