NEXT STORY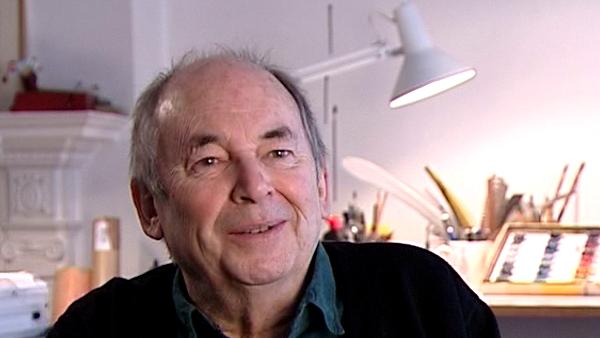 My 50 favourite books
My time as Children's Laureate
1
...
3
4
5
6
7
About seven or eight or nine years ago, I had been doing this sort of sequence that I'd done a lot of Dahl, I'd done a sequence of my own books, and I'd decided I was really doing a bit too much work. And so I said I would calm things down a bit, and I wrote and did little drawing and wrote a message to myself, proposing… it was a drawing of myself relaxing on a deck chair and saying I was going to try and behave myself, I was semi-retired or something like that, and that worked for about a year, and then in 19… just the beginning of 1999, I… there was this question of whether there should be a Children's Laureate, and who should be it? And what did everybody think about it? And some of us were, kind of, canvassed beforehand, and I was rather doubtful about the whole thing, and said, how can you expect somebody to find more time when they're already working on their own professional work, writing books or drawing pictures. But I… allowed my name to be put forward with a number of other people's, and then I was rung up and told that they'd picked me to do it, and my views of it of course changed overnight. I didn't lose the doubts and cautions that I had about it previously, but I to see the positive side of it. In fact I did that for two years. The advantage of it, from my point of view, was that because I'd scaled things well advantage, disadvantage, I don't know. I'd scaled things down a bit, so that in fact I had sometime in which I could take up these activities. Another thing about it was that nobody had ever been Children's Laureate before, so there was only a kind of vague notion about what it might be. Sorry. And so you could invent what it was, and of course there were a certain number of invitations, which came along with it. Would I go and talk here? Would I go and talk… give a lecture there? And so on. Which I did. I made one sort of policy resolution, which was that I wasn't going to go and talk to any schools, which may sound slightly crazy, but I mean, you could have multiple illustrations to school… invitations to schools, and be going around the countryside exhausting yourself. And of course, it's wonderful to talk to a school, and I mean you do get a lot back from it, and I've done it many times, but maybe you talk to 30 children, maybe you talk to 100 children, but you just talk to them. Whereas what I wanted to do was to talk to teachers and librarians and parents as well as children, to say that the activities that went to make up the children's writer or the children's illustrator were actually professional activities, and they were not childish, and they maybe had special requirements, but they're things that should be taken seriously, and that you should look into and if you were a parent or a teacher, learn something about, and try to develop some kind of criteria for thinking about them. And that in fact there was a lot of activity that went on in the background, and that would be interesting to know about. So that was how I set out to do it.
Quentin Blake, well loved British writer and illustrator, is perhaps best known for bringing Roald Dahl's characters to life with his vibrant illustrations, and for becoming the first ever UK Children's Laureate. He has also written and illustrated his own books including Mr Magnolia which won the Kate Greenaway Medal.
Title: My time as Children's Laureate
Listeners: Ghislaine Kenyon
Ghislaine Kenyon is a freelance arts education consultant. She previously worked in gallery education including as Head of Learning at the Joint Education Department at Somerset House and Deputy Head of Education at the National Gallery's Education Department. As well as directing the programme for schools there, she curated exhibitions such as the highly successful Tell Me a Picture with Quentin Blake, with whom she also co-curated an exhibition at the Petit Palais in Paris in 2005. At the National Gallery she was responsible for many initiatives such as Take Art, a programme working with 14 London hospitals, and the national Take One Picture scheme with primary schools. She has also put on several series of exhibition-related concerts. Ghislaine writes, broadcasts and lectures on the arts, arts education and the movement for arts in health. She is also a Board Member of the Museum of Illustration, the Handel House Museum and the Britten-Pears Foundation.
Tags: Children's Laureate, 1999, Roald Dahl
Duration: 3 minutes, 57 seconds
Date story recorded: January 2006
Date story went live: 24 January 2008