NEXT STORY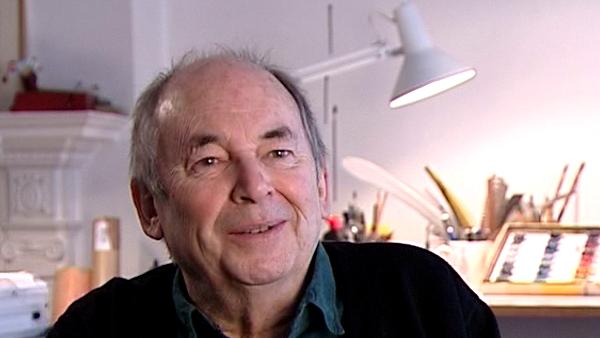 A project with French schoolchildren
1
...
3
4
5
6
7
That exhibition Tell Me a Picture seemed to lead on to a number of other things, partly to do with exhibitions, partly to do with a general sort of overspill into other areas, I mean from picture books. Which is, I mean, something that is very interesting to me, because… it's sort of mixed up with education, and when the Children's Laureate started, it kind of brought in… brought back into life the ideas that I'd been thinking about when I was teaching. After that there was… let me think, there was… I was invited to do… Magic Pencil. It was Magic Pencil that produced the magic pencils that I was able to use in Angel Pavement, but that was an exhibition for the British Council of contemporary British children's books illustrators. And I think there were 15 or something like that. It was quite a big exhibition, it was very… I did it with Andrea Rose, who is the Art's Officer of the British Council, and that was what we wanted to do was not to have a huge multiplicity of images, but to have a lot of work, but it was like 15 one-man shows, almost, so that you could go into that particular person's area and learn what they were like, or either revisit somebody you knew very well as it were, or find out about a new person. And I think that I felt that was the way to do it, because I know from hanging exhibitions at the RCA and that sort of thing that you can you have to explain to people silently, what is going on. You can be baffled by too many images, and not knowing what you're looking at… I mean a multiplicity of things. So you met each artist as you went round. The extraordinary thing about that show was that it was it was on in Newcastle, it was on at the British Library in London, but of course its main purpose, as it was for the British Council, was to travel, and I there were about… I think there were about 300 pieces of work in it in the end. More than… I mean, it was very nice, it was more than I would ever have presumed to put in, kind of thing, you know, but Andrea Rose kept saying, 'Oh I think we should have more pictures, more pictures'. And in fact what happened is it went to Holland, it went to Italy, to the Museum of Modern Art in Bologna, at the same time as the Children's Book Fair. It went to Madrid, and it went to Poland, and… so it was about a year travelling, or more. But the other thing about it was curious, because these pictures were taken from books, were shown as pictures, as originals, and were not shown necessarily for children to look at, I mean obviously hundreds and thousands of children came to look at them, but I mean they were also addressed to students and adults, and other people who were meant to take them seriously in their own right. But curiously enough, although it was an exhibition of originals, the British Council made an exhibition of facsimiles, very good facsimiles of these works, which then meant they could send them without the usual kind of curatorial restrictions, to places who couldn't otherwise accept them, because they hadn't the museum conditions. So they went to South America and they went to… the Far East, and they went to the West Indies… all kinds of places, so that, I think the facsimile exhibition went to about over 30 different countries. It's still somewhere now, as a matter of fact, and that was very interesting, the extent to which there was an interest in that, and some of the artists involved… I think, Sara Fanelli, who we count as an English illustrator, although she comes from Italy originally… went to South America, and she went to India with it, and someone went to Taiwan, and I think John Burningham went to Malaysia. So there was quite a lot of travelling with it, so that… it sort of expanded itself.
Quentin Blake, well loved British writer and illustrator, is perhaps best known for bringing Roald Dahl's characters to life with his vibrant illustrations, and for becoming the first ever UK Children's Laureate. He has also written and illustrated his own books including Mr Magnolia which won the Kate Greenaway Medal.
Title: Travels with my art
Listeners: Ghislaine Kenyon
Ghislaine Kenyon is a freelance arts education consultant. She previously worked in gallery education including as Head of Learning at the Joint Education Department at Somerset House and Deputy Head of Education at the National Gallery's Education Department. As well as directing the programme for schools there, she curated exhibitions such as the highly successful Tell Me a Picture with Quentin Blake, with whom she also co-curated an exhibition at the Petit Palais in Paris in 2005. At the National Gallery she was responsible for many initiatives such as Take Art, a programme working with 14 London hospitals, and the national Take One Picture scheme with primary schools. She has also put on several series of exhibition-related concerts. Ghislaine writes, broadcasts and lectures on the arts, arts education and the movement for arts in health. She is also a Board Member of the Museum of Illustration, the Handel House Museum and the Britten-Pears Foundation.
Tags: Tell Me a Picture, National Gallery, West Indies, Malaysia, Far East, South America, Taiwan, Magic Pencil, Children's Laureate, Angel Pavement, Royal College of Art, Children's Book Fair, British Council, Bologna Museum of Modern Art, British Library, Newcastle, Holland, Madrid, Poland, Andrea Rose, John Burningham, Sara Fanelli
Duration: 4 minutes, 37 seconds
Date story recorded: January 2006
Date story went live: 24 January 2008