NEXT STORY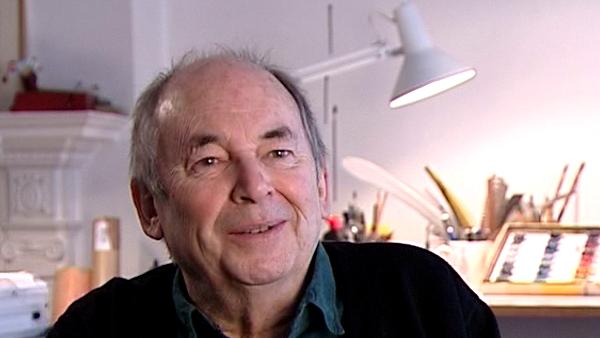 An international project led by an Englishman
A project with French schoolchildren
1
...
3
4
5
6
7
Nearly all my books have been published in France, over the past 25 years. The first one, I think, was The Enormous Crocodile, the first Dahl picture book. But a lot of others, are nearly all published by Gallimard Jeunesse and in fact I actually talk to them when I'm doing the books, as well as to my English publisher, so a lot of books have… have been published there. And I've visited, over the past 15 years, I've visited quite a lot of schools in France, which is good for me because I can practise my spoken French, and… because they mostly don't speak English, except some of the children. And… again, so that I found myself in a situation that, at the same time that I was doing Children's Laureate, I found myself doing a book in the south west of France. Now, since I retired from the RCA, I've had a house there, and I spend two or three months there, in bits and pieces, each year, and I know a number of the local teachers there. And there was a meeting with them, arranged by… a local librarian, in which they said, we're really looking for a… we're looking for a author-illustrator of children's books who we can work with on a children's book. And… I fancied that. I was the only one in the room who was an author-illustrator of children's books, so I thought… thought they were looking at me, and I said, 'How interesting, what is it going to be about?' And… Genevieve Roy, who was the teacher, or educationist in question said, 'C'est sur l'humanisme'. And I thought, it's a book for eight-year olds about humanism, but that was the limitation of my French, because it actually means… they meant on humanitarian problems actually, it was all the things that… that… you know, like sort of: bullying, racism, war, pollution, and so on and so on. And could we do a book together with the local children? And… so I said, okay, and it was… I realised it was… there was an element of folly involved in it, but… and so I did some drawings of… I thought, how can a child… or it had to be two children, so there was a boy and a girl… encounter these different problems easily, and, since we were near the sea, I thought well, there was… there was a lot of fishing there, I thought, well make it a boat. So it was a sailing boat. But it was a sailing boat that would… I did some rough drawings, so it was a sailing boat that could… had wheels as well, so it could go on land, and it could float on water as a sailing boat, and it could also fly. And I just… you don't know how, I just said it could. And then the children were invited to invent bits of story about it, and how they… how these children would meet various contemporary disasters. They… they all wanted it to fly, curiously enough. It never sailed anywhere. It needn't have been a boat, except… I mean the idea of a flying boat is quite a sort of… a flying boat is quite a traditional thing in fairy stories.
Quentin Blake, well loved British writer and illustrator, is perhaps best known for bringing Roald Dahl's characters to life with his vibrant illustrations, and for becoming the first ever UK Children's Laureate. He has also written and illustrated his own books including Mr Magnolia which won the Kate Greenaway Medal.
Title: A project with French schoolchildren
Listeners: Ghislaine Kenyon
Ghislaine Kenyon is a freelance arts education consultant. She previously worked in gallery education including as Head of Learning at the Joint Education Department at Somerset House and Deputy Head of Education at the National Gallery's Education Department. As well as directing the programme for schools there, she curated exhibitions such as the highly successful Tell Me a Picture with Quentin Blake, with whom she also co-curated an exhibition at the Petit Palais in Paris in 2005. At the National Gallery she was responsible for many initiatives such as Take Art, a programme working with 14 London hospitals, and the national Take One Picture scheme with primary schools. She has also put on several series of exhibition-related concerts. Ghislaine writes, broadcasts and lectures on the arts, arts education and the movement for arts in health. She is also a Board Member of the Museum of Illustration, the Handel House Museum and the Britten-Pears Foundation.
Tags: France, The Enormous Crocodile, Gallimard Jeunesse, Children's Laureate, the Royal College of Art, Roald Dahl
Duration: 3 minutes, 31 seconds
Date story recorded: January 2006
Date story went live: 24 January 2008