NEXT STORY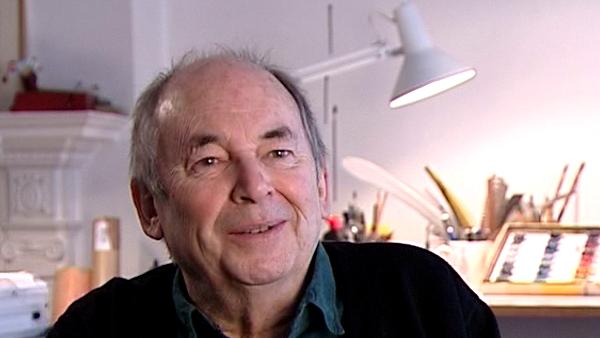 The Campaign for Drawing and The Big Draw
An exhibition at the Petit Palais
1
...
3
4
5
6
7
I mean, there've been a lot of other versions of the French experience, I mean in visiting schools and book fairs. There are lots of book fairs in France, many more than we have here. There's hardly a town of any size that doesn't have a book fair or a children's book fair, and I've been to a lot of those, and it's very good for practising your French, because most… you have to speak French, and you don't feel so embarrassed if they don't speak English. The most striking development in that is that because we worked together on the National Gallery… was approaching the museums of the Paris museé, the museums of the City of Paris, to see if there was something similar that we could do for them. And… what happened, you will remember, is… is that we made a suggestion to… to the Paris Museums, and went and talked to them, and went away. And a year later we'd not heard anything from them at all, and we thought, probably that that was just maybe the end of it, and we said, well we would be in Paris on one day, and we didn't know if there was anything left to discuss, or whether the whole thing had gone down the drain. And received this message almost by return of email, saying, come at nine o'clock on Wednesday morning, and we will show you the exhibition spaces. And that was in the Petit Palais, and that was very… I mean, I think there was a great deal of happy accident involved there, in that the Petit Palais, which was built in 1900 for the Great… International Exhibition of that year in Paris, next to the Grand Palais, both those buildings were being refurbished, and the Petit Palais opened to the public, it was supposed to be in November, it was finally in December. So that January a year ago, we went and discovered that… we were doing an exhibition, along the lines… to some extent, along the lines of the National Gallery exhibition. I mean I think they wouldn't have accepted it if they hadn't seen that show had happened and been successful. But it wasn't exactly the same… we chose the theme of… we were invited to take pictures from the reserves of the Petit Palais, and we chose the theme of women in painting, in art, and found 50 paintings and prints from their collections. And then I did… as in the National Gallery, I did drawings on the walls, the difference being that the walls in the Petit Palais are extremely high, and it's a huge, elegant space, and… so the pictures could go along at the level you normally see pictures, well spaced out, and somehow or other one had to get drawings up the walls, because the walls were so large. And it meant that you could lift the drawings well above the paintings, so that they weren't interfering with each other, and also they animated the walls, and… the way to do that seemed to me that… how did you get the drawings up there? So I thought, well we would… we would make angels of them. We would make putti, as in Renaissance paintings, little angels with wings. But these were sort of updated, so they had contemporary trousers, and little trainers, and things of that kind, and T-shirts, and they were doing sort of activities that more or less related to what was happening in the pictures down below, and they were women in portraits, women in the country, in family life, and so on and so on, elaborate, formal portraits and all kinds of things of that kind, and there was also a section of prints, because the Petit Palais has a wonderful print collection. And there were 19th century prints there, of everyday life, and pictures by Steinlen and Vuillard and Toulouse-Lautrec, and there I was able to draw a printing press on the wall, larger than life, with these little creatures taking the... fluttering the papers about, up the wall.
And… so that was… we spent about a year doing that, and… for an exhibition which opened, at the same time as the Petit Palais opened. And… it was a wonderful experience because the Director of Petit Palais was so supportive, and he said that I was to have carte blanche, and he really meant it actually, that we could choose anything we wanted, and arrange the exhibition in the way that we wanted, so that both the choice of the pictures, the design of the exhibition, the sequence of the pictures, grouped in certain order which took you round the exhibition, and the drawings, were all produced as one single piece of activity. And we don't know how many people have been to see it, but we hope they certainly queue up outside, although maybe that's just to see the Petit Palais itself.
Quentin Blake, well loved British writer and illustrator, is perhaps best known for bringing Roald Dahl's characters to life with his vibrant illustrations, and for becoming the first ever UK Children's Laureate. He has also written and illustrated his own books including Mr Magnolia which won the Kate Greenaway Medal.
Title: An exhibition at the Petit Palais
Listeners: Ghislaine Kenyon
Ghislaine Kenyon is a freelance arts education consultant. She previously worked in gallery education including as Head of Learning at the Joint Education Department at Somerset House and Deputy Head of Education at the National Gallery's Education Department. As well as directing the programme for schools there, she curated exhibitions such as the highly successful Tell Me a Picture with Quentin Blake, with whom she also co-curated an exhibition at the Petit Palais in Paris in 2005. At the National Gallery she was responsible for many initiatives such as Take Art, a programme working with 14 London hospitals, and the national Take One Picture scheme with primary schools. She has also put on several series of exhibition-related concerts. Ghislaine writes, broadcasts and lectures on the arts, arts education and the movement for arts in health. She is also a Board Member of the Museum of Illustration, the Handel House Museum and the Britten-Pears Foundation.
Tags: National Gallery, Paris, Petit Palais, 1900, Grand Palais, Renaissance, 19th century, Théophile Steinlen, Édouard Vuillard, Henri de Toulouse-Lautrec
Duration: 5 minutes, 40 seconds
Date story recorded: January 2006
Date story went live: 24 January 2008