NEXT STORY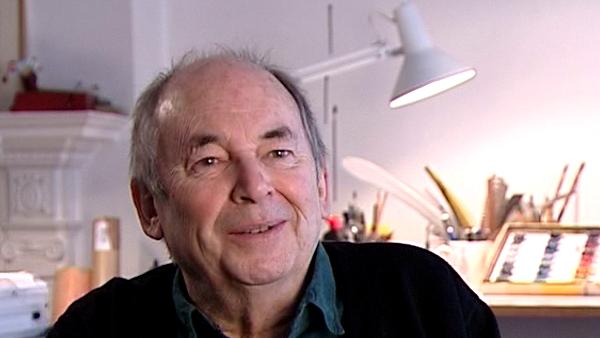 Gallimard Jeunesse: my French publishers
The Quentin Blake Gallery of Illustration
1
...
3
4
5
6
7
The other campaign that I found myself involved in, it's slightly embarrassing to talk about it, because it travels under the name of The Quentin Blake Gallery of Illustration. And this has been going on for about nearly as long. The some friends brought me this idea they knew that I had an archive of my the originals of my own drawings, not quite all of them, but a very great many of them, so there are probably several thousand drawings, and they saw that as the basis for a gallery of illustration, which is something which, at the moment, doesn't exist. It was particularly interesting to me, because talking about illustration, teaching illustration, I'm aware that there isn't anything of this kind, and there is a huge amount of illustration, which nobody knows about. It's regarded of the moment, so it's seen as, in a sense as ephemeral, but it isn't really, I mean it's still all there. There are huge collections of illustration in the great museums, such as the V&A and the British Museum, and the Bibliothèque Nationale in Paris, and no doubt elsewhere in the world, there are huge collections of illustration. There are also illustrations that belong to illustrators, or have been left to their families, which have no home to go to, and which one never sees, portfolios which are never opened. And there's also from the point of view of contemporary illustrators and students of illustration, a huge amount of illustration going on in the world in other countries… in America, and Japan, and France and Germany, which we don't see enough of. We don't know sufficient about what is happening in other countries. Nor is there enough knowledge, even among illustration students, of what has happened in the past. You can talk about 19th century illustrators, and get no flicker of recognition from the person you are talking to, even from a professional illustrator. So that I'm particularly illustrate… interested in 19th century French illustrators, of one kind or another, because I've… those are my ancestors, I think, or that's how I regard them. But I'm also very interested in English illustrators and take George Cruikshank, for instance, who illustrated the first two books of Charles Dickens, and dozens and dozens and dozens of other books, and Grimms' Fairy Tales, and all kinds of things in the 19th century… was one of the best artists of the 19th century; full of vitality and energy of an extraordinary kind. William Feaver organised an exhibition at the V&A, a wonderful exhibition, what? Twenty years ago probably, something like that now. It'll be another 20 years before we see those. And there's lots of illustration which one simply doesn't get to see, either because it's in another country, or because it's in the vaults of a museum. And it would be wonderful to have a gallery space, in which those things could be shown, exhibitions could be mixed together to show different aspects. The way that different countries treat illustration, treat the same subjects, and there's a vast amount of stuff to be shown, and also it would be wonderful to have somewhere where contemporary illustrators could show their work, and publishers can show what they have done in illustration. We haven't yet found a home for that gallery yet, we're still looking but we have done one or two exhibitions of my work, and there's also an exhibition, which is, in a sense, of the kind that we would like to do. That exhibition is called In All Directions, and it's about travel and illustration, or the way that travel has been means of transport: trains, boats, aeroplanes, have been shown in illustration, from the starting with Tiepolo and coming through the 19th century up to the present day. And showing different ways of doing it, because illustrators are very much related to the techniques of printing, and of reproduction, so that this exhibition's got engravings, etchings, lithographs, wood engravings, four colour halftone printing, all kinds of things in it, and so that it shows different modes of transport at the same time it shows different modes of seeing, and different modes of reproducing illustration. And that's an exhibition which has travelled about, and it has a catalogue, which is called In All Directions, which the Arts Council produces, and it's the kind of exhibition, which I think it has its own… I've written a kind of an essay in this book, which gives some explanation, but the most expressive thing about it I think is really not so much anything that I may have to say about it, but looking at those pictures together, and then you see that there is a kind of graphic tradition of illustration. It wasn't always called illustration, but this business of reflecting text, expressing a narrative, visually, has got a tradition, and that's something that we ought to be able to reflect in a gallery like this.
Quentin Blake, well loved British writer and illustrator, is perhaps best known for bringing Roald Dahl's characters to life with his vibrant illustrations, and for becoming the first ever UK Children's Laureate. He has also written and illustrated his own books including Mr Magnolia which won the Kate Greenaway Medal.
Title: The Quentin Blake Gallery of Illustration
Listeners: Ghislaine Kenyon
Ghislaine Kenyon is a freelance arts education consultant. She previously worked in gallery education including as Head of Learning at the Joint Education Department at Somerset House and Deputy Head of Education at the National Gallery's Education Department. As well as directing the programme for schools there, she curated exhibitions such as the highly successful Tell Me a Picture with Quentin Blake, with whom she also co-curated an exhibition at the Petit Palais in Paris in 2005. At the National Gallery she was responsible for many initiatives such as Take Art, a programme working with 14 London hospitals, and the national Take One Picture scheme with primary schools. She has also put on several series of exhibition-related concerts. Ghislaine writes, broadcasts and lectures on the arts, arts education and the movement for arts in health. She is also a Board Member of the Museum of Illustration, the Handel House Museum and the Britten-Pears Foundation.
Tags: The Quentin Blake Gallery of Illustration, Victoria and Albert Museum, British Museum, Paris, Bibliothèque nationale de France, America, Japan, France, Germany, 19th century, Grimms' Fairy Tales, In All Directions, Arts Council, George Cruikshank, William Feaver, Giovanni Battista Tiepolo, Charles Dickens
Duration: 5 minutes, 51 seconds
Date story recorded: January 2006
Date story went live: 24 January 2008