NEXT STORY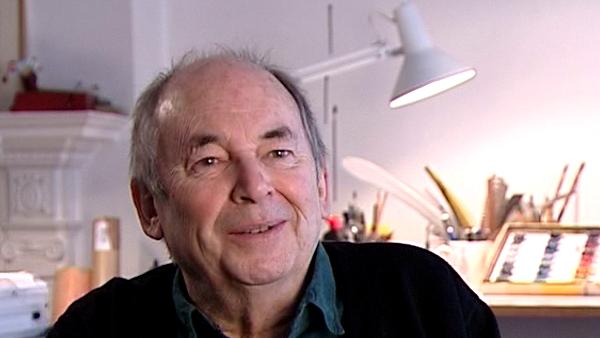 Gallimard Jeunesse: Prix littéraire Quentin Blake
Gallimard Jeunesse: publishing a book of French poetry
1
...
3
4
5
6
7
I've also done one or two other things for them and recently two or three years ago, Christine said to me would you like to do a book of poetry for French children? And I did that and I'm not sure, but I suspect she thought it was going to be for much younger children than it was. But when I started, I started getting interested in the reading and finding out this, creating this anthology, and in fact what it was, in the end, was… and it's only about 30 poems and every one is illustrated. But they are, for the most part, they're poems for adults which a child could read, or a young person could read. So, I mean, there is sort of Baudelaire and Victor Hugo and other French writers, and earlier ones as well. What was interesting to me about it was as an exercise was that I and I don't know how I got onto this, the French normally do everything in chronological order so that if you have a book that's got early poems and later poems chronologically, they appear in that order in the book. So that helps you to make your structure of knowledge, I suppose. These I just sort of related to each other out of similarities so that there was one about the weather, there would be another one about the weather and meeting somebody and the next one would be about meeting somebody, you know. And they, sort of, went hand in hand. The other thing that was interesting to me about them was I treated them all as though they were written now, so I didn't do… I cut them off from the history, so there is a poem… and I've even forgotten who it's by for the moment, but which says, oh, what are we doing about this war business, why do we keep getting into this? And… you know, our masters organise it, we have to suffer for it, and so on and so on and so and so. This is a 15th century poem, or something like that, but you can you can read it. But I illustrated it now, as it were, and the same… there's a very… rather passionate outburst by a woman writer of the 16th century who says, oh, I don't know, what am I thinking about? I'm so confused, you know, and so on. And these conflicting emotions and I'm living and dying and so on at the same time. And I thought you could give that to a teenager, you know, with a few photos of her boyfriends on the wall kind of thing, you know. And so that that book is all done… as though today… and in a kind of… and it also goes from cheerful through to gradually more serious, to cheerful again at the end. So there are various sort of sequences at work in it and if you've only got 30 poems as you can… you can do that. And… I spent a long time trying to… because I can read French but don't… I mean, I'm not very intimate with it, so I spent a long time trying to think of a title for this book and… Christine Baker wasn't interested in any of those, and she said, well, in the office we call it Quentin Blake au pays de la poésie française… that was its, sort of, working title for them. So she said, 'I think we're going to call it that'. So that rather strangely is what it's called and… I followed on from that and so it's got a sort of drawing of me in a French landscape on the front. So that was a book that was done especially for them. I've also done other books which were just commissioned from them and theree was a series of books… there is a series of books, by Patricia MacLachlan who's an American writer who wrote a book called Sarah, Plain and Tall, about… life in the… Midwest in America in… earlier in the 20th century. And that was not illustrated in the English… in the American edition and… but they wanted it in a paperback and wanted it illustrated. And I've done three or four of those which is quite a strange business, illustrating an American book for a French publisher. But it's all a bit of the… it's all the internationalness of illustration, I think. And also, I suppose it was through them in a way, through contacts of Gallimard through to the publication department of Paris Musées, the Paris museums that we embarked on the Petit Palais Exhibition and of course they produced the book that goes with that exhibition.
Quentin Blake, well loved British writer and illustrator, is perhaps best known for bringing Roald Dahl's characters to life with his vibrant illustrations, and for becoming the first ever UK Children's Laureate. He has also written and illustrated his own books including Mr Magnolia which won the Kate Greenaway Medal.
Title: Gallimard Jeunesse: publishing a book of French poetry
Listeners: Ghislaine Kenyon
Ghislaine Kenyon is a freelance arts education consultant. She previously worked in gallery education including as Head of Learning at the Joint Education Department at Somerset House and Deputy Head of Education at the National Gallery's Education Department. As well as directing the programme for schools there, she curated exhibitions such as the highly successful Tell Me a Picture with Quentin Blake, with whom she also co-curated an exhibition at the Petit Palais in Paris in 2005. At the National Gallery she was responsible for many initiatives such as Take Art, a programme working with 14 London hospitals, and the national Take One Picture scheme with primary schools. She has also put on several series of exhibition-related concerts. Ghislaine writes, broadcasts and lectures on the arts, arts education and the movement for arts in health. She is also a Board Member of the Museum of Illustration, the Handel House Museum and the Britten-Pears Foundation.
Tags: 15th century, 16th century, Quentin Blake au pays de la poésie française, Midwest, America, Sarah, Plain and Tall, Gallimard Jeunesse, Paris, Petit Palais, Christine Baker, Charles Baudelaire, Victor Hugo, Patricia MacLachlan
Duration: 5 minutes, 12 seconds
Date story recorded: January 2006
Date story went live: 24 January 2008