NEXT STORY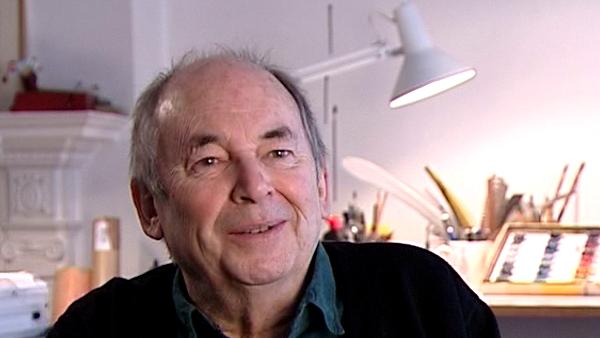 Illustrating The Hunchback of Notre Dame
Gallimard Jeunesse: Prix littéraire Quentin Blake
1
...
3
4
5
6
7
Doing less teaching, or more or less giving up teaching, I was much more able to go to book fairs in France. And there's hardly a town of any note whatsoever that doesn't have a book fair of some kind or other. So it's… that's been a wonderful experience because you go to towns that you wouldn't have gone to as a tourist and you meet people who don't speak English so you have to speak French. And it's very, very interesting because you're sort of parachuted into this situation with people you don't know and yet they're all people who have something in common with you, so that you know what you're talking about because they're either teachers or librarians or book sellers or editors. So that's been a very interesting aspect of life and also you go to… you… they won't let you go without going to see some, at least some, classes in schools. And it's very nice to be walking across that playground with the teachers, you know, with one or two chestnut trees or something like that in the playground… the staffroom, and… thinking… I mean, it's not amazing or anything but it's just, it's a special experience because it isn't one that you can organise for yourself. You can't say I'll go to France on my holidays and go into the… you know, into the cour de récré because you have to be invited there and that's always been, you know, for… now for 15 years or more, that's been a very interesting thing to be doing. And, again, it's sort of I think it rather opens up one's ideas about how people react to what you're doing and the people that are seeing it, you know. I've just last month been to France and one of my visits was to a town called Thouars which is in the Deux-Sèvres which is kind in the left-hand side towards the top of France, but... just… almost up to the… just below the Loire. And they had done… what was it? Rather grandly referred to as Prix Littéraire Quentin Blake. But the wonderful thing about this as a prix littéraire is only my books were in for it and so that… it was the junior school classes… I think there were 25 classes there, hundreds of children… but they had to choose their own… what they thought was the best one of the… of the books that I'd done, the picture books that I'd done, and they were in... they were divided into two or three different age groups. But I mean the remarkable thing about it, and this is the interesting thing about it, is the amount of work that they had done associated with that. They produced a huge amount of work, their own poems, you know, their own pictures, their own rewritings of the stories or sometimes they put a bit of one story together with a bit of another story, and so on. So there's a huge amount of work which comes out of that and it's very interesting to see that too.
[Q] Which one did win?
I can't remember which one. I think there were three separate prizes. I mean I didn't get a prize, I don't think, but I got some presents when… but, of course, I had to… I… I met… all these children were in a big room, a sort of theatre in the town, and… I knew which one had won but I as I was there drawing, you know, on a sort of back projector so that they could see it all, I had to pretend not to know which one had won so that I did drawings of two or three other books before we got to the right one. I think… Daisy Artichoke was one of them. That's… It's interesting, some books almost work better in France than they do here and the curious thing about that book is that it's got very simple rhymes in it, you know, and it… everything… she's called Daisy Artichoke and everything rhymes with that, you know. And… I can't remember any of them now at the moment but you know, she had a lovely patchwork cloak and, etc, etc. There are only about eight rhymes for artichoke in English so it was quite a difficult manoeuvre to get these pictures to work and look different. And generally, of course, when your work is translated you just hand it over and it's translated into Hebrew or Japanese or, you know, I mean, German and… you know… they go off and you hope it's alright. But in French I am able to take a bit of interest in that so and I thought I wonder if that's going to be a problem for them, because there isn't very much…. And in French she's called Mimi Artichaut and I realised, just thinking about it, there are hundreds of rhymes in French for that so I was able to, I mean I actually translated it. I mean I wouldn't have got it right if I… if Christine Baker hadn't corrected my text but… I was able to reorganise the captions so that they… everything rhymed all the way through. And even once it was so easy I went and did a lot of other drawings which also rhymed with artichaut but… they're not for publication. I mean they're just nonsense.
Quentin Blake, well loved British writer and illustrator, is perhaps best known for bringing Roald Dahl's characters to life with his vibrant illustrations, and for becoming the first ever UK Children's Laureate. He has also written and illustrated his own books including Mr Magnolia which won the Kate Greenaway Medal.
Title: Gallimard Jeunesse: Prix littéraire Quentin Blake
Listeners: Ghislaine Kenyon
Ghislaine Kenyon is a freelance arts education consultant. She previously worked in gallery education including as Head of Learning at the Joint Education Department at Somerset House and Deputy Head of Education at the National Gallery's Education Department. As well as directing the programme for schools there, she curated exhibitions such as the highly successful Tell Me a Picture with Quentin Blake, with whom she also co-curated an exhibition at the Petit Palais in Paris in 2005. At the National Gallery she was responsible for many initiatives such as Take Art, a programme working with 14 London hospitals, and the national Take One Picture scheme with primary schools. She has also put on several series of exhibition-related concerts. Ghislaine writes, broadcasts and lectures on the arts, arts education and the movement for arts in health. She is also a Board Member of the Museum of Illustration, the Handel House Museum and the Britten-Pears Foundation.
Tags: France, Thouars, Deux-Sèvres, Loire, Prix littéraire Quentin Blake, Daisy Artichoke, Hebrew, German, Mimi Artichaut, Japanese, Christine Baker
Duration: 5 minutes, 44 seconds
Date story recorded: January 2006
Date story went live: 24 January 2008