NEXT STORY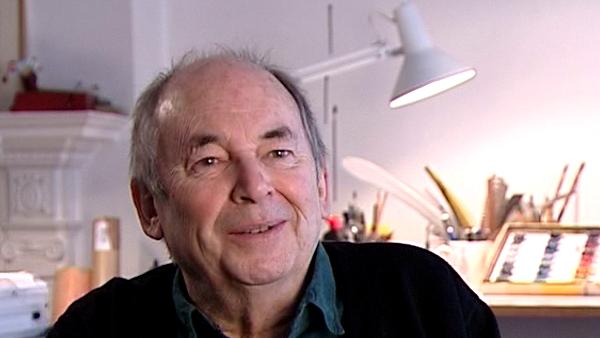 Painting (Part 2)
1
...
3
4
5
6
7
As I said I've done illustration for… for any age group, as it were. And… I've also done quite a lot of painting which, again, is… is not for children and… almost might not be for anybody. I've… I've exhibited it at one time or another. I started doing it when, I suppose, when… after I'd been at Chelsea Art School [sic] where I used to go to life classes. That's what I went there for, just to draw from life because I realised I didn't know how people moved and how their balance worked and that… things of that nature. Not so much quite anatomy as… as just drawing from… from the human form. And while I was… a lot of what I was doing when I was starting off trying to make a living was quite small black and white drawings for Punch and for other magazines. And… I lived in a sort of… or I had a room which was a, kind of, ground floor room in north London and that's where I started doing paintings. And they were kinds of continuations of… of this life room experience, I think. But they were done in… in… with big brushes, I mean house painting brushes actually, you know, and with… in bright colours and a lot of them had very, sort of, black backgrounds. And so the women depicted in them, as it were, models, were… were… you couldn't see their faces either, you know. They… they were sort of… they were about mood and atmosphere and things of that kind and also about making arm gestures rather than gestures which come from the wrist, kind of thing. So they were… that was, that was like a sort of… not a secret life, but I mean another life. There didn't seem to be any overlap at all and I was either doing one or the other. Gradually I got to work in colour in books and jackets for magazines and things.
Quentin Blake, well loved British writer and illustrator, is perhaps best known for bringing Roald Dahl's characters to life with his vibrant illustrations, and for becoming the first ever UK Children's Laureate. He has also written and illustrated his own books including Mr Magnolia which won the Kate Greenaway Medal.
Title: Painting (Part 1)
Listeners: Ghislaine Kenyon
Ghislaine Kenyon is a freelance arts education consultant. She previously worked in gallery education including as Head of Learning at the Joint Education Department at Somerset House and Deputy Head of Education at the National Gallery's Education Department. As well as directing the programme for schools there, she curated exhibitions such as the highly successful Tell Me a Picture with Quentin Blake, with whom she also co-curated an exhibition at the Petit Palais in Paris in 2005. At the National Gallery she was responsible for many initiatives such as Take Art, a programme working with 14 London hospitals, and the national Take One Picture scheme with primary schools. She has also put on several series of exhibition-related concerts. Ghislaine writes, broadcasts and lectures on the arts, arts education and the movement for arts in health. She is also a Board Member of the Museum of Illustration, the Handel House Museum and the Britten-Pears Foundation.
Tags: Chelsea College of Art & Design, Punch, London
Duration: 2 minutes, 12 seconds
Date story recorded: January 2006
Date story went live: 24 January 2008