NEXT STORY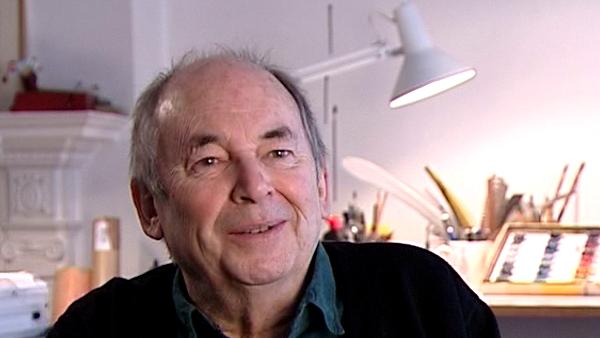 Painting different sequences: children and dogs and The Life of Birds
1
...
3
4
5
6
7
I have gone on doing paintings. I've not done so many recently but I have a separate studio where I can do it… and where I've still got most of them. I remember even 25 years ago when I was moving flats, there was a whole lot of these paintings which had never been sold and I can remember a young man whose job it seemed to be to carry these pictures up to the new flat and arriving sweating on the landing outside saying don't… my friends, Mr Blake, he doesn't sell much does he? And I don't sell much and I've still got a lot of them.
But the studio that… there's been some sort of modification or compromise, I think, because I… in that studio in recent years, I've been doing more drawings and those drawings are somewhere… a little bit more somewhere between painting and illustration in that they're similar subject matter but the people depicted actually have faces, if you see what I mean, and they're slightly more in situations. A few years ago I was invited by the Camberwell Press to do a book for them and I got some… a sequence of drawings that I was working on and I continued with that. And that turned into not a real book in the sense that it was a creative book with a narrative, but a book of 20 watercolour drawings, a very big book about this size, of women reading. And Russell Hoban wrote an introduction to it, which I found very interesting, about drawing and about what the drawings are about. But they're sort of… as he points out, they're about women in different relationships that… to the book that they're reading and… you know, he kind of starts writing a novel on it almost. And is this going… you know, in this picture is this going to be a continuing relationship or is this just a one night stand? And the, you know… but certainly some relationship to the book that they're reading is involved in that and they have a different mood. And also somebody else who I was talking to about it… was, it was actually… just irrelevantly, it was Sir David King, the Chief Scientific Officer of the Government, and he said, when he was at Downing, which was my college, he said, 'They take me through all the different positions you can get in when you're reading'. And that is really the other thing that they do, you know. I mean sometimes they're, sort of, hunched up and sometimes they're relaxed and so on. So that is and they are brush drawings so that they're drawn with a brush with watercolour: there's no ink in them at all. They're just watercolour but they're, sort of, outlined drawings and they're drawings which, to some extent, I'm not quite sure how people would react to them, I mean I… they… I think they look a bit as though they're drawn from life and people have said to me who was the model. In fact, they're entirely invented; I mean they... you just feel yourself into that position and you imagine that you're reading a book in that position and, of course, consequently it's very easy to get them wrong. So there are a lot of ones that didn't develop any… or where the anatomy is too wrong, so that you can't accept it. They're probably… it's all slightly distorted anyway. But I managed to find 20 to go in the book and there are quite a few others of this, so this, it's… here it's a picture with, in some sense, a layer of implied narrative, as it were, which is what… Russell was looking for, in a way.
Quentin Blake, well loved British writer and illustrator, is perhaps best known for bringing Roald Dahl's characters to life with his vibrant illustrations, and for becoming the first ever UK Children's Laureate. He has also written and illustrated his own books including Mr Magnolia which won the Kate Greenaway Medal.
Title: My paintings
Listeners: Ghislaine Kenyon
Ghislaine Kenyon is a freelance arts education consultant. She previously worked in gallery education including as Head of Learning at the Joint Education Department at Somerset House and Deputy Head of Education at the National Gallery's Education Department. As well as directing the programme for schools there, she curated exhibitions such as the highly successful Tell Me a Picture with Quentin Blake, with whom she also co-curated an exhibition at the Petit Palais in Paris in 2005. At the National Gallery she was responsible for many initiatives such as Take Art, a programme working with 14 London hospitals, and the national Take One Picture scheme with primary schools. She has also put on several series of exhibition-related concerts. Ghislaine writes, broadcasts and lectures on the arts, arts education and the movement for arts in health. She is also a Board Member of the Museum of Illustration, the Handel House Museum and the Britten-Pears Foundation.
Tags: Camberwell Press, Downing College, Cambridge University, Russell Hoban, Sir David King
Duration: 4 minutes, 15 seconds
Date story recorded: January 2006
Date story went live: 24 January 2008