NEXT STORY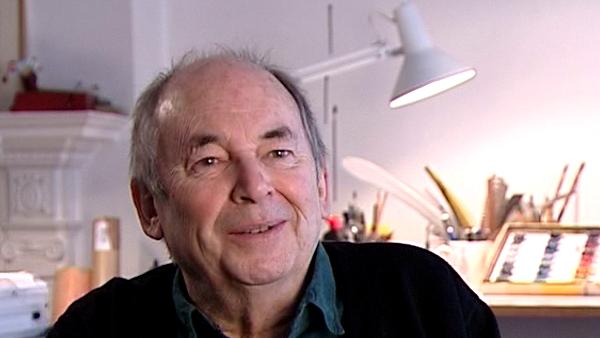 Reactions to my work
Pictures for South Kensington and Chelsea Mental Health Care Centre
1
...
3
4
5
6
7
I've also noticed in the past, well, entering the 21st century, that… there are quite a lot of things that have come out of books that are not within the covers of the book, or don't have their genesis there. So that the Petit Palais Museum show… I mean there is a book that goes with it, but those pictures are enlarged to, what were they? 20 feet high or something like that, so they couldn't very well go in a book. And in the Dulwich Picture Gallery exhibition we did some big banners which were 15 feet high to enlarge those pictures and some other things on that scale. So that's becoming rather interesting to me and the thing that I've been working on now, which is in process at the moment, was that I was asked to do a set of pictures for the… what's it called? South Kensington and Chelsea Mental Healthcare Centre [sic], just off Fulham Road. And there I was invited to do… well we found spaces for 16 pictures in the refurbished wards, in the corridors and in the common spaces there. And, because I'd done these other enlarged pictures, I thought the thing to do would be… I've done the drawings like the size of book illustrations, but as I did for the Petit Palais, but knowing that they were going to be bigger. These are not the same huge enlargements but they're now about, instead of being that, they're about two feet six tall. And that makes a… it changes them in a way. But of course what is nice about it is that because the line is still very scratchy and the watercolour goes on in a rather irregular sort of way, all of that is enlarged and so it gives it hope, you know, it gives it a sort of a texture and quality. It gives you something to look at in that, like the handling of a painting, as it were. And those are... they're a kind of, they're… the wards are for elderly patients on a medium-term stay, residents there. But they've… the whole thing was being refurbished and so, in fact, there is… there's now a special lighting so it was an art gallery, you know, and… so these pictures go along both sides of the corridor and around the corridors. And there's one in… a big one in the… eight feet long, in the dining room. And they kind of reflect… the activities that you could be doing if you were that age, well I am that age, and it… and they're… cheerful, I mean they're not about being… they're not about your mental problems. At the same time they're not about… quite about everyday life. I mean they're about eating and about playing music, they're about reading, they're about having bunches of flowers and things of that kind. They also seem to be about climbing trees as well, which is… because everything happens in the branches of trees, or a lot of it does. And if you're elderly you don't swing from one branch to another but this… developed a kind of parallel world which is… so it's sort of fictional but it relates back to what you were doing or what you might like to be doing. And when I was talking to Nick Rhodes, who's the psychiatrist there, and Stephen Barnham who commissions the work for these mental care hospitals, I was talking about the you know, what these elderly patients can do or what their limitations are. But of course I realised that a lot of the things that I do in my drawings are things that I don't do and can't do anyway. You know, I mean the drawings are full of activity of people, you know, dancing and climbing trees and jumping and running and things… none of which I can do, you know, possibly… probably not at all and certainly with no skill whatsoever. So, they're all… it's a kind of… it's that situation that I'm used to finding myself in, in a way, is that I'm projecting myself into some extension of what we do anyway. It's about everyday life but it's… transferred into a situation where one can do it with more flexibility and vivacity and invention that you could do normally in everyday life.
Quentin Blake, well loved British writer and illustrator, is perhaps best known for bringing Roald Dahl's characters to life with his vibrant illustrations, and for becoming the first ever UK Children's Laureate. He has also written and illustrated his own books including Mr Magnolia which won the Kate Greenaway Medal.
Title: Pictures for South Kensington and Chelsea Mental Health Care Centre
Listeners: Ghislaine Kenyon
Ghislaine Kenyon is a freelance arts education consultant. She previously worked in gallery education including as Head of Learning at the Joint Education Department at Somerset House and Deputy Head of Education at the National Gallery's Education Department. As well as directing the programme for schools there, she curated exhibitions such as the highly successful Tell Me a Picture with Quentin Blake, with whom she also co-curated an exhibition at the Petit Palais in Paris in 2005. At the National Gallery she was responsible for many initiatives such as Take Art, a programme working with 14 London hospitals, and the national Take One Picture scheme with primary schools. She has also put on several series of exhibition-related concerts. Ghislaine writes, broadcasts and lectures on the arts, arts education and the movement for arts in health. She is also a Board Member of the Museum of Illustration, the Handel House Museum and the Britten-Pears Foundation.
Tags: 21st century, Petit Palais, Dulwich Picture Gallery, South Kensington and Chelsea Mental Health Centre, Fulham Road
Duration: 5 minutes, 2 seconds
Date story recorded: January 2006
Date story went live: 24 January 2008