NEXT STORY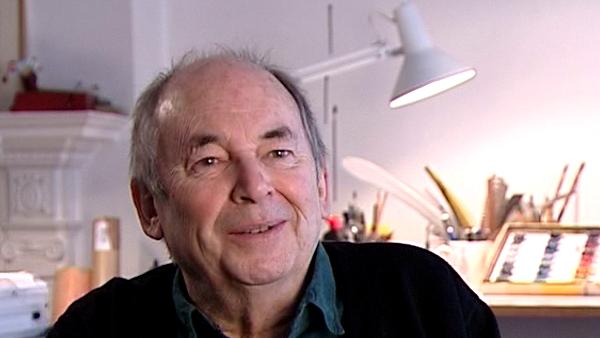 Memories of early life and secondary school
1
...
3
4
5
6
7
Well, I mean, we don't really know yet how… how… what effect these are going to have. We're… we're going to have… you… because these drawings are… are prints, the… there is the advantage that… we can also use them in other hospitals where we want to, and we shall extend the range of them. And, because they are prints… the hospital trust, I think, probably it doesn't have a great deal of money to pay for pictures in the individual patients' bedrooms. But I'm doing a whole set of pictures which I've got in… I've done about 50, I suppose, or something like that, which might go into their bedrooms. But they will be prints so that the… the trust doesn't have to buy all the originals. They can just have the right to… to print them. What we don't… I hope that… that they… that they have the right effect. I mean we… all we've got is anecdotes so far I mean, you know, some of the… some of the patients have certainly looked at them with interest and, I think, so have the specialists who… who work there because I mean pictures in that situation are not only for the patients, but they're for everybody who works there, or visits it. And if you're going in with your elderly relative the fact that you're in to some welcoming environment which acknowledges activities and humour and colour and has gone to the trouble of lighting this exhibition especially for you, where you're going to be… you hope that changes the… the whole atmosphere of… of the thing. The… what was amusing to me was that the… when I went in when we were… they were actually hanging the pictures, there was a… there was an elderly lady with a stick and grey hair who was looking at them very crossly and saying, what is the point of these? I mean, nobody knows what they mean and there's absolutely no point in having them here at all and I can't… you can't see what they are. And I think Nick Rhodes who was there, said, I think you may be seeing a bit of reflection off the… why don't you look at this one over the other side? And there was a woman playing a… a double bass and… and she said, I can see that's a double bass because… I can see the top and I know about that kind of thing. And… but, I mean, really, what is the point of having it? I mean, of… of a thousand people in this situation, only one would know what that is and that person is me. And I think… but I think… I mean, I think it… probably her character has always been like that. I think part of the problem was that she genuinely had difficulty in seeing what they were and… and was converting that into a fault in the pictures. But I mean, you know, she's entitled to think that but… but… and it… it was salutary in a way to… to think that they aren't necessarily going to like them. But, mostly the people there have said, oh, it's… no, it's delightful, I mean they encourage us to do the things we're not supposed to be doing, we think it's wonderful. And… and have said… you know, they obviously do go back and look at them again and have said, you know, there is actually a lot to look at in them, isn't there? And it's one of those things where, I think probably, you know, having done picture books contributes to that because, in fact, there isn't a huge amount of detail but there is the detail… there are elements which you can read at a second visit, as it were, so that there are things that you didn't notice to begin with, or there's a little relationship between one person and another or a person and the cat, or something like that. So that there is… there is more… there, again, is a sort of element of implied story of… of a parallel life going on… which… so you don't use it all up at once. But it's going to be… I think it's going to be interesting to… to try and find out how people do react to them. I mean the initial thing of doing a cheerful picture in what might be a non-cheerful environment is… is worth doing in itself, but it will be interesting to find out more about that. And also we've got… now that there's a set of pictures for the bedrooms which we can use there and perhaps elsewhere, we may be able to find out how people react to those. Because most of those pictures… some of them are just… they're just cheerful pictures or lively pictures. I mean, there's cats running about or eating flowers, or something like that; there are some pictures of flowers. But there are other pictures where there are older and younger people and there are… there are pictures of birds which have some kind of personality in them but look doubtful or diffident or aggressive or, you know… and it may be interesting to find out whether that, any of that, does mean anything to anybody or whether it provides… that to choose one of those pictures or to… or to want or not want one of those pictures opens up some area of discussion where… the picture means something to them, again in relation to perhaps their personal narrative.
Quentin Blake, well loved British writer and illustrator, is perhaps best known for bringing Roald Dahl's characters to life with his vibrant illustrations, and for becoming the first ever UK Children's Laureate. He has also written and illustrated his own books including Mr Magnolia which won the Kate Greenaway Medal.
Title: Reactions to my work
Listeners: Ghislaine Kenyon
Ghislaine Kenyon is a freelance arts education consultant. She previously worked in gallery education including as Head of Learning at the Joint Education Department at Somerset House and Deputy Head of Education at the National Gallery's Education Department. As well as directing the programme for schools there, she curated exhibitions such as the highly successful Tell Me a Picture with Quentin Blake, with whom she also co-curated an exhibition at the Petit Palais in Paris in 2005. At the National Gallery she was responsible for many initiatives such as Take Art, a programme working with 14 London hospitals, and the national Take One Picture scheme with primary schools. She has also put on several series of exhibition-related concerts. Ghislaine writes, broadcasts and lectures on the arts, arts education and the movement for arts in health. She is also a Board Member of the Museum of Illustration, the Handel House Museum and the Britten-Pears Foundation.
Tags: South Kensington and Chelsea Mental Health Centre
Duration: 5 minutes, 39 seconds
Date story recorded: January 2006
Date story went live: 24 January 2008