NEXT STORY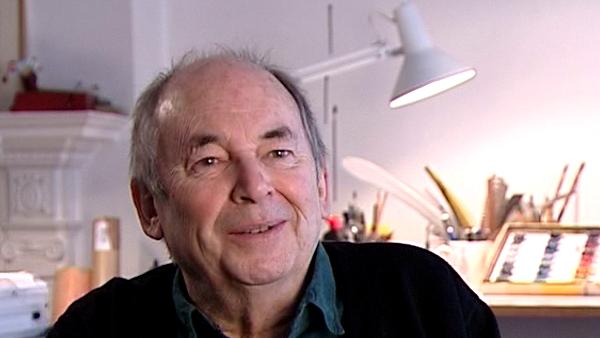 The Festival of Britain
A visit to the office of Punch and my first publication
1
2
3
4
5
...
7
And I went to Bouverie Street, and… Punch office was a very impressive building, it was like going to a gentlemen's club. And the men all wear pin-striped suits and that kind of thing, and there was a very sort of efficient secretary, who put me in a waiting room, and I sat next to a woman who was waiting there and I know now it was an artist called Pearl Faulkner, who I rather admired, but I didn't know that then, and the secretary came and brought me some magazines to look at, and said, 'Would you like to have a look at these?' And it was The New Yorker, which I hadn't seen, and which I sat there reading. And after about three-quarters of an hour this woman disappeared, and the secretary came back, and said, 'Are you still here?' And I said, 'Yes, I'm waiting to see the Art Editor'. And she said, 'Oh, we thought you were with that woman who was here'. And so there was this schoolboy was supposed to be her… the visitor's nephew or something like that. And it was too late then. She said, 'Oh no, you can't see him now, he's desperately snowed under', and so on and so on. So I had to go away and come back later.
In fact, the Art Editor had changed. Kenneth Bird had become the Editor of Punch, and the Art Editor was Russell Brockbank, who was a Canadian, who drew motor cars. And jokes about motor cars. Which he drew very well. He knew all about them, and was actually very nice to me, and they actually bought two of those drawings. There was a letter followed later, when I… after I'd been to see him again with a letter, which said, 'Congratulations to the youngest contributor' on it, which I think you have to say, really. Not that, I mean, Punch had a great tradition of youngest contributors. They were terrible drawings, really. They were very small, but they were in print, and… I suppose I was… I think I was 16 at the time. And I remember taking them, I showed them to… Mac, you know, the Headmaster, and… he had an extraordinary way of relating things to himself, and he… he looked at… and he could not… he put one hand over one eye, and his other eye bulged alarmingly, in a slightly sort of bloodshot kind of way, and he looked at it. 'Oh yes', he said. He said, 'Well, I was never in Punch'. You know, kind of gesturing at the other magazines that he must have been in at one time or another, although he didn't draw at all. And he was very good at things like that. If there was some small crime in the classroom, he'd come and at one point would say, 'I wasn't in Scotland Yard for nothing'. So this was… anyway, that must have fed my interests in some way or other.
Quentin Blake, well loved British writer and illustrator, is perhaps best known for bringing Roald Dahl's characters to life with his vibrant illustrations, and for becoming the first ever UK Children's Laureate. He has also written and illustrated his own books including Mr Magnolia which won the Kate Greenaway Medal.
Title: A visit to the office of "Punch" and my first publication
Listeners: Ghislaine Kenyon
Ghislaine Kenyon is a freelance arts education consultant. She previously worked in gallery education including as Head of Learning at the Joint Education Department at Somerset House and Deputy Head of Education at the National Gallery's Education Department. As well as directing the programme for schools there, she curated exhibitions such as the highly successful Tell Me a Picture with Quentin Blake, with whom she also co-curated an exhibition at the Petit Palais in Paris in 2005. At the National Gallery she was responsible for many initiatives such as Take Art, a programme working with 14 London hospitals, and the national Take One Picture scheme with primary schools. She has also put on several series of exhibition-related concerts. Ghislaine writes, broadcasts and lectures on the arts, arts education and the movement for arts in health. She is also a Board Member of the Museum of Illustration, the Handel House Museum and the Britten-Pears Foundation.
Tags: Bouverie Street, Punch magazine, The New Yorker, Scotland Yard, Pearl Faulkner, Cyril Kenneth Bird, Fougasse, Russell Brockbank
Duration: 3 minutes, 1 second
Date story recorded: January 2006
Date story went live: 24 January 2008