NEXT STORY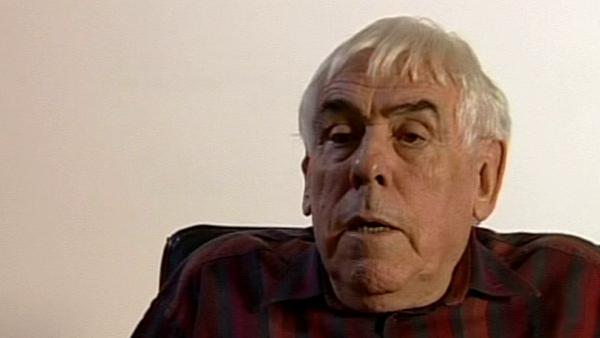 The Birth of Love: Two trips to Italy
The chronological filming of The Birth of Love
1
...
9
10
11
12
13
...
18
Alors par contre ce qu'on savait pas... Alors donc ce qu'on ne savait pas c'était qu'il tournait vraiment dans l'ordre. Alors la première scène qu'on a faite c'était des gens qui montaient dans une piaule d'hôtel, qui était dans un hôtel de- D'abord je veux dire la première chose qu'il fait c'est qu'il tourne un petit bout de truc, 15 jours ou trois semaines avant, il tourne la première scène quinze jours ou trois semaines avant de commencer le film. On la tourne et puis il médite là-dessus, et puis après on commence le film.
[Q] Ah bon?
Trois semaines après. Quinze jours après. Enfin ça c'est...
[Q] Il faut que les gens soient libres?
Bien sûr. On choisit une date.
[Q] Ça peut poser des problèmes?
Oui, oui. On choisit une date bon... Donc, ça c'est déjà un truc qui est différent des autres metteurs en scène. Mais il est assez agréable comme personnage.
[Q] Oui parce que tu as fait trois films avec lui? 'Naissance de l'amour', 'Le coeur fantôme' et puis...
Oui j'ai fait trois films avec lui, pour d'autres raisons. Parce que comme je suis un vieux et que je fatigue beaucoup, lui il est assez paresseux et il a du mal à faire huit heures de travail par jour. Alors il dit toujours, 'Tu m'as l'air fatigué Raoul, on va s'arrêter'. Ou, 'Ah, les machinistes ont l'air fatigué, on va s'arrêter'. Il s'en fout pas mal mais enfin... Donc, alors le premier truc ça a été, on tournait dans une piaule d'hôtel, alors c'était dans la chambre de bonne, c'est-à-dire donc on prend l'ascenseur jusqu'au 5ème étage et puis ensuite on se tape un escalier en colimaçon épouvantablement étroit, pour monter dans cette piaule où il a fallu monter le matériel, etc. Alors la scène c'était, ils se rencontrent, ils commencent à se bécoter et puis ils vont faire l'amour. On n'a pas de préservatif. Alors on roule tous les clous, on descend, on va à la pharmacie, on va acheter des préservatifs, et on le tourne comme ça. Et puis après on reprend tous les clous qu'on a pris pour tourner à la pharmacie, une fois qu'on a les préservatifs, et on remonte à la piaule pour... Alors on ne les voit pas mettre le préservatif quand même. Et on monte... On monte dans la piaule là-haut. Alors ça naturellement ça a sidéré un peu tout le monde, parce qu'on s'est dit, 'Merde, on était installés, on aurait pu tourner tout ce qu'il y avait dans la carrée avant de descendre'. Alors heureusement il n'y a pas l'histoire du petit déjeuner du matin. Alors ça, ça a commencé à surprendre un petit peu.
So on the other hand what we didn't know... So what we didn't know was that he actually filmed in order. So the first scene that we did was people going up to a hotel room, which was in a hotel. First of all, the first thing he does is film a short scene, two or three weeks before. He films the first scene two or three weeks before starting the film. We film and then he reflects on it, and then we start the film.
[Q] Really?
Two or three weeks later. Well, that's...
[Q] People need to be free?
Of course. We pick a date.
[Q] It can create problems?
Yes, yes. We pick a date... So that's one thing that differentiates him from other film directors. But he's quite a pleasant guy.
[Q] Yes, because you made three films with him didn't you? 'The Birth of Love', 'The Phantom Heart' and...
Yes, I made three films with him, for other reasons. Because since I'm getting old and I get tired easily, he's quite lazy and he struggles to work eight hours a day. So he always says, 'You seem tired, Raoul, we're going to take a break'. Or, 'Oh, the Dolly grips look tired, we're going to take a break'. He doesn't actually care but...
So the first scene was: we were filming in a hotel room, we were in a maid's room, meaning that we take the lift to the fifth floor and then afterwards we go up a dreadfully narrow spiral staircase, to go up to that room where we had to bring up the equipment, etc. So the scene was: they meet, they start kissing and they're about to make love. We don't have a condom! So we pack up everything, go downstairs; go to the drugstore. We go buy condoms. And that's how we filmed it. And once we have the condoms, we pack up all the material we used to film in the drugstore, we go back up to the room to... So we don't actually see him put the condom on. And we set up... we set up in the room upstairs. So naturally it amazed everyone a little, because we thought, 'Damn, while we were all set up, we could have filmed everything that needed to be done in the room before going downstairs'. So thankfully there is no breakfast scene the next morning. So that was quite surprising.
French cinematographer, Raoul Coutard (1924-2016) was twice nominated for the César Award for best cinematography which he won in 1978 for 'Le Crabe-tambour'. He made over 75 films and documentaries, including 'À Bout de Souffle', Le Mépris' and 'Band à Part'. He was the most acclaimed French cinematographer of his generation and one of the key figures of the New Wave.
Title: The chronological filming of "The Birth of Love"
Listeners: Bernard Cohn
Bernard Cohn est un réalisateur et écrivain français, ayant réalisé cinq film ainsi que de nombreux reportages et séries télévisées. En tant qu'assistant réalisateur, il a travaillé avec plusieurs grands cinéastes, notamment Luis Buñuel, François Truffaut, Otto Preminger et Woody Allen. Il fut membre fondateur du ciné-club Ciné-Qua-Non et a participé à la rédaction et traduction en anglais, de plusieurs ouvrages sur le cinéma.
Benard Cohn is a French filmmaker and writer, who has directed five films as well as numerous documentaries and television series. As an assistant director, he worked with many important filmmakers, including Luis Buñuel, François Jacob, Otto Preminger and Woody Allen. He was a founding member of the Ciné-Qua-Non cinema club and has acted as editor and translator for various publications on the world of cinema.
Tags: The Birth of Love, Philippe Garrel
Duration: 2 minutes, 33 seconds
Date story recorded: October 2004
Date story went live: 24 January 2008