NEXT STORY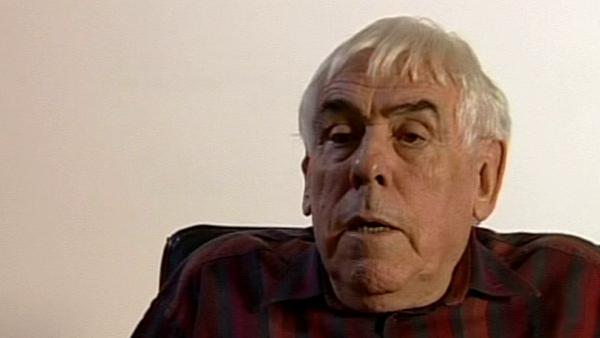 Filming at sea
1
...
10
11
12
13
14
...
18
Alors, Jacques c'est un personnage. Moi je l'ai connu comme acteur il était tout môme sur un film dont personne ne se souvient, qui était un film de Grisha-Dabat qui... Ça s'appelait comment... Je ne me souviens plus... Ça va revenir, on en parlait. Alors il y avait là aussi, lui comme c'était son premier film, il avait un conseiller technique, mais un conseiller technique reluisant, parce qu'il avait Roger Vadim.
[Q] Ah, oui.
Mais il avait Roger Vadim parce que...
[Q] 'Satan conduit le bal'!
Satan conduit le bal. Bon il avait Roger Vadim parce qu'il y avait également... Notre vedette nationale là, qui a fait la publicité pour Suez, et qui avait joué dans le film de Garrel dans lequel j'ai pas tourné...
[Q] Dans?
Le film de Garrel où j'ai pas tourné, il y avait une vedette française...
[Q] Deneuve?
Deneuve, et il y avait Deneuve qui était toute petite et qui était naturellement la copine de Vadim, donc Vadim avait accepté d'être le conseiller technique de ce truc-là. C'est-à-dire il est venu d'ailleurs la mettre en scène quand elle est rentrée en scène... Et il y avait Jacques Perrin qui jouait, il devait avoir je sais pas, seize ans à l'époque, il était tout minus. Et puis après j'ai fait plein de films avec lui, dont La 317ème... Mais c'est un personnage qui est assez fascinant Jacques. Parce que d'abord il est très gentil, je veux dire il n'a pas la grosse tête, bon il est... On peut dire assez bon comédien... Il fait partie... Je pense qu'il n'a pas été comme comédien apprécié à sa valeur. Je pense qu'il a été gêné parce que pendant des années il avait l'air très jeune tout le temps, ça a dû beaucoup le gêner dans sa carrière. Mais en même temps, comme producteur c'est un type qui a toujours pris quand même des... Lui on ne peut pas lui reprocher de ne pas avoir pris de risques parce que même déjà faire Z c'était... Parce que contrairement à tout ce qu'il racontait, tout le monde, tous les comédiens étaient en participation, je veux dire donc...
Par contre lui c'est sûrement, dans le paquet de ceux qui étaient en participation, c'est sûrement lui qui a récupéré le moins de fric. Parce que sa part producteur était tellement petite. Bon et en même temps, je veux dire il fait tout un tas de choses qui sont quand même assez différentes de ce qu'on peut faire. Et il a pris quand même pas mal de risques de faire ne serait-ce que par exemple Le désert des Tartares qui est un film magnifique, qui a malheureusement fait un bide. Et puis Les 40èmes rugissants, ou 42èmes je sais plus combien ils sont.
[Q] 'Les 40èmes rugissants', film de Christian de Chalonges?
Oui, qui était un film très difficile à faire.
So Jacques, he's really someone... I met him as an actor, when he was very young, on a film that no one remembers, which was a Grisha-Dabat film that... What was it called? I don't remember. Oh, yes. It'll come back me. We were talking about it earlier. So there was also... since it was his first film, he didn't have just any technical consultant, he had a brilliant one, because it was Roger Vadim.
[Q] Oh, yes.
But he had Roger Vadim because...
[Q] 'And Satan Calls the Turns'!
And Satan Calls the Turns. So there was Roger Vadim because there was also... Our national star, who did the Suez advertisement, and who was in the Garrel film that I didn't do.
[Q] In?
Garrel's film that I didn't make, there was a French star.
[Q] Deneuve?
Deneuve. And there was Deneuve who was very young and who naturally was Vadim's girlfriend, so he had accepted to be the technical consultant on that thing. Meaning that, in fact, he came to direct her when she came on stage. And there was Jacques Perrin, he must have been... I don't know, 16 at the time, he was very young. And then afterwards I did loads of films with him, including The 317th. But Jacques is quite a fascinating guy. Because first of all he's very nice, I mean he isn't big-headed, so he is... We could say he's quite a good actor. He's part... I think he wasn't appreciated to his true value as an actor. I think it was difficult because for years he looked very young, it must have really hindered his career. But at the same time, as a producer he's a guy that always took... You can't criticise him for not having taken any risks because already making Z was... Because contrary to everything he was saying, everyone, all the actors were credited as participants, I mean so...
On the other hand, among all the participants, he's definitely the one who received the least money. Because his share as producer was so small. So... and at the same time he did a whole load of unusual things. And he took quite a few risks doing for example The Desert of the Tartars which is a magnificent film, but which unfortunately failed at the box office. And then The Roaring Forties, or The Roaring Fifties, I don't remember how many there are.
[Q] 'The Roaring Forties', a film by Christian de Chalonges.
Yes, which was a very difficult film to make.
French cinematographer, Raoul Coutard (1924-2016) was twice nominated for the César Award for best cinematography which he won in 1978 for 'Le Crabe-tambour'. He made over 75 films and documentaries, including 'À Bout de Souffle', Le Mépris' and 'Band à Part'. He was the most acclaimed French cinematographer of his generation and one of the key figures of the New Wave.
Title: Jacques Perrin
Listeners: Bernard Cohn
Benard Cohn is a French filmmaker and writer, who has directed five films as well as numerous documentaries and television series. As an assistant director, he worked with many important filmmakers, including Luis Buñuel, François Jacob, Otto Preminger and Woody Allen. He was a founding member of the Ciné-Qua-Non cinema club and has acted as editor and translator for various publications on the world of cinema.
Bernard Cohn est un réalisateur et écrivain français, ayant réalisé cinq film ainsi que de nombreux reportages et séries télévisées. En tant qu'assistant réalisateur, il a travaillé avec plusieurs grands cinéastes, notamment Luis Buñuel, François Truffaut, Otto Preminger et Woody Allen. Il fut membre fondateur du ciné-club Ciné-Qua-Non et a participé à la rédaction et traduction en anglais, de plusieurs ouvrages sur le cinéma.
Tags: The 317th Platoon, And Satan Calls the Turns, Z, The Roaring Fortie, The Desert of the Tartars, Philippe Garrel, Jacques Perrin, Catherine Deneuve, Roger Vadim
Duration: 3 minutes
Date story recorded: October 2004
Date story went live: 24 January 2008