NEXT STORY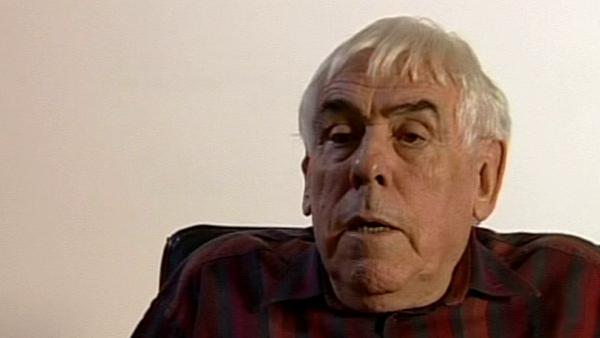 A career with no regrets
Difficult friendships between film directors and cinematographers
1
...
14
15
16
17
18
[Q] Oui mais en même temps ce qui est formidable c'est que chaque film est une nouvelle rencontre. Oui, chaque film est fait... Chaque film est une nouvelle aventure, on rencontre des têtes nouvelles... En même temps...
Ah, oui, oui, oui, mais non c'est autre chose. Avec des têtes nouvelles, c'est vrai. C'est simplement moi je veux dire c'est très curieux mais par exemple, à part Schoendoerffer avec lequel je suis copain, pas parce qu'il est metteur en scène... C'est parce que c'est la fraternité qu'on a eue à traîner dans tous les bouges en Indochine.
[Q] Ça crée des liens.
Mais je suis copain avec aucun metteur en scène. Parce que c'est d'abord très compliqué d'être copain avec un metteur en scène pour la raison très simple. C'est qu'à chaque fois qu'on est copain avec un metteur en scène, c'est forcément parce qu'on s'est bien entendus, mais à un moment donné il finit par croire qu'on est copain parce qu'on veut s'accrocher pour le prochain film.
[Q] Bien sûr.
Ce qui n'est pas forcément vrai. Je veux dire parce qu'on est contents de parler avec un mec avec qui on a des idées à peu près communes, ou même pas communes. Parce que c'est comme ça qu'on a envie d'être pote avec ce mec-là. Bon, finalement on est copains. Alors donc je suis copain avec aucun metteur en scène. Bon avec Jean-Luc – pour reprendre Jean-Luc – Jean-Luc c'est extraordinaire parce que j'ai fait quinze films avec lui. Bon. Quand on était dans la partie du film où il produisait. Où ils évoquaient des films. Alors il me téléphonait pour dire, 'Bon, Raoul, je vais faire un film à telle date, est-ce que tu seras libre?' 'Je disais toujours, Jean-Luc' je serai libre, de toute manière quoi qu'il arrive je prendrai pas de film tant que...' 'Alors bon écoute on va se rencontrer au restaurant'. Alors on se donnait rendez-vous. Alors comme Jean-Luc il n'en a rien à foutre de la bouffe c'était toujours dans un restaurant un peu sans intérêt. Bon. Alors on s'asseyait, 'Bonjour, Raoul. Oui on va faire un film au mois de mars, tu seras libre?' 'Oui, oui, je serai libre'. 'Qu'est-ce que tu prends?' Alors la bouche cousue, pas un mot. Il ne desserrait pas les dents de tout le repas. On se disait au revoir. 'Bon tu me préviendras'. Voilà. Alors bon.
Mais ça n'empêche pas le sentiment, comme disent les... Bon, je cherchais qui est-ce qui disait... Ça n'empêche pas le sentiment, c'est les turcos. Bon, alors lui c'est très différent, je veux dire entre les films je le voyais jamais. Bon, mais moi personnellement j'ai beaucoup de tendresse pour Jean-Luc... Je dis vraiment, de la tendresse, c'est plus que... Je ne peux pas dire de l'amitié parce que je ne le vois pas... Mais c'est un monsieur qui m'émeut beaucoup. Bien que des fois j'ai eu souvent envie de lui tordre le cou. Alors finalement, on se voit pas... Alors maintenant on ne se voit plus du tout parce qu'on a eu un problème d'éthique ensemble. Et on n'a pas été foutus de le résoudre. Donc chacun restant sur ses positions. Des chefs op j'en connais pas donc... Si je suis copain avec Willy... Bon je suis copain avec d'autres gens qui font de la prise de vue mais on ne se voit pas. On n'a pas grand-chose à se dire. Finalement je suis copain... Alors les gens que je vois c'est des chefs électro, un ancien chef électro qui est Basselet. Maintenant Michel je le vois plus parce qu'il est...
[Q] Dans sa campagne lui aussi?
Il est dans le Jura. Et puis un chef machino, que je vois... On bouffe ensemble, de temps en temps, assez régulièrement, tous les deux-trois mois, on se raconte nos campagnes.
[Q] Yes, but at the same time, what's tremendous is that each film is a new encounter. Yes, every film is... Every film is a new adventure, we meet new people. At the same time...
Oh, yes, yes, yes, but it's something else. With new people, that's true. It's only me, I mean, it's very strange but for example, except Schoendoerffer who I'm friends with, not because he's a film director... it's because it's the fraternity we had hanging around everywhere in Indochina.
[Q] It creates a bond.
But I don't have any filmmaker friends. Because first of all, it's very complicated being friends with a film director for a very simple reason. It's that every time that we're friends with a film director, it's obviously because we got on, but at one point he ends up thinking we're friends because you want to work on the next film.
[Q] Of course.
Which isn't necessarily true. I mean, because were happy to talk to a guy with whom we have more or less similar ideas, or not even similar. Because that's why we want to be friends with him. So, in the end we're friends. So I'm not friends with any film maker. So with Jean-Luc – to get back to Jean-Luc – it's extraordinary because I did fifteen films with Jean-Luc. So, when we were at the part of the film where he produces... where he planned his films... So he would call me to say, 'Well, Raoul, I want to make a film at such date, will you be free?' I always said, 'Jean-Luc, I'll be free, either way whatever happens I won't take on a film until...' 'So listen, we'll meet at a restaurant'. So we would agree to meet up. So Jean-Luc doesn't care about food, it was always in a restaurant devoid of interest. Well, so we would sit down, 'Hello, Raoul. Yes, we're going to make a film in March, will you be free?' 'Yes, yes, I'll be free. What do you want?' So mouth shut, not a word. He didn't say a word during the entire meal. We would say goodbye. 'So you'll let me know'. That's it.
So... well, but it doesn't prevent the feelings, as they say... Well, I was looking for who said... It doesn't prevent the feelings, it's the Turkish. So with him it's very different, I mean in between films I never saw him. But personally I felt a lot of affection for Jean-Luc. I'm saying really, affection, it's more than... I don't want to say friendship because I don't see him but he's a man who really moves me. Even though sometimes I wanted to strangle him. So in the end, we don't see each other. So nowadays we don't see each other at all because we had an ethical problem together and we never managed to sort it out. So each one sticking to his position. I don't know any cinematographers so I'm friends with Willy. Well, I'm friends with other people who film but we don't see each other. We don't have much to say to each other. In the end, I'm friends with... So the people I see are the gaffers, an old Gaffer who is Basselet... Nowadays Michel, I don't see him anymore because he's in...
[Q] He's also in the countryside?
He's in the Jura. And the crew grips that I see... We eat together, from time to time, quite regularly, every two or three month, we talk about the countryside.
French cinematographer, Raoul Coutard (1924-2016) was twice nominated for the César Award for best cinematography which he won in 1978 for 'Le Crabe-tambour'. He made over 75 films and documentaries, including 'À Bout de Souffle', Le Mépris' and 'Band à Part'. He was the most acclaimed French cinematographer of his generation and one of the key figures of the New Wave.
Title: Difficult friendships between film directors and cinematographers
Listeners: Bernard Cohn
Bernard Cohn est un réalisateur et écrivain français, ayant réalisé cinq film ainsi que de nombreux reportages et séries télévisées. En tant qu'assistant réalisateur, il a travaillé avec plusieurs grands cinéastes, notamment Luis Buñuel, François Truffaut, Otto Preminger et Woody Allen. Il fut membre fondateur du ciné-club Ciné-Qua-Non et a participé à la rédaction et traduction en anglais, de plusieurs ouvrages sur le cinéma.
Benard Cohn is a French filmmaker and writer, who has directed five films as well as numerous documentaries and television series. As an assistant director, he worked with many important filmmakers, including Luis Buñuel, François Jacob, Otto Preminger and Woody Allen. He was a founding member of the Ciné-Qua-Non cinema club and has acted as editor and translator for various publications on the world of cinema.
Tags: Jean-Luc Godard, Pierre Schoendoerffer
Duration: 4 minutes, 2 seconds
Date story recorded: October 2004
Date story went live: 24 January 2008