NEXT STORY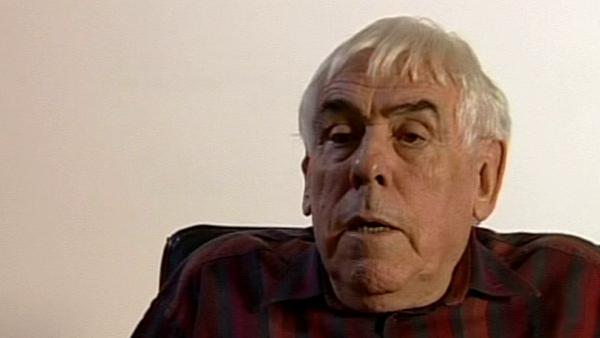 Fuego
1
...
5
6
7
8
9
...
18
C'est devenu très emmerdant, parce qu'après, je veux dire quand il y a eu les... On était toujours en... Moi j'ai toujours tourné en film, mais quand on avait les répétiteurs vidéo, alors il y avait dix crétins qui étaient plantés devant les répétiteurs vidéo qui étaient en train de regarder et chacun mettait son grain de sel pour des plans qui duraient une demie seconde des fois. Alors comme on arrêtait parce que tout le monde devait voir je ne sais pas quoi, mettre son grain de sel, dire s'il y avait des bouquins au fond de la pièce, comme là si j'avais des bouquins ils allaient voir les titres, comme si les gens avaient le temps d'aller regarder le titre des bouquins qu'il y avait, qui étaient flous en plus. Alors il y a tout un tas de gens, ça devient à un moment donné une merde sans nom. Je pense que cette histoire là d'ailleurs va être le grand problème qu'il va y avoir avec les tournages en vidéo. Parce que quand on tourne les films, alors on peut dire est-ce que tourner par exemple en 8 mm ou en 70 mm ou en vidéo, en numérique, est-ce qu'il y a une différence? Il n'y a pas de différence parce qu'une image étant une conception intellectuelle... Il faut la fabriquer. Bon alors naturellement chaque système a une petite nuance technique, mais le résultat final de l'image, de sa plastique, de sa géométrie, de son cadre et de l'émotion qu'on veut lui faire naître, quelle qu'elle soit, quel que soit le système qu'on utilise, reste la même je veux dire. Il faut qu'il y ait un mec qui ait envie de la créer.
Comme dit Storaro nous sommes des créateurs d'images. Donc alors on peut dire en rigolant qu'on peut pas faire en 8 mm, on peut pas filmer les éléphants parce qu'ils sont trop gros pour rentrer dans le 8 mm. Mais par contre ce qui est emmerdant, quelque chose qui va changer beaucoup c'est-à-dire que d'abord déjà, quand on est dans le cinéma, quand le chef opérateur a dit, 'C'est bon', les autres pour savoir ils sont obligés d'attendre le lendemain qu'il y ait les rushes. Et on paye très cher l'opérateur qui a dit 'c'est bon' parce qu'on espère que le lendemain ça va être bon et qu'il ne s'est pas trompé dans ses comptes pour faire toute sa lumière, etc. Mais à partir du moment où maintenant on va tourner en vidéo, on va se retrouver pour un film classique avec des écrans vidéo où les gens pourront voir ce qui se passe et tout une bande de crétins qui vont venir mettre leur grain de sel là-dedans, donner des idées, pourquoi ça serait pas plus sombre, pourquoi ça serait pas plus rouge, pourquoi ça serait pas ceci? Et on va paumer, c'est ce que j'expliquais tout à l'heure, cette idée de continuité de film il y a entre 300 et 800 plans dans un film. Et c'est pas à n'importe qui de dire comment ça va se passer.
It became really bloody annoying, because afterwards... I mean, when there were... We were still in... I always filmed in film, but when we had the video repeater, there were ten idiots standing in front of the video repeater, and everyone was sticking their nose in for shots that lasted sometimes half a second. So since we stopped, because everyone needed to see I don't know what, stick their nose in... If there were books at the back of the room, just as if I had books here, they went to look at the titles, as if people had time to go look at the titles of the books, and which were blurred anyway. So there are loads of people, so at some point it becomes an absolute shambles. I think that, in fact, that story will be the big problem that there will be with video shoots. Because when we shoot a film, so we ask, for example, will filming in 8 mm or in 70 mm or in video, in digital, make a difference? There is no difference because an image being an intellectual concept, it needs to be built. Well, so naturally every system has a little technical nuance, but the image's final result, its plastic, its geometry, its frame and the emotion it wants to transmit, however it is, whichever system is used, it stays the same. I mean there needs to be someone who wants to create it.
As Storaro says, we are image creators. So we laugh about not being able to do it in 8 mm. You can't film elephants because they're too big to fit into 8 mm. But on the other hand what's annoying, something that will change a lot of things, that is that first of all, when you're in cinema, when the chief cameraman says, 'It's fine', the others have to wait until the next day for the rushes, to find out if it is fine. And the cameraman who said 'That's fine' is paid a lot because we hope that the next day it'll be fine and that he didn't make any mistakes when doing his lighting, etc. But from the moment we start filming in video; on a typical film, we are going to end up with video screens where people will be able to see what is happening and with a whole group of idiots who will stick their nose in, share ideas, why couldn't it be darker? Why couldn't there be more red? Why couldn't it be like this? And we're going to lose – it's what I was explaining earlier – this idea of continuity of the film, where there are between 300 and 800 shots in a film. And it isn't up to just anybody to decide how it'll be made.
French cinematographer, Raoul Coutard (1924-2016) was twice nominated for the César Award for best cinematography which he won in 1978 for 'Le Crabe-tambour'. He made over 75 films and documentaries, including 'À Bout de Souffle', Le Mépris' and 'Band à Part'. He was the most acclaimed French cinematographer of his generation and one of the key figures of the New Wave.
Title: Filming in video
Listeners: Bernard Cohn
Bernard Cohn est un réalisateur et écrivain français, ayant réalisé cinq film ainsi que de nombreux reportages et séries télévisées. En tant qu'assistant réalisateur, il a travaillé avec plusieurs grands cinéastes, notamment Luis Buñuel, François Truffaut, Otto Preminger et Woody Allen. Il fut membre fondateur du ciné-club Ciné-Qua-Non et a participé à la rédaction et traduction en anglais, de plusieurs ouvrages sur le cinéma.
Benard Cohn is a French filmmaker and writer, who has directed five films as well as numerous documentaries and television series. As an assistant director, he worked with many important filmmakers, including Luis Buñuel, François Jacob, Otto Preminger and Woody Allen. He was a founding member of the Ciné-Qua-Non cinema club and has acted as editor and translator for various publications on the world of cinema.
Tags: video, filming, filmmaking, actors, rushes, editing
Duration: 3 minutes, 2 seconds
Date story recorded: October 2004
Date story went live: 24 January 2008