NEXT STORY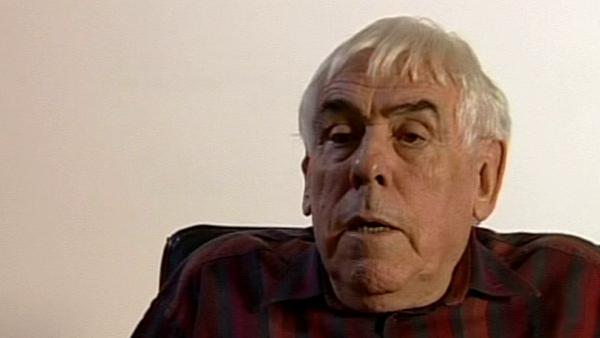 Alfredo Arias
Fuego
1
...
5
6
7
8
9
...
18
It's very complicated when you're a film director to... I mean first of all, when you're a film director, if it's the producer or the distributor which are watching the screens, you can't tell them, 'Bloody hell, you're annoying me!' You have to say it in another way. And it's not even worth it. So, the film directors are sometimes fooled, I mean by the... let's say by the actors. For example I did... so I'm going to quote some films. For example I did a film with... all of a sudden it slips my... With Alfredo, I'm going to go on to another one. With Alfredo, it was something very interesting called Fuego.
[Q] Arias?
Arias, Alfredo Arias. Sorry. And it was a very interesting film because the idea took place in a family of... where there was a guy who was head of the family, and who spread terror, who hit his wife with a whip, who terrorised the kids, etc. So... and there were loads of things like that. And then at one point, everyone wished he was dead and at one point he dies and his eldest son, who obviously was the first one to want to bump off the tyrant, replaces him and when he became head of the family he himself became the tyrant. Well, so... I mean, all of a sudden, the character was played by Mezzogiorno, Vittorio Mezzogiorno, he was one of the French actors from the Italian co-productions.
C'est très compliqué quand on est metteur en scène de... Je veux dire d'abord déjà quand on est metteur en scène, si c'est le producteur ou le distributeur qui sont derrière les écrans, on peut pas leur dire, 'Merde vous m'emmerdez!' Il faut le dire d'une autre manière. Et en plus c'est pas la peine. Bon, les metteurs en scène, ça leur arrive même de se faire avoir, je veux dire par les... Disons par les comédiens. J'ai fait par exemple... Bon, je vais citer des films. Par exemple j'ai fait un film avec-d'un seul coup ça me... Avec Alfredo, je vais passer sur un autre. Avec Alfredo, c'était un truc qui était très intéressant qui s'appelait Fuego.
[Q] Arias?
Arias, Alfredo Arias, excuse-moi. Et c'était un film qui était très intéressant parce que l'idée ça se passait dans une famille de... Où il y avait un mec qui était le chef de famille, et qui semait la terreur, qui foutait des coups de fouet à sa bonne femme, qui terrorisait ses enfants, etc. Bon, et puis il y avait tout un tas de trucs comme ça. Et puis à un moment donné chacun souhaitait sa mort et à un moment donné il meurt et il est remplacé par le fils aîné, qui naturellement était tout à fait le premier à vouloir bousiller le tyran et quand il a été chef de famille il est devenu tyran lui-même. Bon alors, je veux dire d'un seul coup, le personnage était joué par... Mezzogiorno, Vittorio Mezzogiorno, c'était un des acteurs français des coproductions italiennes.
French cinematographer, Raoul Coutard (1924-2016) was twice nominated for the César Award for best cinematography which he won in 1978 for 'Le Crabe-tambour'. He made over 75 films and documentaries, including 'À Bout de Souffle', Le Mépris' and 'Band à Part'. He was the most acclaimed French cinematographer of his generation and one of the key figures of the New Wave.
Title: "Fuego"
Listeners: Bernard Cohn
Bernard Cohn est un réalisateur et écrivain français, ayant réalisé cinq film ainsi que de nombreux reportages et séries télévisées. En tant qu'assistant réalisateur, il a travaillé avec plusieurs grands cinéastes, notamment Luis Buñuel, François Truffaut, Otto Preminger et Woody Allen. Il fut membre fondateur du ciné-club Ciné-Qua-Non et a participé à la rédaction et traduction en anglais, de plusieurs ouvrages sur le cinéma.
Benard Cohn is a French filmmaker and writer, who has directed five films as well as numerous documentaries and television series. As an assistant director, he worked with many important filmmakers, including Luis Buñuel, François Jacob, Otto Preminger and Woody Allen. He was a founding member of the Ciné-Qua-Non cinema club and has acted as editor and translator for various publications on the world of cinema.
Tags: Fuego, Vittorio Mezzogiorno, Alfredo Arias
Duration: 1 minute, 51 seconds
Date story recorded: October 2004
Date story went live: 24 January 2008