NEXT STORY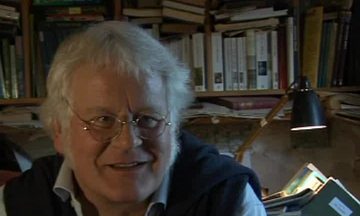 The first beating comes on the first night
My imaginary childhood friends
1
2
3
4
5
...
9
This is a memory and why the childhood... yes, apart from the beatings and so on, was very, very happy. But the beatings made it powerful, I think, and vivid. And just me playing all alone. I mean, my brother was six years older, so he's not going to be out with me. No, I had all kinds of imaginary people in bushes. Charlie and the Boodies, a whole army that would come out to make sure I wasn't beaten. They all definitely lived there. I talked to them. But this particular day, when I was four and a half, and a mistle thrush flew over me, and dropped one half of her egg. She was clearing out her nest. You have to do that, otherwise the predators see it.
And I didn't know about the empty cosmos then, so I was convinced this was a gift, as you would, from the mistle thrush. If not from the mistle thrush, then from God, you know. So I started an egg collection. I've still got the mistle thrush half eggshell.
It just opened up the most wonderful world in the young boy. I suppose, well, you see, churchwardens were farmers, so I could go out to these farms any time I wanted, first on my bicycle with a 410 and then on a 150cc BSA Bantam and then later on a Royal Enfield 250. But I mean, the shotgun wasn't the point of it at all. That meant that it was all understandable and alright. And there were three wonderful dogs on this particular farm, Bob Henley, the churchwarden there, called them Shadrach, Meshach and Abednego, who went into the fire... I mean, everything was like that. But they were lovely, lovely Labradors all the same. They'd come and sit with me. We didn't have to shoot anything. We had tremendously long, doggy talks [makes whining sound].
[Q] But did you have friends?
No. No, not around the vicarage. No, but the farmers were friends.
So when I saw all the chairs in the drawing room all in a circle, because the Mothers Union or the Young Wives were coming, I knew it was time to jump on my bike and get the hell out. No, they did... dogs were my friends. I didn't need friends.
[Q] I mean about school. I mean, you...?
I went away to prep school and you got beaten there.
[Q] The boarding school?
Yes.
[Q] Can you tell me a bit about what that was like?
Well, again, in those days, nobody knew about paedophiles and... the headmaster, Mr McCrae, he had made all his own – with loving care, beautiful carpentry – his canes, but for the youngest boy, he had a big, quite a wide, paddle, which he'd experimented with, so that meant it didn't actually rip and destroy their tiny buttocks when you're seven years old. So that was the first one, and they were all in a big rack by his desk. Then you could hit them with a slightly more damaging paddle, and then right up to big canes on the end. But that probably was what happened everywhere in the '50s. I don't know. And he'd beat you for anything. But that went on right up to public school.
British author Redmond O'Hanlon writes about his journeys into some of the wildest places in the world. His travels have taken him into the jungles of the Congo and the Amazon, he has faced some of the toughest tribes alive today, and has sailed in the hurricane season on a trawler in the North Atlantic. In all of this, he explores the extremes of human existence with passion, wit and erudition.
Title: My imaginary childhood friends
Listeners: Christopher Sykes
Christopher Sykes is a London-based television producer and director who has made a number of documentary films for BBC TV, Channel 4 and PBS.
Tags: beating, imagination, bike, shotgun, boarding school, paedophile, cane
Duration: 3 minutes, 52 seconds
Date story recorded: July - September 2008
Date story went live: 11 August 2009