NEXT STORY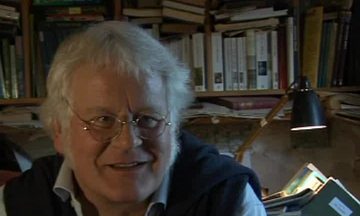 The sixth form bliss
The first beating comes on the first night
1
2
3
4
5
...
9
My first night it happened. I was delighted, yeah, because I did seem to have friends. I mean, there were 40 little boys in metal beds in this dormitory. And I worked out that even in the dark, if you got your pillow, you could do a jump from one bed to the other and whack everybody on the head with a pillow. Bumpity-bumpity-boom. And then the light clicked on and this enormous man in his tweeds with a pipe in this mouth, and he went... and I thought, you know, maybe he was going to give me a sweetie or something. And that the first time I was beaten. So I was, what? Seven or eight? With the paddle. And he'd love it. He'd pull your trousers down to make sure you hadn't got padding under there and fondle them. Not the marrying type, Mr McCrae. Yes, neither was Mr Forte, but we all liked him, because he wasn't violent. He taught French.
[Q] This is at your...?
Prep school. This is... I think all prep schools probably were like this in the '50s. Anyway, Mr French... Mr Forte taught French, and if you did particularly well on your little world list, he would say – he was very hairy – he'd say, 'You may stroke the hairs on my arm'. So we'd stroke the hairs on his arm, knowing, you know...
And then your essay, your essay in French. You went up to his room, and they all lived in these single rooms, like monks, really, in the very top of this huge school building, Forres, in Swanage. And you'd walk around the bed with your essay, and you'd put it on a silver tray.
Which sounds fine, except that Mr Forte was lying there naked on the bed with a white and red stitched towel round his knees, with this enormous thing. You know, how does anything get that big? Which is really very frightening. But I just thought, 'Everybody in Paris is just the same'. They're all lying there and getting little letters and essays and... 'That's what French do', I thought. You know, he teaches French.
[Q] You made sense of it.
We all did. We all talked about it and decided that we weren't in the least worried, because that's what happened in France, and it wasn't until years and years and years later, when I thought, 'Maybe they don't do that in France'. You know, big pictures of the Eiffel tower and stuff up in his room.
British author Redmond O'Hanlon writes about his journeys into some of the wildest places in the world. His travels have taken him into the jungles of the Congo and the Amazon, he has faced some of the toughest tribes alive today, and has sailed in the hurricane season on a trawler in the North Atlantic. In all of this, he explores the extremes of human existence with passion, wit and erudition.
Title: The first beating comes on the first night
Listeners: Christopher Sykes
Christopher Sykes is a London-based television producer and director who has made a number of documentary films for BBC TV, Channel 4 and PBS.
Tags: 1950s
Duration: 3 minutes, 5 seconds
Date story recorded: July - September 2008
Date story went live: 11 August 2009