NEXT STORY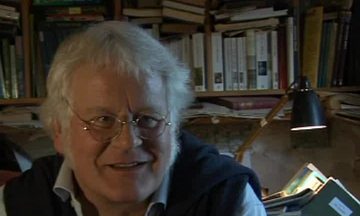 Stung by a scorpion
1
2
3
4
5
6
...
9
Well, of course, it was a lot tougher than I was expecting, certainly that Simon [Stockton] was expecting, but we were looked after. So this old Indian, Chimo, Charlie Brewer's motorman, on a sort of retainer salary, he was the big boss man, enormous. And over 70. And he said that he had, I think it was 31 children and grandchildren. Because as he's the motorman and goes up all the rivers, he can have a separate wife in each village that he stops in. And explaining how he liked to be comfortable. And every time we got to a new tributary and turned into it, it was his ritual, with these huge thighs, like a couple of pigs, you know, and he'd pull out what he called his pinga and anoint each river we turned into with the most enormous piss. Then everybody would cheer. So I loved him, really, but it was terribly important that he would look after me. You've got to win their respect or at least, be honest, make it perfectly... well, and it's always obvious that you're useless and can't do anything. Haven't a clue. But I must have made it just too... just too obvious, this time, because we'd run out of food and he'd shot a howler monkey, but at least it was a very old howler monkey. And he put the head in my mess tent. Square army mess tents. And as I drank the soup, the howler monkey's skull and the eyes came into view, in place. And he said, 'No, don't look at it like...' I can't do this deep, deep voice. 'Don't look at it like that. When we really like somebody, when we want them to become one of us, we ask them to do this thing. You must suck out the eyes.'
I was terribly flattered, so I picked up the skull and sucked, and the optic nerves gave way, and the eyeballs down my throat. And then yes, he looked like you're looking. And then he said, he said to me, 'How disgusting. How could you do a thing like that? White men will do anything to be loved', he said. 'That's the most revolting thing I've ever seen.'
I brought the skull back with me, and here it is. You see, he's very old, he's lost a lot of teeth. But this howler monkey, and this is how he howls like this: the voice box fits in there. And it's not really a howl. Every morning... well, if you're far enough away from a village, you're awoken by this [howl] and then another one will answer. And he's not much bigger than a... well, he's very... quite a big spaniel. Yes. Extraordinary.
British author Redmond O'Hanlon writes about his journeys into some of the wildest places in the world. His travels have taken him into the jungles of the Congo and the Amazon, he has faced some of the toughest tribes alive today, and has sailed in the hurricane season on a trawler in the North Atlantic. In all of this, he explores the extremes of human existence with passion, wit and erudition.
Title: Howler monkey soup
Listeners: Christopher Sykes
Christopher Sykes is a London-based television producer and director who has made a number of documentary films for BBC TV, Channel 4 and PBS.
Tags: Simon Stockton, Charles Brewer-Caria
Duration: 3 minutes, 23 seconds
Date story recorded: July - September 2008
Date story went live: 11 August 2009