NEXT STORY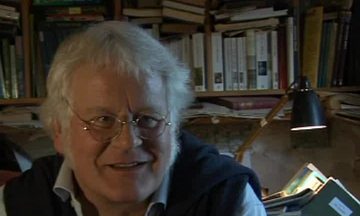 My dugout canoe crew
1
2
3
4
5
6
...
9
Here are the so-called bongos, in a creek on the Baria. Now there are two dugout canoes, quite big. And behind them, we would be towing a little fishing canoe, called a curiara, one man or two men at the most. And these things... you need two, because in this dendritic delta, there are so many snags and enormous hardwoods you have to chop through. You really shouldn't be doing it in one dugout. You'd never get out of there if something happened. Just quite apart from the fact that it's pullulating with electric eels and big rays. And what would it be? Two, three nights a month, say? You hear a jaguar, which is another wonderful noise [coughing sound] and then you put another log on the fire or you turn over and hold yourself in your hammock. But it's a very, very long way away, so you need a... you need two dugouts, that's the point.
Now, you need a bow lookout, and that's a terrible job, because you get the glare off the river, and you're looking for shallows and rocks and signal either way. And all the bow lookouts I've ever had, they're always tiny, for some reason. I suppose, like a jockey, you crouch in the bow. And this one, a Curripaco Indian, nephew of huge Chimo, and the kind of young man who would be in the SAS if he knew about it, men just impressive in every way. And I have a tip for you, if you want to choose your men properly: always go for the man who has an extra thumb. He wouldn't eat with us, so ashamed of this. He'd eat separately. And then, in the middle of... well, thunderstorms, but the rain. You see, I got the wet season and the dry season mixed up here. It's got it's... a bit complicated, but there's no excuse for that. So I actually went in the wet season, which was difficult explaining that to Simon. So the rain may fall continually for a week, ten days at a time. And each drop, you take it very personally. It's definitely out to get you. They're huge.
And the rivers... the rivers rose 40 feet. They rise 40 feet. So we were camped on very small islands on the jungle floor, the tops of former little hills. And everything had gone up there to escape drowning, of course. And I calculated that under each eleventh leaf, there would be a scorpion. And Simon [Stockton] didn't like that, either. But I was hit by one, and it's an extraordinary feeling. Everything feels fluttering inside your body, like sparrows, little baby sparrows, begging for food, or hedge sparrows begging for sex. You know, it's all... and then it passed. And of course, I thought I was going to die of the scorpion sting, but Juan, I'll tell you about, he said, 'No, don't make a stupid. Here, in that environment, a scorpion doesn't have to kill something immediately. It's not like the desert, where you need a real whop of poison. Here, you can run after it.' Anyway, so they're not fatal. They're not. They just look lethal.
British author Redmond O'Hanlon writes about his journeys into some of the wildest places in the world. His travels have taken him into the jungles of the Congo and the Amazon, he has faced some of the toughest tribes alive today, and has sailed in the hurricane season on a trawler in the North Atlantic. In all of this, he explores the extremes of human existence with passion, wit and erudition.
Title: Stung by a scorpion
Listeners: Christopher Sykes
Christopher Sykes is a London-based television producer and director who has made a number of documentary films for BBC TV, Channel 4 and PBS.
Tags: Venezuela
Duration: 4 minutes, 19 seconds
Date story recorded: July - September 2008
Date story went live: 01 November 2017