NEXT STORY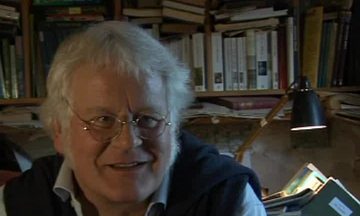 Simon leaves for western civilisation
The importance of having a companion
1
2
3
4
5
6
...
9
Well, the simple, practical, boring answer to that is: when you arrive in a real frontier airport, or you arrive in Brazzaville, there is absolutely no way of getting your pile of wonderful army baggage from point A to point B without someone to guard it, either end. You need somebody with you. And also, you get another unexpected – it always is – extraordinary point of view from somebody in your own culture cracking up in a world they could never have imagined before, any more than I could. So you have two voices. I hate... well, no I don't, but it's difficult, travel books with lots and lots of young man's introspection in them. You know, the sort of book that says: 'I think... I thought the ice had something to tell me.' You know, this is what we don't want. And dialogue's a wonderful thing. And another point of view, and you can create characters, too, if you have a companion with you, by... simply by using their comments.
And you're going to say that it's... seems a fictional process. Well, it is, of course. Because if you're writing it straight, any travel book, it will be full of grunts and extreme boredom. You have to compress dialogue, and the minute you do that, it becomes a novel, in a way. And my defence is, of all those books, that, look, if those people had thought of that at the time, that's exactly what they would have said. But events you mustn't mess about with.
We had to cut our way through these huge trees fallen across this very narrow, but very deep, tiny, tiny, rivers. No other way through. And they were superb, even old Chimo. And you have to do this while balancing on bits of fallen branch and keeping out of the water. And while you do it, another reason why Simon finally cracked up – I mean, he had every reason to. See, one little shiver on a leaf where the hornet's nest is concealed... now they're small communities, but about 40 in most of these. Yes? All 40 come out at once, and you dive into the water and you put your hat over your head. Now Simon [Stockton], the last thing he wanted to do was get really soaking wet and dive into this black, black water, so he was always the last in. So they got him on the back of the neck. Now their hornets sting no worse than our hornet stings, but that's bad. And the beestings are no worse than our beestings, but you get an awful lot of them, especially on your back as you're diving in.
And then there are other things. If you... when you don't know what you're doing and you put your hand on actually several species of trees, it suddenly feels as if you've stuck your hand into a flame. That's why they're called fire ants. Those tiny ants, and they bite. It's incredibly painful. And then, there are big, big, ants, which also got Simon, a thing called a Venti Quatro, because it can knock you out for 24 hours, but then, you know, you can see them coming. They're about that big. And Chimo took them very seriously, and whenever we camped, he'd look for the hole down to the nest, and pour a bit of gasoline down it. Lots of that. Lots of medium-sized animals and wanting to eat you or warn you off.
British author Redmond O'Hanlon writes about his journeys into some of the wildest places in the world. His travels have taken him into the jungles of the Congo and the Amazon, he has faced some of the toughest tribes alive today, and has sailed in the hurricane season on a trawler in the North Atlantic. In all of this, he explores the extremes of human existence with passion, wit and erudition.
Title: The importance of having a companion
Listeners: Christopher Sykes
Christopher Sykes is a London-based television producer and director who has made a number of documentary films for BBC TV, Channel 4 and PBS.
Tags: Brazzaville, Simon Stockton
Duration: 4 minutes, 43 seconds
Date story recorded: July - September 2008
Date story went live: 11 August 2009