NEXT STORY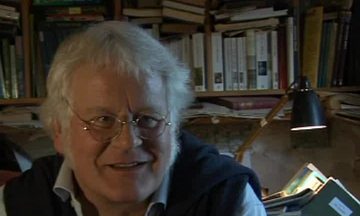 Congo Journey
Simon's hatred of nature after travelling
1
...
3
4
5
6
7
...
9
Well, I really missed him. I mean, months later, when I did get back, I rang him up to go and see him. I was so pleased at the thought of going to see old Simon. And I rang him. You see, all day, on these rivers, there's a thing called 'the screaming piha'. Now it's a bit bigger than a thrush, and it can drive you mad. It's something to with music unfinished. This or that or the other, it goes [whistling] all the time, never changes. And Simon would go: 'Bloody bird!' And then at night, just bad luck. Again, nobody told you about this, there's this thing bigger than a turkey called the nocturnal curassow, and it gets very, very sexy. And the male, in the season, which this was, all night long, without a break unless the girl arrives, he goes [grunting]. And Simon said he can't sleep with that bloody bird. So when I... he picked the phone up, Simon here, and I said [grunting] and the phone went down. But it's alright, I'd see him now. But he couldn't... he still can't watch nature programmes on the telly. He said if he sees a tree, he wants that turned right off.
He couldn't go back to work for a bit. He put his hammock up, weirdly enough. Wouldn't move from his hammock, but he finished his reading of Dostoyevsky and he read all of Tolstoy, and he couldn't drive a car, he couldn't join in urban life again for a month. And he got tunnel vision and serious treatment. But the treatment came to an end when, I don't know, the psychiatrist said something he thought was offensive, and he told him if he says that one more time, he's going to jump over his desk and bosh him one. But he's alright now.
[Q] So that's the Amazon.
Yes, that's the Amazon.
[Q] You wouldn't have missed it, then?
God no. No, the idea, when I was a boy, was to go to all the big jungles in the world, but I never thought you actually could. It was Fenton, to Borneo. But then, you see, after the Congo, the last one was going to be New Guinea, but I'm far too old now.
British author Redmond O'Hanlon writes about his journeys into some of the wildest places in the world. His travels have taken him into the jungles of the Congo and the Amazon, he has faced some of the toughest tribes alive today, and has sailed in the hurricane season on a trawler in the North Atlantic. In all of this, he explores the extremes of human existence with passion, wit and erudition.
Title: Simon's hatred of nature after travelling
Listeners: Christopher Sykes
Christopher Sykes is a London-based television producer and director who has made a number of documentary films for BBC TV, Channel 4 and PBS.
Tags: Amazon, Borneo, Congo, New Guinea, Simon Stockton, Fyodor Dostoyevsky, Leo Tolstoy, James Fenton
Duration: 3 minutes, 4 seconds
Date story recorded: July - September 2008
Date story went live: 11 August 2009